Entertainment
Did Nile Wilson Break Up With His Girlfriend? They Don't Seem To Be Dating Anymore
Did Nile Wilson Break Up With His Girlfriend? They Don't Seem To Be Dating Anymore. It is a scientifically proven fact that relationships in general, boost our happiness. We are more positive towards life and feel emotionally secure. But, it's hard to tell if a relationship will last long.Similarly, talented British gymnast, Nile Wilson seems very distant from his long-time girlfriend. And, his fans are wondering if the couple has called it quits despite their adorable relationship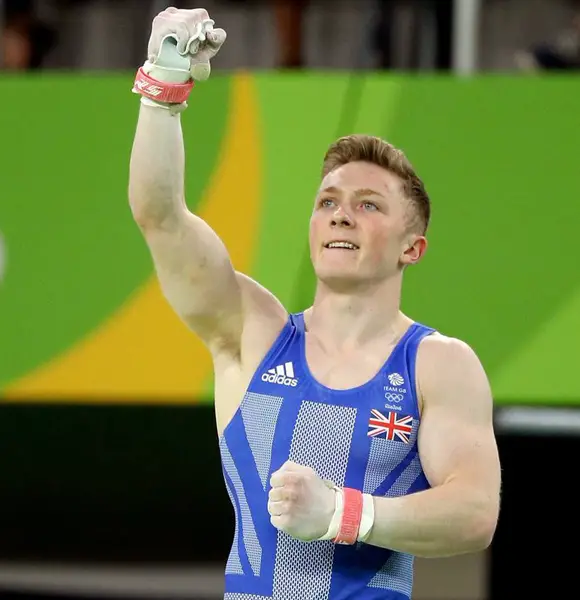 It is a scientifically proven fact that relationships in general, boost our happiness. We are more positive towards life and feel emotionally secure when in a relationship. But, it's hard to tell how long the relationship will last.
Talented British gymnast, Nile Wilson understands that pretty well. Nile, who was once public with his relationship, now seems distant from his long-time girlfriend. So questions arise if the couple has called it quits despite their adorable relationship. 
But what's the truth? Have they parted ways, or are still bound in a relationship? Let's take a closer look at the matter to find out!
Did Nile Wilson Break Up With Girlfriend Sophie Brewster? 
The year 2014 was a lucky one for the talented gymnast Nile Wilson, who grabbed nine international medals, selection for the World Championships and a gorgeous girlfriend as well.
During the CommonWealth games in Glasgow, Nile won his first gold medal; presented to him by student medal bearer, Sophie Brewster. They instantly hit it off, and after seven months, they were an official pair. Wilson revealed to YorkshireEveningPost about Sophie as,
"Sophie did all the medals and the first time I saw her was when she handed out the team gold and then I just got talking to her.  I can't remember what happened after that but one thing led to another. The Commonwealths certainly changed my life – for a number of reasons."
On October 2015, Nile was set to make his return to Glasgow for World Championships. Sharing the excitement of his return, he also didn't forget to mention his 15 month anniversary with Sophie. He explained, 
"She'll be there. She'll be shouting and cheering in the crowd along with my family and that will be great to see as well. It will be awesome, I'm sure it will bring back lots of great memories from the Commonwealths last year. It changed my life for the better that competition. Hopefully, I can produce as good a result as I did then."
Despite each other's busy schedule, the couple gave themselves some time to relax together and flaunted cute pictures on social media. 
On Jun 28, 2015, Nile posted photos on Twitter with Sophie Brewster of their holiday well spent. 
On May 7, 2016, Nile posted a picture again, and their smile said it all!
However, the long-term couple has since been low-key for the more than a year now. Nile and Sophie haven't shared about each other on social media or talked in interviews, and it raises suspicions if the sweet couple has secretly parted ways. 
Moreover, on February 18, 2017, Nile was approached to star on the 'Take Me Out,' a dating game TV series. Talking about the show, he also revealed that he is searching for an ideal girl,
"I'm looking for a fun, hardworking and gorgeous girl."
Wilson's hunt for a new girlfriend gives us a reasonable clue if the couple has broken up. But, it remains unclear until their separation is officially confirmed.
 However, what it does is fend off any gay rumors celebrities usually get befuddled into!
More About Nile Wilson.
Artistic gymnast Nile Wilson was born on January 17, 1996, in England to parents Sally and Neil Wilson. His sibling includes a sister named Joanna Wilson, with whom he is very close.
Wilson hails from a very supportive family background. His family and friends understand the importance and passion for what he does. In an interview with BBC on December 5, 2014, he opened up about his friends and family where he said,
" My friends and family are very supportive and understand that my sport demands the majority of my time. They are very important to me and I spend time with them at every opportunity." 
Wilson is best known for his dominating performance representing England at the 2014 European Junior Gymnastics Championships with five gold medals; becoming the first British gymnast ever to accomplish such victory.
The same year, he won four medals including two golds at the Commonwealth Games. Wilson was also the member of the British team and earned a silver medal at the 2015 World Artistic Gymnastics Championships. 
Moreover, the major highlight of his career was when he bagged a bronze medal at the 2016 Olympics Horizontal Bar. All at just age 21!  
He even shared his happiness via his Instagram on August 17, 2016.
However, in early January this year, Nile faced a bitter moment, as he got injured in an accident during his training.
According to BBC, the gymnast suffered an ankle ligament injury, which made him walk with crutches.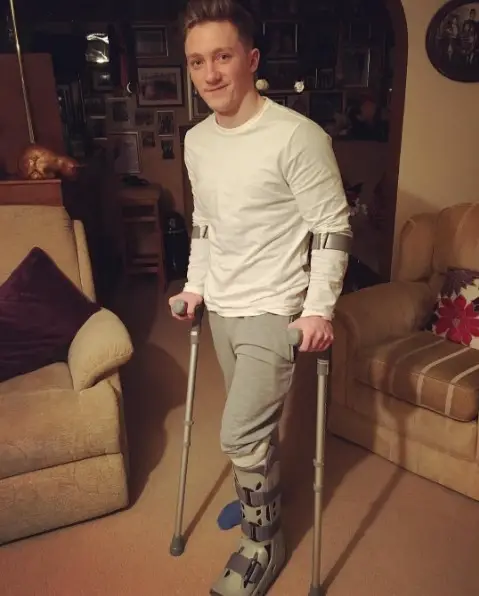 Caption: Gymnast Nile Wilson, standing on crutches after an injury during one of his training. 
Photo Credit: insidethegames.biz 
As nothing can stop a true winner, Wilson is still full of hope and strength! Stating the same, Wilson divulged,
"I'll get through this and come back stronger; the key is staying very positive,"
He further added, 
"I will come back a better gymnast and a better person. The is day one of a different chapter on my journey and I will be reaching out to those facing similar challenges."
No wonder, Nile is such a loved and deserving gymnast! 
Stay with us for the emerging updates on Nile Wilson!