Entertainment
Nilsa Prowant Sobs on Young Age Struggle! Was Married and Cheated by Husband
Love doesn't happen concerning one's age, neither does the separation. The future of any relationship is uncertain; it might lead to a beautiful future while there are equal chances of things ending on a bitter note.
Nilsa Prowant, a reality television star experienced the bitter part of being in a relationship, as she got cheated upon by her husband. Suffering from the execrable relationship at the age of 20, caused her the pain, remembering which she gets emotional.
So, what happened between Nilsa and her former husband that left her with a sour memory? Let's dwell on the segment below to find out.
Nilsa Prowant's Unpleasant Married Life:
It always starts with love, but when it's on the verge to end, love somehow gets vanquished leaving the innocent one's wholly debilitated. 
Nilsa Prowant, the reality television star, who rose to fame from starring in 'MTV Floribama Shore,' went through a lot at a young age, due to a failed married relationship.
Nilsa, who is an American by nationality, was married to a guy from marines when she was just 20 in age.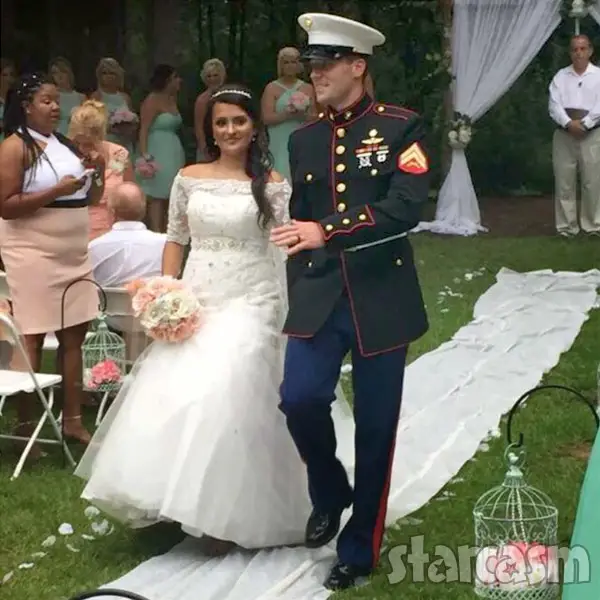 Caption: Nilsa Prowant married her husband from the marine. 
Photo Credit: Starcasam.net
Initially, the two were entirely in love and even decided on conceiving a baby together. However, things didn't turn out sweet between the two later, and the incident left Nilsa with a scar which makes her cry even now when she dwells back on it. 
On the season premiere of Floribama Shore, Nilsa opened up about her married life sobbing. She expressed how things were smooth between the two initially
"We were so in love, and he was so good — literally, I thought he was going to be the guy for me forever. He was amazing, and my parents loved him,"
Later, Nilsa suffered a miscarriage which then affected the couple's relationship. Not only was Nilsa left to grieve alone as her husband was deployed a month later from the mishap, but when he returned home, her husband cheated on her. Nilsa gushed,
"The guy I married just turned out to be not what I thought he was," 
The unfortunate events lead Nilsa to get a divorce from her husband. 
However, that was what her past upholds, and now Nilsa seemingly has moved on from the heart-wrenching memory of her previous relationship. As of recent, Prowant hooked up with Josh, who is Jeremiah Buoni's brother in one of the episodes of Floribama Shores.
Caption: Nilsa, sharing a kiss with Josh that got caught on camera. (Published on Dec 18, 2017)
Prowant opened up about the hookup and stated,
"I knew we hooked up. He was really intimate with me and that's what I really liked. Like he stayed with me the whole night and we were obviously drunk, but we knew what we were doing and I would say that it was a great night."
Nilsa is yet to address Josh as her boyfriend, but her fans are happy to know that she has moved on!