Entertainment
What Is Noah Gray-Cabey Ethnicity? Parents' Detail Reveals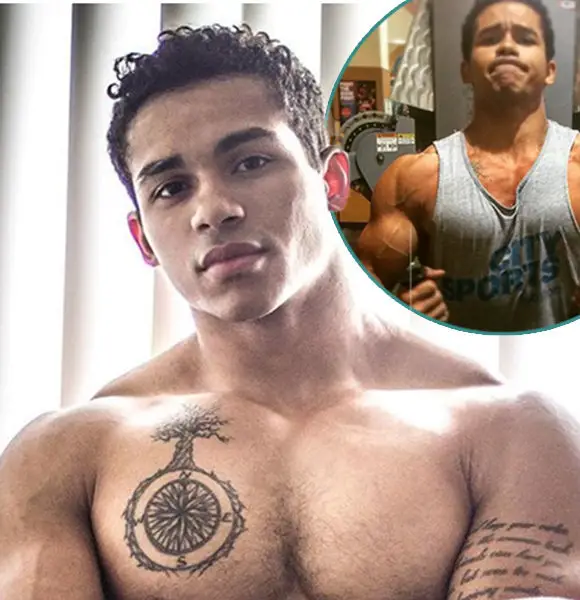 Known for the role of Franklin in the TV series My Wife and Kids, American TV actor Noah Gray-Cobey leads a beautiful family life outside the camera-world. Hailing from the family full of musician, acting is not the only Noah's talents that ingrains his fans as his music is also at its best. 
And while juggling both acting and music, he also leads a beautiful dating life and colors his social media by it. 
So, there's more to explore; Noah's love for both, his family and his girlfriend! 
Why don't you make your hands dirty with the information already! 
Parents Pass More Than Ethnicity; Family Full Of Musician 
The pianist, Noah Gray-Cabey, who had it all around him since he was a child, has been able to make a name for himself.
The Harvard University graduate was raised under the wings of musician parents; mother, Whitney Gray of European ethnicity and father, Shawn Cabey of African-American ethnicity. 
The fourth son of the family inherited more than just the mixed ethnicity from his parents.
He has been playing the piano since he was four and has turned so skilled at it, since then. At the tender age, he was already performing at various events, including the orchestra at Sydney Opera House.
He went on his first tour in Jamaica with his family at his side. The following year Noah toured Australia and by the time, he reached five, he was leaving a mark of a masterpiece at Sydney Opera House - the youngest soloist to perform with an orchestra.
He recorded a CD together with his family and has been taking care of both careers; music and acting. Definitely his parents' support and love counts for his success. 
Well, music has been Noah's ultimate passion, which also became the uniting factor to the family. Even his siblings are musician themselves, who streams their hands on musical instruments.
The oldest of all Nick, who is sixteen-year-old, plays the viola; Their second son Zack, who is thirteen-year-old, is on the cello, and their twelve-year-old Bryanna plays the violin joined by Noah on the Piano while their mom Whitney running the show. 
Dating Life Colors Social Media; Appreciates His Girlfriend
Noah does play the romantic string well too as his dating life with a lady has colored his social media. 
First of cute couple's image surfaced on social media back in April of 2016. He posted an Instagram picture, where he was spotted placing a sweet kiss on his girlfriend's cheek. As the caption suggests, the couple might have shared a long-distance relationship at the time. The caption read, 
"Feeling very lucky to have this beautiful girl back with me in LA! When she visits, I get to do touristy stuff " 
The Chicago, Illinois native made an addition to couple's adorable social media image in the August of the same year, 2016. He posted a selfie of him with his girlfriend in front of a lake via Instagram, where he appreciated the lady of his life in sweet words.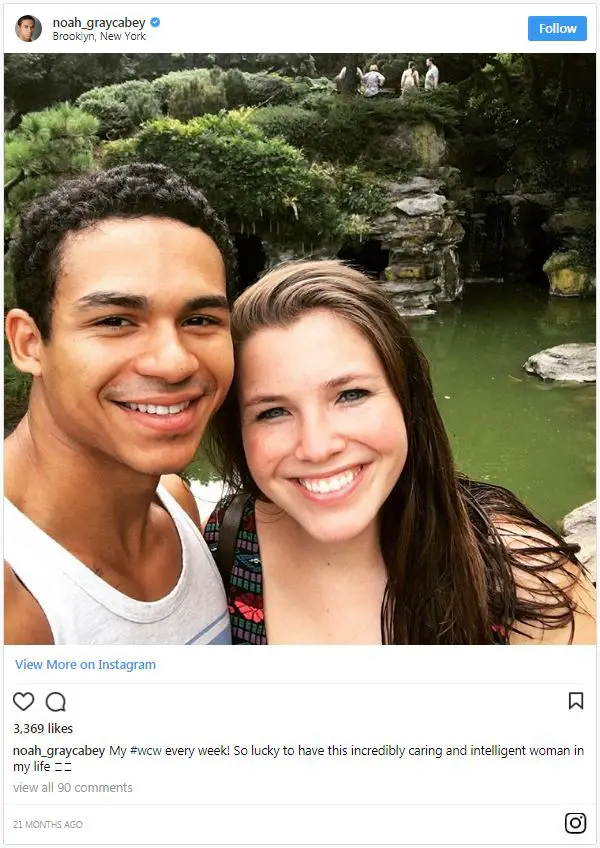 Noah Gracy-Cabey with his girlfriend at Brooklyn, New York (Photo: Noah Gracy-Cabey's Instagram)
If that's not enough for witnessing Noah's sweet love, there's more.
The pair also celebrated 2017's Valentine's day together back in February 2017 and took to Instagram on the same special day. The pair spent their romantic time in Amsterdam, Netherlands.
And guess what?
Noah did not miss to appreciate his lady again as he quoted his girlfriend as "most long-suffering and patient woman on the planet." But Noah has layered some part of his dating life a secret, which includes his girlfriend's identity and dating timeline.