Entertainment
Married Man Noel Clarke's Beautiful Wife & Kids! Family To New Series
Noel Clarke is married to......They have been married for......He shares .....children with his wife. Though he prefers to keep his wife away from the limelight, she was spotted in......
English actor Noel Clarke scooped his talents not only with acting but has also impressed with his screenwriting and directing skills.
He is the creator of the box-office hit movies like Kidulthood, Adulthood, and Brotherhood, which has awarded him many awards and recognition. The BAFTA-winning star has become one of Britain's brightest new stars.
Though he has opened his professional life like an open book, the chapters about his married life with wife and life with children are unturned. But he indeed talks about his wife in an interview, gushing over her cooking skills and how she is raising their children properly.
Married Life; Wife Reconnect Family
Everybody is not blessed with the wife who helps her husband to reconnect with his family!
However, the actor Noel Clarke is the blessed husband, who got married to such wife Iris-Da-Silva. The actor's Portuguese wife not only completed the family by giving birth to three children with Noel but also helped him to reconnect with his father.
Born in December 1975, to the carpenter father Alf and nurse mother Gemma, Noel never knew his dad at all growing up. His parents split up shortly after he was born and was raised as the only child by his mother.
However, his wife encouraged him to reach out to her father and now due to his wife, he is reconnected with his father.
"My wife encouraged me to reach out. We speak now and he sees his grandkids. I'm glad things worked out the way they did with him because it spurred me on and gave me my drive." 
Since he was raised by her single mother as she used to make sure that he had food and clothes, he feels nostalgic over his childhood memories in an interview with Sarah Ewing back in December 2014. Since he is raising two children with wife till 2014, he still finds difficult to raise them.
So, as of now, he realized how his mother managed to work full-time and raised him at the same time.
As of now, he is the doting father to three sons as his youngest one was born on October 2015. He described his three children as "the absolute loves of his life" in an Instagram by sharing the picture of three sons in March 2018.
Noel Clarke's three sons (Photo: Noel Clarke's Instagram)
His elder son, Klaxon is now aged 10 as Noel opened the chapter about his son's age while wishing the young Klaxon on his birthday in the Instagram back on 14 May 2018.
Moreover, since he features the picture with his children on social media, he is not spotted flaunting the pictures with his wife on social media. But he once attended the EE British Academy Film Awards in 2016 with his wife at the Royal Opera House.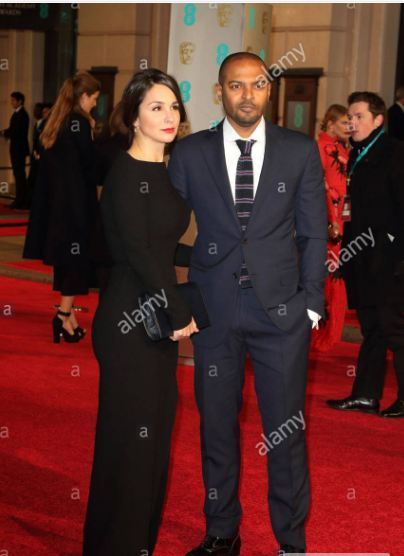 Noel Clarke with wife Iris Da-Iris at the EE British Academy Film Awards (BAFTA) 2016 at the Royal Opera House (Photo: alamy.com)
Since the couple enjoys their low-key life together, he gushed on his wife's great cooking whereas also revealed about his terrible cooking. As of now, Noel is living happily with his family in Kensington, London.
New Series; Net worth In Millions
Started his career with the revived series of Auf Wiedersehen's Pet in 2002, he debuted with the motion picture Kidulthood in 2006. The movie awarded him with numerous awards and also the sequel, Adulthood, grossed more than £1m on its opening weekend in 2008. 
So, taking influence from movies like Lethal Weapon and Bad Boys with a Law and Order rhythm, Noel along with the Top Boy star Ashley Walters created the new series crime drama  Bulletproof.  
The two creators are the old pals who have never appeared in the public together. Noel, who has a net worth of  $ 3 million, disclosed that it was Ashley who came up with the idea to work together.
"Ashley and I have known each other for a while and he came to me with an idea for us to work together."
The series was first broadcast on Sky One on 15 May 2018. And the creator released the new series of the drama on July 2018. The actors promised that the new series would be more full of action and to the next level.