Entertainment
Is Nyle DiMarco Gay? Reveals Qualities For Perfect Boyfriend – Here Are They
Despite being a hearing impaired personality, America's Top Next Model season 22 winner Nyle DiMarco is the crush of almost every lady. His stunning looks with his mind-blowing smile has garnered a lot of fan followings who are always curious to know Nyle on a personal level. 
Interestingly, he has spilled the beans on his sexual orientation and spoke openly about the qualities he seeks on a perfect partner. Well, if you want to know what those are, just keep on reading!
Sexual Orientation
Nyle, who won the title of Dancing With The Stars in 2016, has introduced himself not being straight in the entertainment world.
When a Twitter fan asked Nyle about his sexual preference in September 2015, he replied "fluid" and attached an article of Everyday Feminism about how sexual fluidity fits into the LGBT spectrum.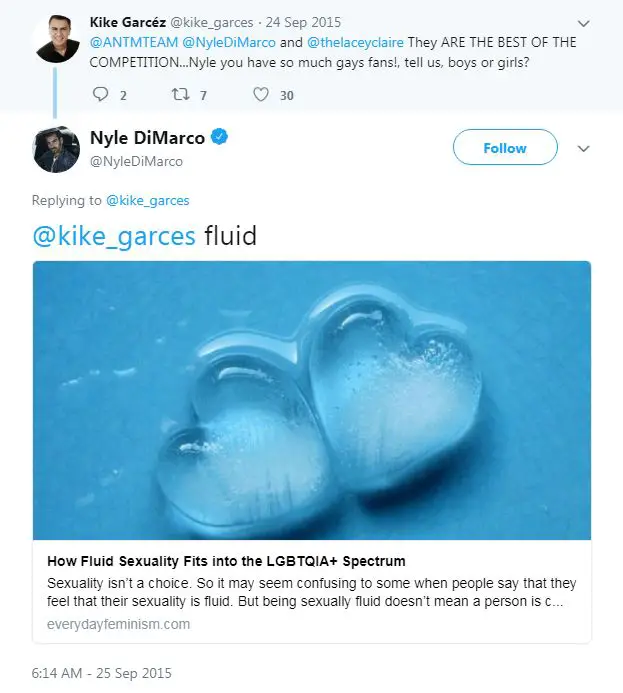 Nyle Dimarco reveals to be sexually fluid (Photo: Nyle DiMarco's Instagram)
After a year of disclosure on his sexual orientation, Nyle openly explained that he is comfortable with being sexually fluid in an interview with the Attitude magazine in October 2016. 
Nyle even stated that he was never afraid to call a guy beautiful since the very beginning, and said that his deaf community has helped him embrace his identity. 
Moreover, Nyle revealed in an interview with the Paper in June 2017 that he spoke out his identity because he thought someone's personality and preference shouldn't be a big issue. 
Nyle even admitted that he was surprised by the "overwhelmingly positive' reaction of his fans on his disclosure; his supporters were messaging him revealing that they felt inspired by Nyle to disclose their self-identities. 
Furthermore, Nyle claimed that he got identified as sexually fluid only at 26 via Twitter on 18th May 2017, which he wished happened beforehand. He even referred his fans not to get embarrassed and be confident in their own identity.
With all his says, it is quite clear that Nyle is sexually fluid which means he can be gay or straight both at times.
Qualities for Ideal Partner
Nyle has provided his fans not only with the information about his sexual inclination but with the qualities he seeks in a perfect partner as well. Talking about his relationship status with the People in 2016, Nyle quoted that he was single at the time and hoping to get into a relationship soon. 
Moreover, he added three qualities that he looks in his potential date saying the first thing he wants in his partner is the belief that they can do things on their own and be independent.
Secondly, Nyle shared that they have to be good at communication which he thinks to be the most important one, and lastly they have to be outgoing as him. 
Though Nyle is sure about the qualities he wants in his boyfriend/girlfriend, it seems like he is yet to find his match. Nyle has not been romantically linked with any of the people that can be speculated as Nyle's future wife or husband.
He appears to be busy focusing on his budding career and spending time with his twin brother Nico, older brother Neal and his family. With the passing day, Nyle has succeeded defying all the odds, and it is likely that he will continue to do so in the coming future as well.
Think we're missing something? Do let us know in the comment section below!