Entertainment
Olivia Cooke Still with Actor Boyfriend? Her Low-Key Dating is Intriguing
A romantic relationship is not necessarily meant to be shared with the public. Some prefer to keep it low-profile.
The Bates Motel star, Olivia Cooke, has achieved the stardom. But despite her popularity, she has successfully kept her love life away from the public. Everyone might not be aware that she is romantically engaged with her actor boyfriend.
Wondering, who her actor boyfriend is? Then, scroll down! 
Olivia Cooke With Her Actor-Boyfriend
Olivia Cooke is known for her role as Rachel in the 2015 movie Me and Earl and the Dying Girl, and as Emma in the psychological thriller series Bates Motel. However, she has maintained a very low-profile life. 
Well, with some digging, we were able to find out that she has a boyfriend and is dating the American actor, Christopher Abbott. He is known for his work in James White, Whiskey Tango Foxtrot and It Comes at Night. 
They were not publicly seen together until her boyfriend Christopher was nominated for an award show. She was spotted with him at the Film Independent Spirit Awards back in February 2016. The 24-years-old actress came out to support her boyfriend, Christopher.
Olivia Cooke does not seem to be active on the social networking sites. However, her fans have opened her eponymous Twitter account and have uploaded a picture of her with her boyfriend.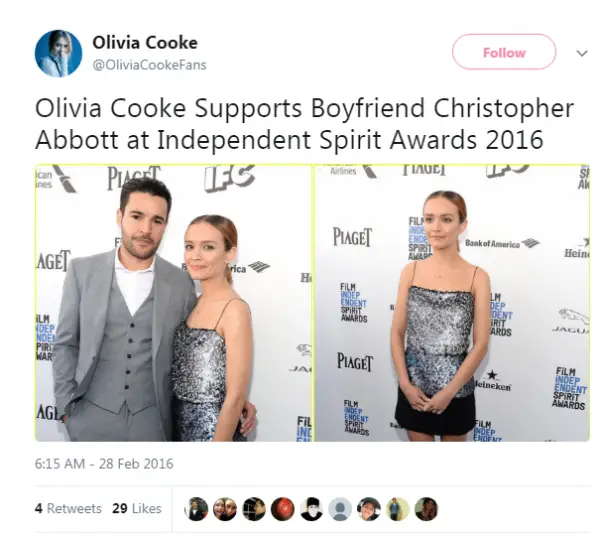 Caption: Olivia Cooke with her boyfriend, Christopher Abbott.
Source: Olivia Cooke's fan page
Since she has not revealed much information regarding the relationship, let's find out more about Olivia Cooke.
More About Olivia Cooke
The English Actress, Olivia Cooke, was born on December 27, 1993, to the family where her father, John, was a retired police officer, and her mother, Lindsy, was a sales representative. But her parents got divorced when she was a child. Besides, she has a younger sister named Eleanor.
During her childhood, she practiced ballet and gymnastics and later moved on to acting. Cooke's acting career started when she was eight years old at an after-school drama programme in the Oldham Theatre Workshop. Likewise, at the age of 14, Cooke secured her first local talent agent in Manchester who placed her in some commercials.
Cooke also appeared in the tour video of One Direction's Autumn Term back in 2012. Her acting career flourished from the year 2013 beginning with her portrayal of the role of Emma Decody in the contemporary prequel series to Alfred Hitchcock's Psycho, Bates Motel. 
Likewise, she also bagged the roles in the films The Quiet Ones, Ouija, and The Signal in the year 2014. Her latest movie credits include the comedy-drama, Me and Earl and the Dying Girl (2015), the horror-mystery, The Limehouse Golem (2016), and the thriller, Thoroughbreds (2017).
Olivia played a cancer patient in Me and Earl and the Dying Girl. To justify the part, she decided to shave her hair. In an interview back in August 2015, she clarified that wearing a bald cap would look awful so she would rather shave her hair off. She further mentioned that,
"We shaved my head, and it was the best thing I ever did for the role and for the performance."
Aside from her acting career, Cooke supported the Save the Children campaign by appearing in Bulgari advertisements in 2014.