Entertainment
Olivia DeJonge Choosing Career Over Dating Affair Or Just Too Shy To Reveal Her Boyfriend?
What do most teenagers do? Maybe partying hard, shopping fashionable dresses, ignoring politics!
But that's not the case with the 19 years old actress, Olivia DeJonge. Just a few movies old, DeJonge is a teenager by age but has already pushed her name to one of the top up and coming actors.
For such a young and promising actress, Olivia is all geared up and has already come up with awards and accolades, which is an extraordinary feat in itself.
Wondering what the secret is behind her incredible success? Is it a romance that is driving her for more achievements?
There is a lot more that tickles your interest down below!
Olivia DeJonge: Acting Resume At an Early Age
Not everyone is born successful; there comes major turning point that changes normal life to stardom. For Olivia DeJonge, the turning point was the voiceover which she started early in her life.
DeJonge, who was born on April 30, 1998, in Australia, received her first acting opportunity in the form of a radio voiceover at the age of just eight years old.
Her first voiceover was for a prominent hardware chain, which she accomplished with absolute beauty.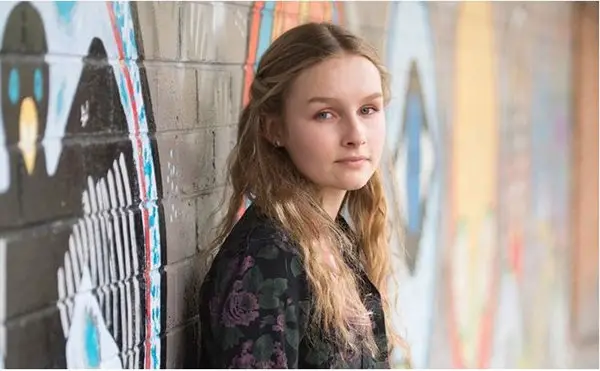 Caption - Olivia DeJonge during a Photoshoot.
Photo Credit - glamadelaide.com
After her voiceover debut, everything just became records; with over 40 radio advertisements' voiceover, she turned out to be a voiceover specialist.
The voiceover was her game, but she rose up to mainstream acting with her debut film "The Sisterhood of Night" in 2014. Her debut film was a start followed by a series of movies, huge projects like "Hiding," "The Visit," "Will."
DeJonge's performance is, without any doubt, a perfect killer in every project she is involved.
No wonder, she made the "WASA Award for Best Actress" hers just at the age of 13and for such a serious actress; the nomination for the "Most Outstanding Newcomer AACTA Award" was just a bonus.
Thanks to her serious focus on her work, the unexpected accolades Dejonge gathered is a proud thing for her parents, Robyn and Rob DeJonge.
Well, maybe it's the extreme actress focus on her career, her dating affair seems nothing but a blank page.
It makes sense for the one who is still running on her teenage and top of all, who is giving all her time on the acting career.
But the actress has expressed the love for her fans time and again on her Instagram but seems like there should be a wait-and-watch to open about her romantic love.
She may not have her boyfriend images but loves to flaunt her sibling love with her brother, James DeJonge.
Dejonge is not only a serious actress but a severe feminist too. Her latest role as Alice Burbage on "Will," a 10-part American TV drama series relates more to feminism which she explains as,
"As a young actor, I've wanted to steer clear of the girlfriend roles. At first glance that is what this appears to be but then they've written this flawed character who is unapologetically herself. She is funny and witty, strong and passionate, and goes against the grain of the time and is, I guess, one of the first feminists of that time and that resonated with me."
Her role as Alice Burbage may be new, but her feminism runs way back and seems to be an out and proud feminist. She explains her understanding of feminism as,
"A lot of people don't understand what being a feminist means. It is just about being equal. It is about us all being human and us all being the same."
A serious actress and feminist, DeJonge has already achieved more than one can imagine.
DeJonge, from the graduate of Presbyterian Ladies College in Peppermint Grove to the movie world, has proved she is no more a rookie in Hollywood.
The actress has gathered not only the fame but the fortune that speaks loud in the net worth of $500,000.