Entertainment
ESPN Reporter Olivia Harlan Bio: At Age 25 Turning Boyfriend Into Husband
American sports reporter, Olivia Harlan is popularly known for her work on ESPN as College football Reporter.
Coming from good sports family; her father, NFL and NBA commentator, and her grandfather, CEO of the Packers for 20 years, Olivia is now set to bring one more sports addition in her family, her sports athlete boyfriend.
Leveling up her pleasant dating life to getting married, she has now marked the wedding date with her boyfriend. The reporter's wedding will be the remarkable one for sure as she has decided to donate all her wedding gifts to the cancer foundation.
So, if you want to catch the Sideline reporter Olivia Harlan's prolific love life, then we present Olivia Harlan's love story in detail.
Boyfriend-Turned-Fiance; "Best Teammate He Could Have"
The former Miss Kansas Teen USA, Olivia Harlan is blissfully dating the Rockets forward, Sam Dekker since 2016. The couple has not disclosed the detailed on their dating life. However, they have not missed flaunting their romantic moment on social media.
The ACC All Access host unwrapped about her first meeting with boyfriend in Houston by sharing an Instagram image in December 2017, captioning:
"Flying back to the city we met and fell in love in. Houston, here we come! Great memories in our first chapter together. Can't wait to see y'all!"
Olivia and Sam were first spotted together in October 2016, but they did not confirm their dating scenario right away.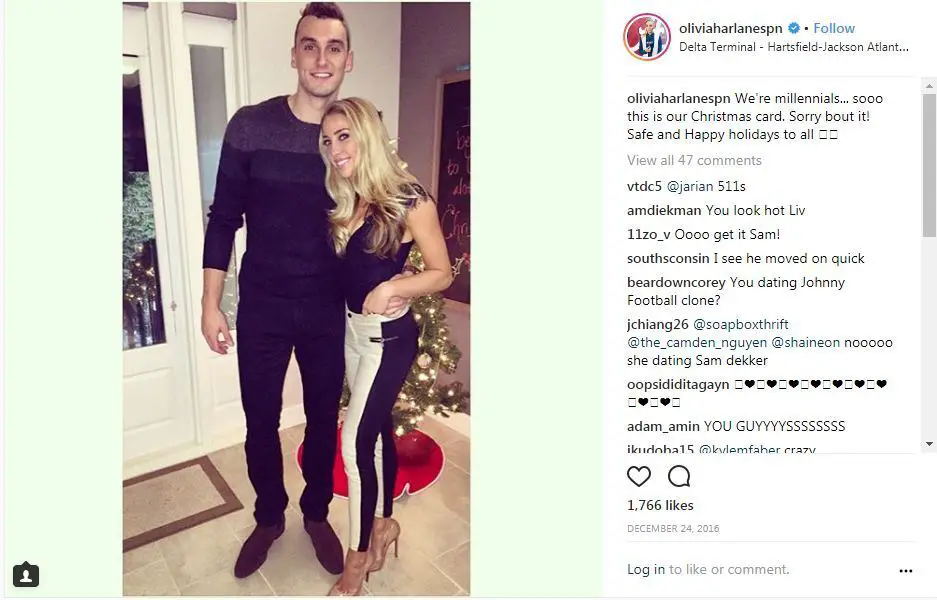 Olivia Harlan and Sam Dekker's first photo together in December 2016 (Photo: Olivia Harlen's Instagram)
Two months after their first post, in December 2016, they announced their romantic relationship and wished their followers for Christmas.
The couple, who both hails from Wisconsin, has been going strong ever since. With their two-week must-see rule, they have been managing their time for each other out of their busy schedule. Sharing an Instagram post on April 2017, Olivia quoted Dekker as "He's worth every Skymile" during the NBL season.
A year after their dating, the couple exchanged rings with each other in May 2017, following the former Wisconsin Badger star's wedding proposal to the ESPN's reporter. Olivia Harlan announced the proposal and her acceptance on Instagram, captioning:
"I've been stupid in love with this guy since day 1. he asked me to be his wife last night❤️ that means I can cry from laughing and poke his dimple forever. I thank God everyday for bringing me this perfect man"
Olivia's fiance also later took the engagement news on his Instagram in May 2017. Quoting Olivia as "the best teammate I could have", he posted Olivia's image where she was seen flaunting her engagement ring.
Well, with her engagement, the most awaited news about the couple has finally rung.
Set Wedding Date; Wedding Gifts Are Donation To Cancer Foundation
After their engagement, the couple did not wait for more to turn their engaged status to married.
Yes, it is happening!
The two-years long couple has a wedding date now, and Olivia is already much hyped to be "Mrs. Dekker" soon. The pair had set their wedding date on 14 July 2018, the day to exchange the wedding vows and to be pronounced as husband and wife in their hometown, "Northeast Wisconsin."
Olivia has also updated via her Instagram on 15 May 2018, where she stated in precisely two months they will be tying a knot. And the couple has already made a prior notice about their wedding gifts.
It's not the present that they want for themselves but rather they had turned their wedding gifts as the donation for the Children's Cancer Family Foundation. Olivia stated,
"In celebrating our marriage, we're looking to give back to this amazing community. We're asking friends, family, and fans to help us lessen the financial pain of families in the community dealing with the seemingly insurmountable challenge of pediatric cancer."
The soon-to-be-wedded couple is asking their friends, parents, and well-wishers to donate to charity. And they are encouraging their followers for a donation with an announcement of sending 'Thank You" cards to donator who donates $ 50 or more.
As of now, their wedding is the most awaited day for her followers. Like her followers, her father, Kevin Harlan a longtime NBA, NFL, and college basketball broadcaster might be waiting to see her daughter walking down the aisle in her wedding gown.