Entertainment
Olivia Rodrigo Wiki: From Ethnicity To Her Dating Status
As a child, she dreamt of appearing on one of the Disney shows while watching the series on the TV and she indeed lived her dream. If you're confused who we're depicting to, we are talking about Olivia Rodrigo, a television actress, who is known for her role in the Disney's series 'Bizzardvark.'
Well, if you are curious knowing more about this rising teenage actress, then this article is just for you!
Olivia Rodrigo Wiki-Like Bio
Olivia Rodrigo was born on 20 February 2003 in Temecula, California, a western U.S. State. Olivia possesses mixed ethnicity belonging to the family which shares a cultural diversity. It has come to light that Olivia's father is a Filipino while her mother is of Western European descent, mostly Irish and German.
However, Olivia has not revealed any further information regarding her parents yet. Even though she has not talked much about her parents, she does share pictures with them on her Instagram account.
Olivia shared a picture with her dad on her Instagram in June 2017 wishing her dad father's day.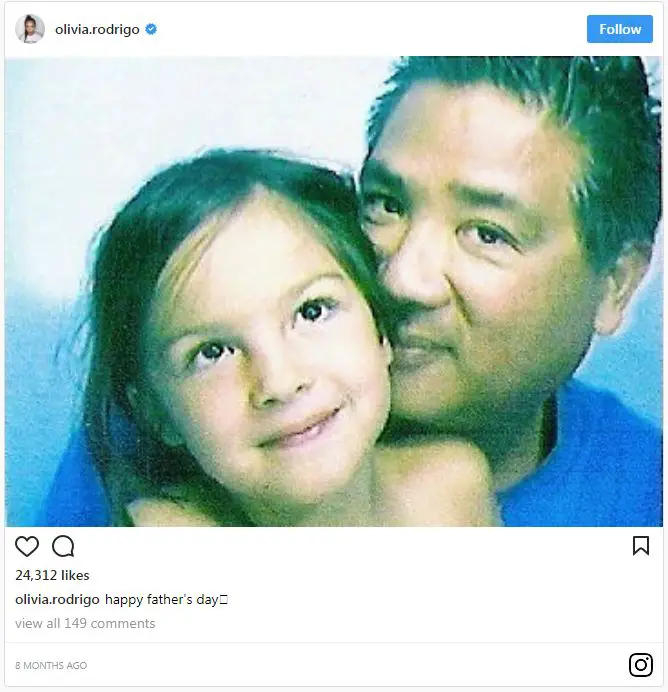 (Photo: Olivia's Instagram)
Besides, her Instagram post includes not only her parents but also some videos of her cover songs. She has posted several videos which usually aims to notify her fans while she posts a new video on her YouTube channel.
Olivia joined YouTube in July of 2014 but started posting her videos only six months back.
Talking about her career, Olivia initially gained fame for her title role as Grace Thomas in the movie Grace Stirs Up Success, where she tries to save her grandparent's bakery by joining MasterChef Junior competition. It was her debut movie in 2015.
Later, Olivia landed another starring role as "Paige" in the Disney show Bizaardvark along with her fellow young actor Madison Hu. The series shows the duo on a quirky adventure to internet fame. It is the perfect show for the generation of social media which is in its third season.
Meanwhile, opening up in an interview with HuffPost, Olivia expressed how she was over the moon for getting an opportunity to fulfill her dream of working for Disney. She stated:
"I watched Disney a lot as a kid and dreamed of doing the wand ID and saying 'I'm Olivia Rodrigo and you're watching Disney channel. I really looked up to the actors I watched and when I found out [I was going to be on Disney Channel], I was over the moon!"
In the same interview, when Olivia was asked where she sees herself in 10 years, she said:
"I'd love to continue acting and get some really cool roles and also go to college"
Moreover, she is set to join the coming-of-age skateboarder film "Paved New World" where she will portray the free-spirited teenager. 'Paved New World' is scheduled to release this year in June of 2018.
However, Olivia, who has her career on the rise with increasing number of fan following, has kept her fans wondering about her romantic relationship. Olivia, back in December of 2017, posted a picture on her Instagram with Sean Giambrone, who is best known for his role in The Goldbergs as Adam Goldberg.
In the post, her fans have raised questions asking about her dating status. They have even commented questioning if Sean is her boyfriend and they have been romantically involved.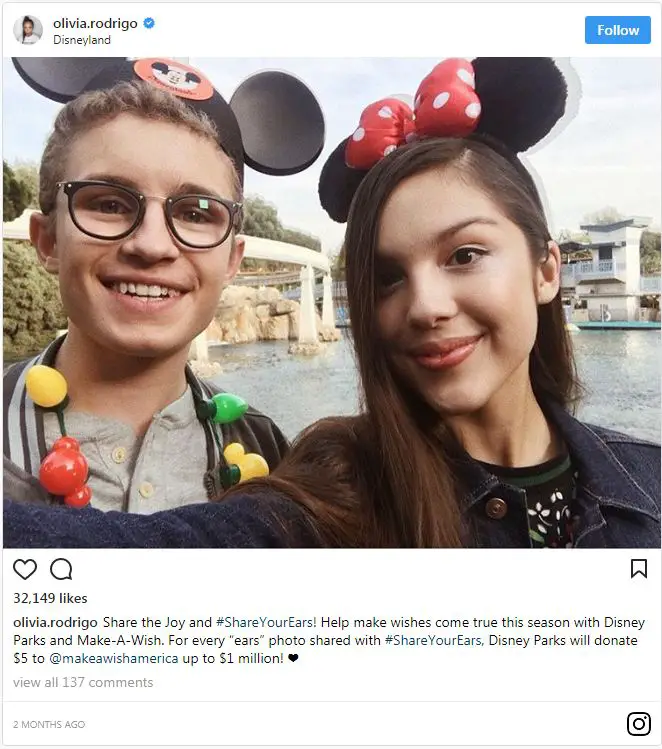 (Photo: Olivia's Instagram)
Nevertheless, Olivia, who is just 15 in age, has not posted anything regarding her love life in social media or opened up about it in any interviews, keeping the matter in mystery!
Keep Visiting for the emerging updates on the life of Olivia Rodrigo!