Entertainment
Olivia Thirlby Has Perks of Dating without Having a Boyfriend! How's That?
Having a soul mate is not always about the love, you can find your soul mate in a friendship too.
This statement can be better explained by the American actress Olivia Thirlby, widely known for her role in the comedy-drama movie 'Juno.' If you follow Olivia Thirlby, it will be senseless to notify that she also has a soulmate named Jacques Pienaar.
Perception regarding Olivia's relationship differ from person to person, but most of them claim that they are more than a friend; they are dating each other even though they haven't confessed it.
So let 's unfold her secret relationship along with other personal issues as well!
Olivia Thirlby: Her Ambiguous Relationship
Friendship is the ignition for the mutual bonding of love, but this statement does not apply to Olivia Thirlby as she has reinforced her friendship rather than taking it towards the love.
Olivia's fan went through the dilemma as she uploaded some pictures of Jacques Pienaar on Instagram. Additionally, it became more ambiguous, when they wished anniversary to each other.
 Back on 28th December 2016, Jacques Pienaar also posted some pictures of Olivia wishing her an anniversary.
However, surfing the social media and having a glance at their post won't be sufficient to claim that they are bonded as a couple, as she hasn't broken the news about the tenure of their relationship till this date.
Besides Jacques, the American actress Olivia had a close relationship with the lesbian werewolf flick, Jack and Diane, which was also crucial for her to be associated with their project.
Comfortable With Her Sexual Orientation
When the topic comes about celebrity, we all are curious about their sexual orientation. Regarding Olivia, also known as 'Natalie' in 'The Darkest Hour,' her sexuality hadn't been public before the Brooklyn Magazine interview held on December 08 2011.
In the interview, Olivia confessed that she is bisexual, which makes it essential to participate in the 'Self Evident Truths' project. 
She has been actively participating in that project, with the motto of making it nationwide by shooting 4,000-5,000 faces across the United States and three big road trips, which include 25 cities.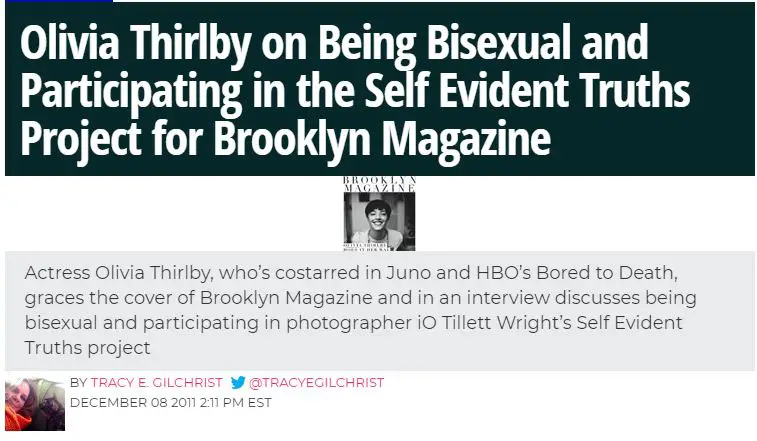 Photo Caption: Headline of Brooklyn Magazine
photo credit: Pride.com
Juno star Olivia insists that fighting for the equal right is more crucial so that one doesn't have to hide their sexual orientation. Furthermore, she opined that it is essential to know who they are, encouraging all the individuals to be open about their sexuality!
Olivia Thirlby's Wiki:
The actress Olivia Thirlby, who has pursued her acting career in both the theatre and film, was born on 6th October 1986 in New York. 
Her mother is an advertising executive mother whereas her father is a contractor. She stands at the height of 160 cm and prefers yoga in her daily activity.
After being graduated from 'Friends Seminary' in Manhattan, she began her professional acting career in 2003. To enhance her acting, she completed training from  'American Globe Theatre' and 'Royal Academy of Dramatic Art'. 
Moreover, she has completed stage combat course from British Academy of Stage and Screen Combat.
Olivia is best known for her role 'Playing Leah' in the Oscar-winning film 'Juno' (2007), as 'Natalie' in 'The Darkest Hour' (2011) and as Judge 'Cassandra Anderson' in 'Dredd' (2012).As of now, she is occupied with her new film 'The Shadow Girl.'