Entertainment
Openly Gay Olly Alexander Reveals Details On Previous Boyfriend & Their Relationship! Has A Partner Now?
Openly Gay Olly Alexander Reveals Details On Previous Boyfriend & Their Relationship! Has A Partner Now? Openly gay, lead singer of the band 'Years and Years' Olly Alexander has not only acknowledged his sexuality, but he even romanced his then boyfriend publically; but the relationship could not survive and ended in a split. Further, he revealed interesting detail about his previous relationship during an interview, but the million dollar question is,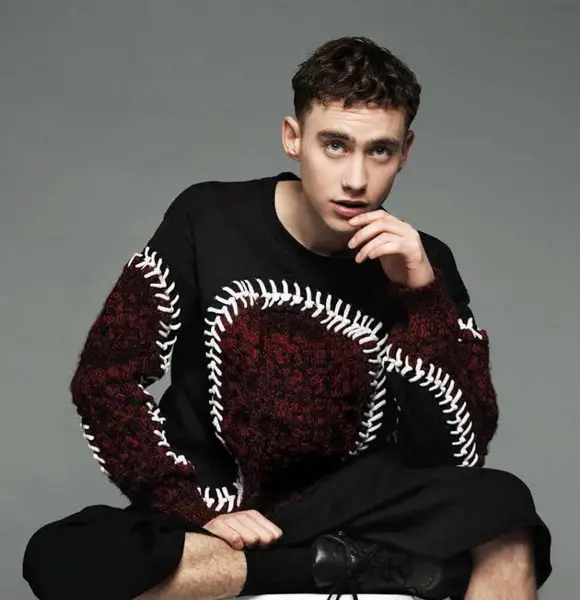 Openly gay lead singer of the band 'Years and Years,' Olly Alexander is a role model and inspiration to many, as besides his songs, he raised his voice to speak up for the rights of 'LGBT' community as well. 
Olly, who is proud of who he is, was not afraid to flaunt his romance with his previous boyfriend as well. 
Although the pair is no longer together, Olly has opened up about their relationship to address the curiosity of the fans. But what did he talk about? 
Keep reading to find out to find the answer to that; along with the information about his current relationship status.  
Olly Alexander's Relationship With His Ex-Boyfriend:
Olly was romantically involved in an open relationship with boyfriend Neil Milan, a violinist from the band 'Clean Bandit.' Although exact details regarding the tenure of their relationship remained confined, their adorable relationship can be witnessed on various social medias, as Olly shared pictures on his personal account.
Olly and Neil were not afraid to flaunt their love publically, and they created quite a buzz when they shared an on-stage kiss at Uk Festival Jersey Live in September 2015.
Before Neil's band performed its final song, Olly shouted,
"I hear Clean Bandit have a hot violinist."
Then he climbed on the stage and kissed his then boyfriend, Neil in front of 5000 audiences.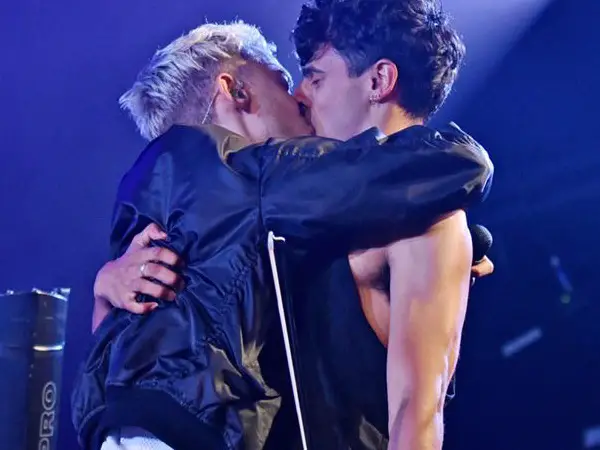 Caption: Olly Alexander from the band 'Years and Years' and his violinist boyfriend, Neil Milan sharing a kiss on-stage at the UK Festival Jersey.
Photo: Credit: Out.com 
However, the romance couldn't last long, and the pair called it quits after dating for some months. But, the exact date of their breakup remains confined as well. 
Olly opened up about his breakup with Neil Milan in an interview with to Attitude magazine on December 3, 2015, where he shared,
"We've had less and less time to spend together and the time we did have together were such short periods it put so much pressure on our relationship."
He further explained that both the partners felt the relationship wasn't working. 
However, Olly revealed that he was still in touch with Neil and they were giving each other some space, 
"I don't feel differently towards him. I still have a lot of feelings towards him and that hasn't changed. I think I need to give it time and see how I feel... We're still in touch. We're just giving each other a bit of space. It's still pretty new, to be honest."
Is Olly Alexander Currently Dating Anyone Now? 
In an interview with BBC journalist Evan Davis at the National Student Pride Event in February 2017, Olly shared that he is enjoying his life without a romantic partner.
He further added that he hasn't figured out what kinds of relationships suit him. 
"My last relationship was an open relationship which was the first time. You have to be very honest with your partner. We don't really allow ourselves those discussions. We are all taught one relationship model. It's bonkers your partner has to be your best friend, your protector, your confidant, fulfill you sexually. There's a lot for one person. It's crazy how diverse we are but we have one relationship standard."
Well, Olly fans are hopeful that he finds a suitable relationship soon and even acknowledge his boyfriend publically as he did before!
Olly Alexander's Struggle Growing Up As Gay:
Olly was part of the documentary 'Growing up Gay,' where Olly joins the people battling the problems like bullying to eating/anxiety disorders. The documentary is alarming, as it reveals that more than 40% of 'LGBT' people suffer from mental disorders.
The documentary 'Growing Up Gay' aims to bring positive changes in the modern society.  
Caption: BBC Documentary 'Growing Up Gay' focuses on the difficult journey of pop singer Olly Alexander as a gay since his childhood. (Published on July 20, 2017)
Alexander talked with the RadioTimes during the screening of the movie and highlighted the importance of mental health. He divulged,
"It was draining, but having all these conversations was so positive. Mental health is such a difficult thing to talk about and the reality is we ignore it. My experience is it's such a prevalent issue for LGBT people and it's not discussed." 
Olly further explained his thought behind doing the documentary as,
"It's so hard to share about these issues with people that are close to you: your families and your friends. And that's often who you could really do with a talk with. One of the biggest reasons I thought it would be a good [documentary] to make is that parents might watch it or families might watch it together." 
He shared a message as well, which was,
"Lots of families would like to support their LGBT child, but they don't know how. I think it's really hard for everyone to talk about it, but we have to engage in the message. We have to open up conversations." 
More About Olly Alexander:
Olly Alexander was born in Yorkshire, United Kingdom on July 15, 1990. His parents split when he was just 13 years old and was raised by a single mother named Vicki Thornton, who is also a founder of Coleford Music Festival. 
Olly is known as the lead singer of the band 'Years and Years' which he formed in 2010. Additionally, he is a songwriter and an actor as well. Olly started his acting career appearing in 2008 film 'Summerhill.' He is further popular for his roles in films including Oscar-nominated 2009 drama 'Bright Star.'
Olly also appeared in the TV series 'Skins,' where he portrayed the character of 'Jakob' in the year 2013 and the same year; he did theatre acting as 'Peter Pan' in the play "Peter and Alice.' He starred in the musical movie, 'God Help the Girl' in 2014 as well.
Although he has accumulated a hefty sum through his multiple projects, his net worth remains confined from the media.