Entertainment
Once Divorced Teri Polo Shared Financial Consequences In Her Life; Facing It All Alone Or With A Boyfriend?
Sometimes things like undergoing a divorce can cost you a lot, especially when your divorce is an expensive one. Similar is the story of Teri Polo who had to face the financial crisis after an expensive divorce. And challenges do come and go away in life but if we have someone to rely upon during hard times it feels like half of our problem is already solved. So did Teri also get support from someone during her rough time or was she all alone?
Teri undergoes Through A Rough Financial Problem:
Teri had to run low in finance as she suffered badly in financial terms. She breaks the news of being bankrupted in April 2014 declaring less than $50,000 in assets and debts more than $800,000. 
She claimed of owing almost a million dollars in back taxes and credit card bills. According to TMZ, she filed for Chapter 11 bankruptcy owing around $772,000 in back taxes and $36,000 on credit cards.
During this hard time, she had to cut off her fancy meals and relied on pizzas only. It was a brave thing on her part to face this challenge alone.
 In 2011 too, Teri owed over $450,000 in back taxes, which her manager, Bob McGowan, blamed on an expensive divorce from Anthony Moore.
The other reason for her financial difficulty could be the downfall of her career. She was doing good in her career – delivering hits like "Meet the Parents" until her nude photo shoot for Playboy magazine; which many things caused her career to shift into deterioration.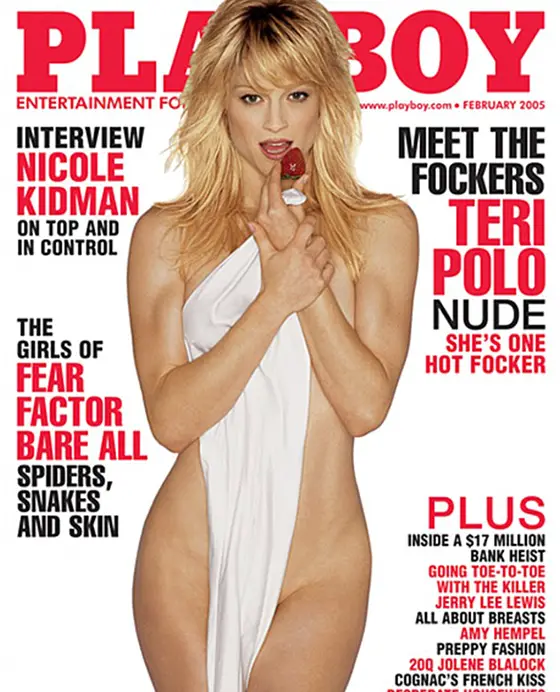 Caption: Teri's decision to do a nude photoshoot in Playboy in 2005 as a catalyst.
Photo Credit: dailymail.co.uk
Adding to her financial problems, Teri who is a pet lover, was pursued for $30,000 after she allegedly left an apartment soiled with dog mess and urine.
Once, when she was doing good in her career, her  net worth  valued $2.5 million but due to her wrong career move, she had to undergo financial difficulty owing millions of dollar. This must have brought the devaluation in her net worth as now Teri net worth is estimated to be $800 Thousand.
Teri Polo's Personal Life:
Teri was tied in the marital bond for the first time with photographer Anthony Moore. Together, the couple eloped to Las Vegas to get married in 1997, but they underwent divorce in 2005.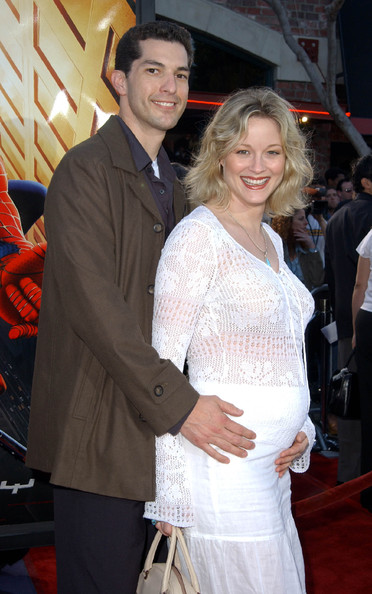 Caption: Teri Polo and Anthony Moore were once in a relationship.
Photo Credit:4.pictures.zimbio.com
She has a son named Griffin born in 2002 from her first husband. Though her marriage failed, she is grateful to be a proud mother of a son. She expresses her sentiments as,
"I ran off to Vegas to get married and now I'm divorced but I have the most beautiful child in the entire universe who I would never, ever trade. I would live every part of my marriage and my subsequent, and very hard, divorce…again to have my son. It was a roundabout way to happiness."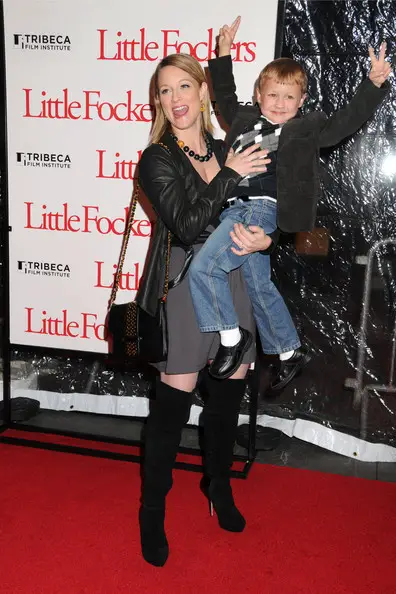 Caption: Teri Polo with her son Griffin at the world premiere of "Little Fockers."
Photo Credit: zimbio.com
And in the year 2006, for the second time, she again decided to walk down the aisle and got married to her drummer boyfriend, Jamie Wollam. Her thoughts then is reflected as,
"I'm considering getting married again. I've not lost faith in that institution. I'm older; I'm smarter. I'm no longer searching for something to complete me…and therefore I'm now able to find someone to be a partner with."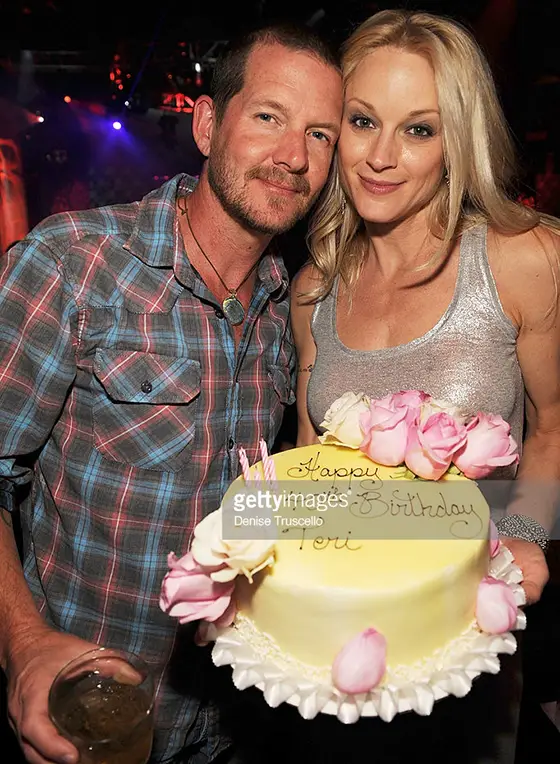 Caption: Teri with her second ex-husband Jamie Wollam during her birthday celebrated at Prive Las Vegas on June 20, 2009.
Photo Credit:media.gettyimages.com
Together they have a daughter named Bayley. The couple got divorced in 2012. As per now, The reason behind their separation has not been disclosed.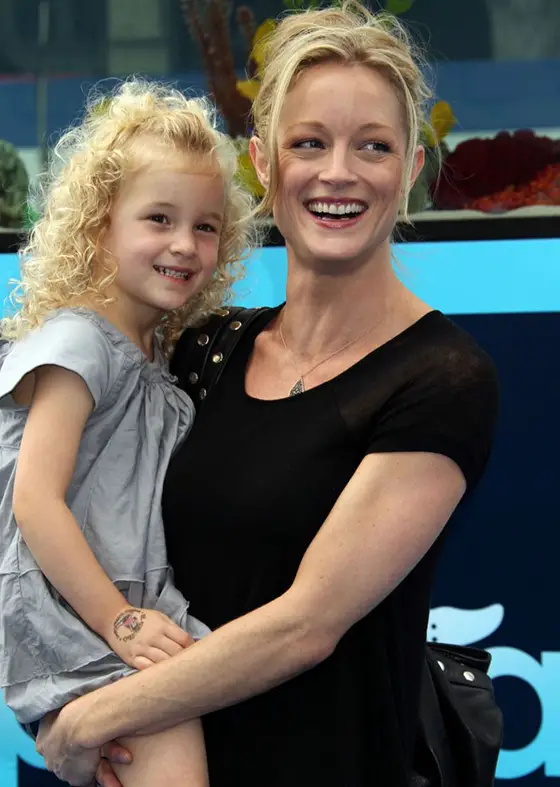 Caption: Teri as a loving mother carries her daughter Bayley.
Photo Credit: celebritybabyscoop.com
Teri has not involved herself in dating anyone from television fraternity or outside. However, this doesn't mean she has some type of gay or lesbian affiliation. 
She is though seen in a show called The Fosters playing the role of a lesbian with her co-star Sherri Saum. 
Teri is also comfortable even to do intimate scenes with her co-start as she is one dedicated lady for her profession.