Entertainment
Once Fired Brent Musburger Sets His House On Sale After Retiring From Broadcasting
A person's career span is filled with ups and downs and twist and turns, which make the journey even more exciting. Sports broadcaster Brent Musburger has a record of being fired from his job. But he also has the record of being a loyal employee of the company and serving it for decades until retirement. But what made him put his house on sale? Quite confusing it may seem, but we clear all the confusion in the article we present to you. So without further ado, let's dig in for the truth!
Brent Musburger's House On Sale After Retirement!
As per reports on March 2017, iconic broadcaster Brent Musburger listed his Florida home for sale at $2.45 million after retiring from ESPN in January 2017.
Brent has a beautiful lakefront Jupiter estate, totaling 4700 square feet in The Loxahatchee Club. The house amidst scenic beauty has four bedrooms, four bathrooms along with an open kitchen with the center island.
It has a guest house with a bedroom and a bathroom connected to outdoor bars. The house was built in 1994 and Brent purchased it in 1995 for $1.345 million. However, Brent has not disclosed the reason for putting the house on sale yet.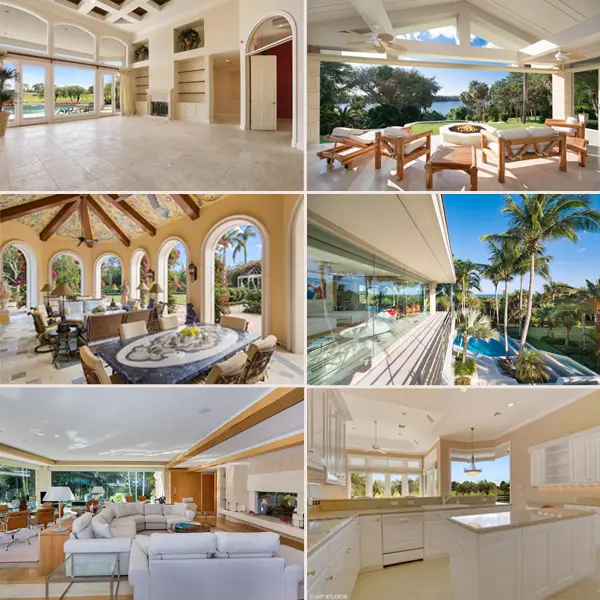 Caption: Brent Musburger's beautiful Florida house on sale.
The news of Brent Musburger's retirement from his broadcasting career at ESPN first came out on January 25, 2017.However, the retirement commenced after his reporting of the match of Kentucky-Georgia men's basketball game at Rupp Arena in Lexington, Kentucky on January 31, 2017.
Taking about his retirement at the age of 77, Brent said,
"What a wonderful journey I have traveled with CBS and the Disney company. A love of sports allows me to live a life of endless pleasure. And make no mistake, I will miss the arenas and stadiums dearly. Most of all, I will miss the folks I have met along the trail."
Brent also spoke about the love from fans,
"Nothing in the world replaces the friendships I've made -- with crews and people, and that includes the fans. I mean, I'm never alone. Wherever I go, someone's gonna come up. Someone's gonna come up and ask about a team. Or a game. Or an experience. I've got millions of friends out there, OK?"
Moreover, president of ESPN John Skipper praised Brent on his more than four decades long career since 1990 in ESPN. John stated,
"Brent's presence and delivery have come to symbolize big time sports for multiple generations of fans. When he opens with his signature 'You are looking live,' you sit up straight in your chair because you know something important is about to happen.Brent's catalog of big events is unmatched, and he has skillfully guided us through some of the most dramatic and memorable moments in sports with his authentic and distinctive style. He is one of the best story-tellers to ever grace a sports booth. We and the fans will miss him."
Brent has not only seen beautiful days in his career as he was earlier fired from his job. It was announced on April 1, 1990, but it was not the April Fools' Day Prank.
Brent worked with CBS, and CBS underwent a management change where Neal Pilson was the president, and Ted Shaker was the executive producer. The new management wanted to reduce Brent's profile and give a chance to the younger announcers.
Going back in time, Brent had a five-year contract, with CBS expiring on July 1990, yielding $2 Million a year. The negotiation of the new contract with Brent broke down, and he was suddenly fired from CBS. At the Associated Press time, Neal Pilson said,
"It is not a joke, it's a difficult decision. It's never easy to deal with individuals with whom you have personal or business relationships."
Although Brent was abruptly fired, he abided by his contract and did the 1990 NCAA Championship game with broadcasting partner Billy Packer the after the announcement by CBS.
In an interview, on ABC's "Prime Time Live" with journalist Sam Donaldson, Brent lashed out Neal Pilson and Ted Shaker and said,
"They conspired to get me out of CBS, these two men decided I was too big for my britches, and that they were going to take me down a peg or two, that I was uncontrollable."
Brent Musburger Bio:
Brent Musburger was born as Brent Woody Musburger on May 26, 1939, in Billings, Montana, USA. He studied in Shattuck-St Mary's school in Faribault, Minnesota and went to Northwestern University School of Journalism and was suspended for a year for operating a car without a license. He began his career of a sports writer in Chicago's American newspaper writing columns.
On June 8, 1963, Brent married his wife Arlene Clare Sander, and together they share two sons, Blake Musburger and Scott Musburger together.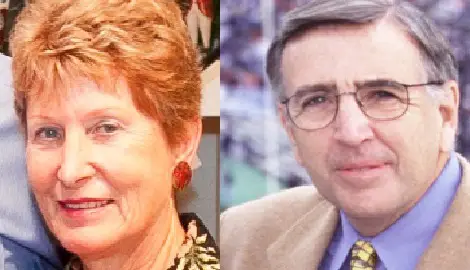 Caption: Longtime Married couple Brent Musburger and Arlene Clare Sander 
Photo Credit: fabwags.com
Further, he joined CBS in 1968 and served as a sports anchor for WBBM radio and WBBM-TV, and in 1973 he did play-by-play in CBS Sports. During his tenure, his show NFL pregame was rated #1, and by the late 1980s, Brent was the main sportscaster representing CBS. The management of CBS change in 1990, and he got fired from the job.
Then he joined ABC Sports in 1990 and became the face fo ABC and was the main studio host for the World Cup 1998 and 2006 for ABC. After ABC had merged with ESPN, he worked for ESPN as well, including Major League Baseball, NBA games, ESPN Radio, golf tournaments, horse racing, Indianapolis 500, Little League World Series, soccer games, college football and much more. He briefly served as a studio host for ABC's NASCAR Coverage and even hosted Tour de France for ABC.
Following retirement from ABC in 2017, he plans to help his family through a sports handicapping business in Los Vegas and also a sports gambling show for Sirius XM Radio. Brent associated with  Vegas Information Network, for the sports gambling information show where Bret will broadcast from the studio at the South Point Hotel, Casino & Spa. Recently, on May 15, 2017, he was honored with Emmy's Lifetime Achievement Awards for his six-decade long broadcasting career. With his hard work and dedication, Brent earned a handsome salary and accumulated a splendid net worth of $8 Million.
Stay with us for the latest updates on Brent Musburger!