Entertainment
Did Oona Chaplin Never Dated And Had A Boyfriend Or Is There A Loop Hole? Know About Her And Her Line Of Parents
Flaunting her sexy body curve along with her Mardian features, Spanish-born actress Oona Chaplin has never surrounded by the paparazzi of dating any men. While her hotness has forever left a mark in every movie, she has played on the other hand her singularity had baffled her beloved.
Is she enjoying her on-screen boyfriends or is she involved in any mysterious relationship which would neatly point at her sexual preference?
Lesbian orientation or had Dated any Boyfriend before?
Actress Oona Chaplin through the screen of the Game of Thrones showcased her passionate and romantic side.Through the character of Talisa Maegyr, Oona shared an ardent kiss with her on-screen hubby Richard Madden(Robb Stark).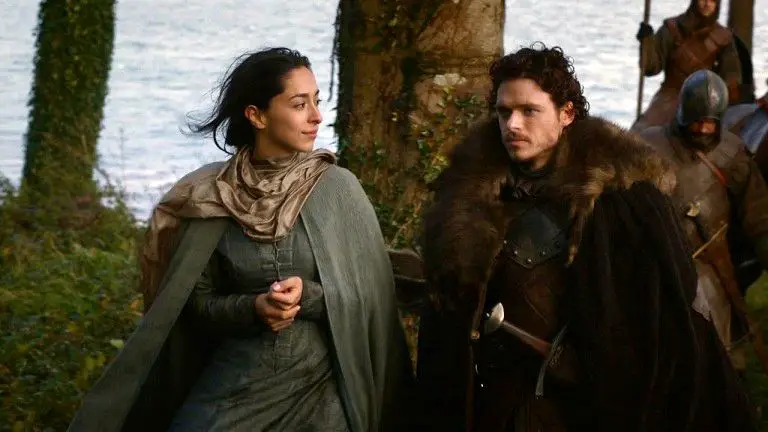 Caption: Oona (Talisa) with Richard Madden( Robb Stark) in the Games Of Thrones (2012-2013).
Photo Credit: pininterest.com
While revealing her kissing experience Oona claims Richard to be the best kisser filled with skills, however, in real life, the actress has completely under cast the idea of dating her on-screen husband. Richard Madden is currently in a relationship with actress Suki Waterhouse.
Caption: Oona Chaplin reveals about her kissing scene with her on-screen husband Richard Madden in the series of Games Of Thrones.(2013)
In an interview with the metro.co.uk in 2013, Oona straightly denies about dating any man till date despite being surrounded by several people in her life. She said:
"I've never dated in my life. I've spent lots of time with men, though it's not the same thing, is it? Oh God, that makes me sound like a harlot.'
The "Dates"(2013) star further disclosed about going through online dating portals to exactly fit in with the character of Mia in the movie Dates where she had shared her screen with Will Mellor(David) and Ben Chaplin (Stephen), where she expresses her experience as;
'I did go on an internet dating site to see how it worked. I put together a real portfolio but I didn't date anybody.'
However, to add more spiciness in her life, Oona accepted the fact of falling in love with every random man she meets and joked about the usage of her Cuban genes in the land of Britain, where she claimed;
"I fall in love on a daily basis. Can that possibly be true?. The background to that is easy it's feeling relaxed, feeling Cuban, where I was brought up. But it's so uptight here in Britain. I have no qualms saying "I love you" to a guy I've just met. But if you do that to a British man, trust me, he'll run a mile. There's a fear of love here.'
However, in the year 2011, she was rumored to be in a relationship with her co-star Alex Lanipekun who played in Ben Kaplan in Spooks(2007-08), no concrete evidence of their relationship was obtained as neither Oona said anything to address the statement nor did Alex.
Caption: Alex Lanipekun with Oona Chaplin at an event (2011).
Photo Credit:cinemarx.ro
But in an interview with standard.co.uk on 2011 Oona claimed about her admiration for Alex, she said:
"He is the only person I know apart from my dad who really fights every day to live up to his own standards. That is rare and something I don't have."
Even at the age of 30, Chaplin is living the traditional life of singularity. She has never been traced by any paparazzi with any man in any awkward situation nor with a woman in past although her Instagram account is filled with several female moments with her colleagues.
She has even shared an adorable moment with a baby, which admittedly acknowledges the interest of the actress towards children.
For now, let's wait and see what steps she will take when it comes to relationships and love life till then let's simply enjoy her movies.
A Short Bio of Oona Chaplin:
Having born in the family of Chaplin, Oona was born in Madrid, Spain while she was raised in Cuba and Switzerland. She hails from a wealthy family background and carries a mixed ethnicity whereas her parents, i.e., father Patricio Castilla, is Chilean and a cinematographer.
Her mother is the renowned actress Geraldine Leigh Chaplin who was born in Santa Monca and carries the ethnicity of Irish, Scottish and English, while her cousins are Carmen Chaplin, Kiera Chaplin, James Thiérrée, Orson Chaplin, the famous actor and rapper and her uncle Sydney Chaplin who is a player.
Similarly, Charlie Chaplin is her maternal grandfather while the legendary actress Oona O'Neill is her maternal grandmother.
As she carried the entire Chaplin legacy with her, she is the actress born rich and wealthy. But with her inherent acting skills and caliber she enacted in several movies like Aloft(2014), The Longest Ride(2015) and Purgatorio (2016).
While in the televisions era she contributed her skills in "The Crimson Field(2014 and Black Mirror(2014) with other several televisions and movies since the year 2007 which might have allowed her to pile on some millions on her net worth.