Entertainment
Openly Gay Brad Goreski, Fashion Stylish, Engaged To Long-Time Boyfriend: Soon To Be Married
Brad Goreski has been doing everything in style and has been letting the world know all about it. He has been an openly gay man but is he open about his relationship?  Let's find out if offers anything about his personal life.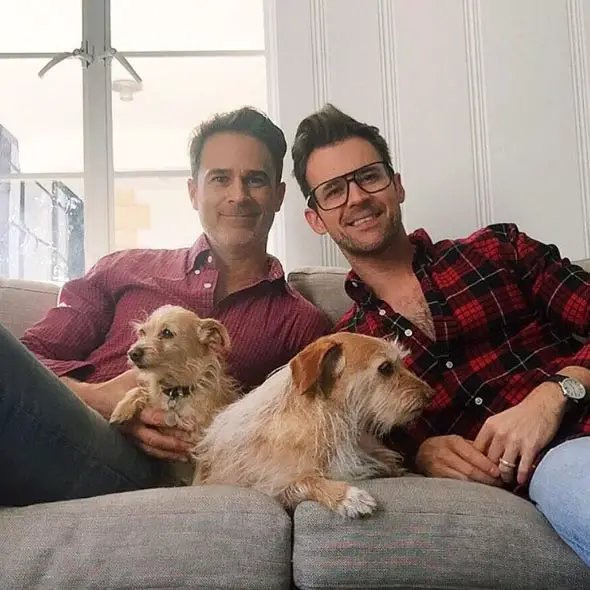 An openly gay man, Brad Goreski is doing everything in style and letting the world know all about it. 
Caption: Brad Goreski with his boyfriend Gary Janetti celebrating their 15th anniversary in the South of France on July 11, 2016
Brad Goreski is actually quite open about his personal life. He has been with his long-time boyfriend, Gary Janetti, a writer/producer who turned into his fiancé while they were in their 13th year as a couple.
The couple first met in Greece 15 years ago. In 2014, the couple went to the Greek Island Mykonos to relive their first moment.
The strongly bonded couple delayed revealing their engagement news, as they got engaged in August 2014 but decided to announce the news only in December of 2014.
"We got engaged in August. He had to go to London so wedding plans are on hold."
The same month, the news about their plans on getting married hit the media. To E-news, he said:
"We don't know when we're going to get married yet. We've already been together for 13 and a half years, so there's really no rush to get it done. But I'm really excited to marry the man I love. It's a great thing. I never thought that that would be a possibility. It's such a cool thing."
According to a recent story by Page Six, the couple is planning to get married next summer.
Brad Goreski's short bio:
Brad Goreski was born on August 15, 1977, in Ontario, Canada and currently ages 39 years old. He moved from Canada to Los Angeles, where he joined the University of Southern California and studied art history. After completing the University, he got an internship at the Vogue and W magazine, and later was hired by the Vogue as a west coast assistant.
His love for fashion started after he put his hands on the very first Vogue of his life at the age of 12.
He has also worked for many famous celebrities including Jessica Alba, Demi Moore, Christina Ricci and Minka Kelly. His net worth (estimated) has been speculated to be around $500 thousand dollars.
 In 2014, Brad joined the Fashion Police after the death of the Fashion Police pioneer Joan Rivers. Recently, Brad styled Lea Michele for the Teen Choice Awards.
He currently lives with his longtime boyfriend Gary and their dog in their Los Angeles-based home. On July 12, 2016, the couple celebrated their 15th-anniversary traveling to the south of France.