Entertainment
Openly Gay Rickey Thompson,22, Ready To Date! Boyfriend Talks
Coming out of the closet was tough work for Rickey Thompson as he feared being disowned by his family. Born in North Carolina and raised in a religious family, the youtube star had to wait till he moved to LA for revealing his sexual identity.
But when he finally decided to come out as gay, did his family and fans support? And did he find the one for whom Rickey had gone through all those hardships? Let's find out!
Rickey Unravels His True Identity
Rickey, who is popular on Vine, first disclosed his attraction towards boys in 2015 when he got tired of hiding his true-self and wanted people to accept him for who he really was. He took to Twitter to share his big news. Although he was initially terrified of his decision, he knew his choice was right when positive responses came pouring in.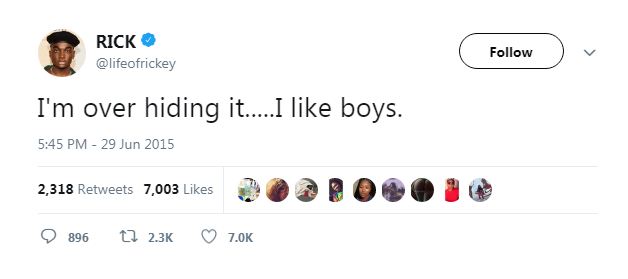 Rickey revealing his gay identity (Photo: Rickey Thompson's Twitter)
Later, he posted a video on his youtube channel talking about how people reacted after his big revelation. He was happy to know that his friends loved him and supported him in his decision but on the other hand, he was also surprised when his pals told him they knew he was gay even before he opened up to them.
He further talked about how his family was sad not because he was gay but regarding his decision to share his news with the public before discussing it with his family. Nonetheless, they supported him which meant a lot to Rickey as he was unable to hide his happiness and said the words "I am happy" several times in the video.
Rickey 22, was rumored to be dating when he replied to a post by Kayla Cohen. Kayla asked about a mystery man who had kissed Rickey on his forehead in one of his Snapchat stories to which Rickey replied, "My boyfriend." But Rickey made no further comments on the topic, and it was thought to be a joke.
After more than a year of coming out as gay, Rickey began realizing that getting accepted and convincing someone to like you back are two entirely different things. Finding a special guy was hard for Rickey as he tended to be nervous around cute boys. He wrote about this issue on Twitter too.
"I hate that I get nervous around cute boys"
However, even Rickey is not immune to "psycho boyfriends" as he was proposed for marriage only after a few weeks of dating. Of course, he rejected the proposal as getting married at a young age of 21 was not an option for Rickey, but to his shock, the boy immediately started hooking up with a blonde. It seemed like the incident had hurt Rickey when he accused all boys of being disloyal through a post on his twitter.
I wish I could date myself because these boys today ain't loyal
As of today, Rickey is assumed to be single. He is currently busy focussing on his youtube videos. And it seems like it's going to take some time before Rickey finds a loyal boyfriend for himself!