Entertainment
Packy Lee, 35, Keeping Married Life & Career Afloat, Secret To Happy Family Revealed
The balance of work and personal life is essential to maintain a healthy relationship. And the Irish actor Packy Lee seems to be aware of this fact as he has left no stone unturned to keep his family happy.  
Besides, his acting career seems to enhance with every role he plays, and it seems like time can't be any kinder to Packy. Although he is quite shy when talking about his personal life, he still glimpses of his private moments with his fans and followers.
So let's take a look at the private life of Packy and his rise to success as a prominent actor!
A Family Man
Packy Lee doesn't seem to like sharing details about his life including his height, and marriage as well. But we came to know that he was born on 15 June 1982 and has also found the love of his life in the form of a beautiful wife, Danielle. Moreover, Lee, in an interview with Irish news, revealed that the wedding was held at Belfast's Welly Parkin.
Later in 2008, the couple was blessed with their eldest child, Fodhla who will soon be having her First Communion which Packy speaks with great pride. Further, he also compares his child's communion with his acting career and reveals that the two hold the equal importance to him.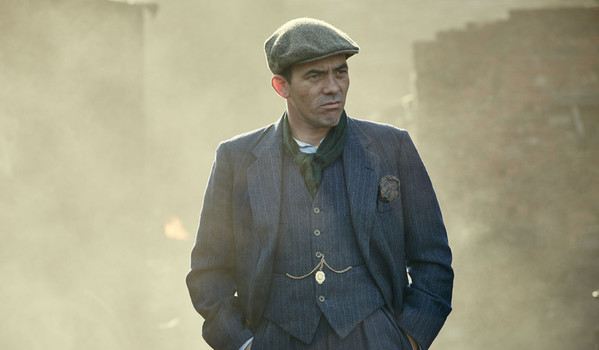 Packy Lee during the shoot of Peaky Blinders (Photo: Moviestillsdb.com)
The actor and his wife Danielle also have two more children from their marriage; Seadhna born in 2011 and Dallan in 2015. The star lives in West Belfast, along with his wife and children. Although Paul keeps net worth confined, it remains known that he owns a home in the city, and his children attend a local Gaelscoil. 
Packy is a proud Belfast man and reveals that his sense of Irish identity is of utmost importance to him and his wife, Danielle. Talking about his love for Belfast, Packy previously expressed,
"I'm a Belfast man, loud and proud, as they say. While I travel and can be away a lot, home is home. I decided years ago to commute to work. It's better for me, and the family, and it keeps my feet on the ground."
Although Packy has to travel a lot due to his acting jobs, he happily returns home knowing that a beautiful wife is waiting for him and his children who are always excited to spend time with their daddy.So Packy, like a decent man, credits his wife and children as the secret to his happy life. 
As of now, Packy is working on the show Peaky Blinders starring Cillian Murphy, where Packy's character Johnny Dogs is a close associate and loyal friend of Cillian's Tommy Shelby.
And in an interview with Aoife Kelly of the Independent, Packy promised to show more of the relationship between Johnny and Tommy, which raised the curiosity whether the two were gay for each other or not. But be sure, that even if that's the case, it resides only the screen!
Think we're missing something? Do let us know in the comment section below!