Entertainment
Palmer Luckey Faced Some Trouble With Girlfriend Did It Affect Their Dating Affair?
A relationship of a couple has its own share of ups and downs, and the hurdles are the tests of a relationship. Some relationships survive and strengthen withstanding a stormy night, while few relations crumble down.
Palmer Luckey, the founder of Oculus and the guy to have successfully listed his name in Forbes as the American's Richest Entrepreneurs under 40 with a staggering net worth of $730 million, faced some trouble during his relationship with his long-time girlfriend.
But in what direction did the relationship proceed afterward? Let's dig in to find out!
Palmer Luckey Faced Trouble With His Girlfriend:
Palmer Luckey met his girlfriend Nicole Edelmann- a cosplayer, active Trump supporter and vocal member of the GamerGate movement, in Virginia during a summer debate camp in 2010.
In the meeting, Luckey and Nicole discovered their love for gaming, and soon the relationship blossomed into a romantic affair. The couple apparently started to live together and were pretty serious about their relationship.
However, an incident made Palmer's girlfriend Nicole deactivate her Twitter account!
Nicole was active on Twitter as Nikki Moxxi, and her account was rife with GamerGate support posts. She even cosplayed as Vivian James- a GamerGater mascot at GamerGate meet up in San Fransisco.
When we take a look at one of her post on Instagram, it shows that she is a Trump enthusiast.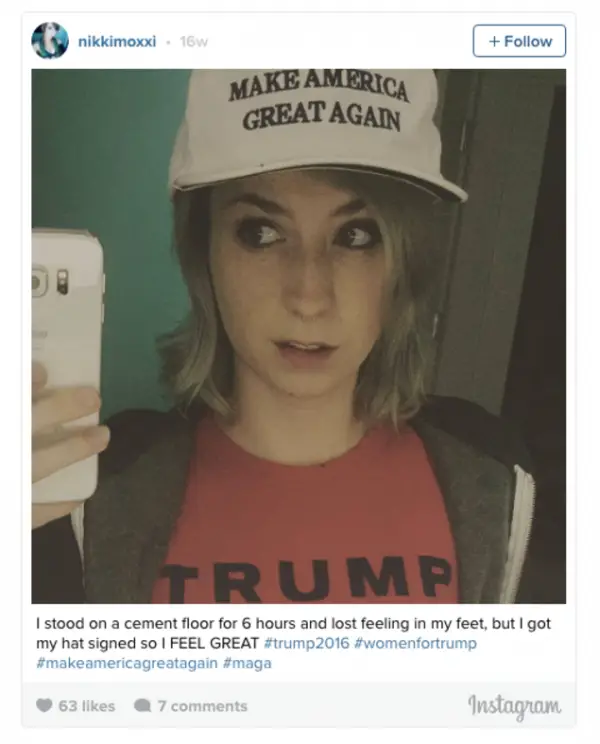 Caption: One of Nicole Edelmann's Instagram post which shows she is a Trump enthusiast.
Photo Credit: gizmodo.com
Similarly, Nicole flaunted her hat signed by President Trump back in May 2016.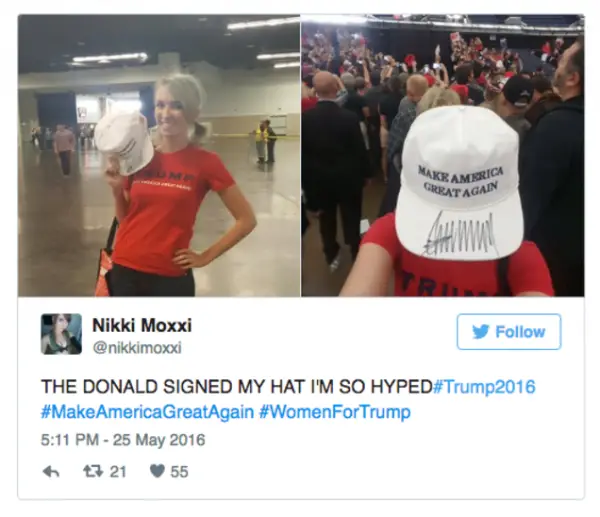 Caption: Elated Nicole Edelmann shows off her hat signed by Trump.
Photo Credit: gizmodo.com
Moreover, though it's one's personal preference to post things on the social media account, people often criticize the posts. Gizmodo's reporter Bryan Menegus criticized Luckey's girlfriend, Nicole for her post related to pro-GameGate and Trump's views back in September 2016. She stated,
"Edelmann's social media accounts are rife with GamerGate support posts. She frequently shit-talks feminist Anita Sarkeesian, mocks 'SJWs,' and tweets pictures of herself at Trump events. She's cosplayed as GamerGater mascot Vivian James, and been photographed at GamerGate meet-ups around San Fransisco."
Since the report got published in Gizmodo, many took Twitter to harass Nicole; following which, she deactivated her account! Nevertheless, she is back on twitter again from January 2017. 
It's apparent that the relationship of Palmer and Nicole have survived the test of the time and still going strong. In one of his tweet, Palmer claimed that his girlfriend is hotter than others back in July 2017.
Keep visiting to stay updated on the life of Palmer Luckey!