Entertainment
Paloma Jimenez's Wiki: Her Bio, Dating Affair With Actor Boyfriend, Their Children And Much More About Her
If you are involved in showbiz by any means, you are automatically bound to attract people towards you. Even if you are one of those individuals who prefer maintaining privacy in their personal life, you are compelled to reveal some information regarding your life behind the cameras.
In this context, we will be talking about the gorgeous model Paloma Jimenez, whose name always comes at the top when one investigates forty-nine-years-old Vin Diesel's love life. So let's take a stroll at the life of Paloma Jimenez!
Paloma Jimenez's Love Life:
The gorgeous Paloma Jimenez has been in a relationship with Vin Diesel since 2007. Due to her dating affair with Diesel, many people and fans of Diesel have shown their interest in her as well.
Paloma is not married to her boyfriend yet but shares three children with the star. She gave birth to their first daughter, Hania Riley Diesel in April 2008 when she was twenty-four-years-old.
Two years later in 2010, Paloma and her partner Diesel welcomed a son, Vincent Sinclair Diesel. Similarly, on March 16, 2015, Paloma gave birth to their third child, a daughter named Pauline Diesel. The pair named their daughter in honor of late family's friend Paul Walker.
As parents of three kids, Paloma and Diesel have been enjoying a happy family life. However, they have been keeping their family life private, as the pair didn't even make a formal birth announcement of the birth of their kids.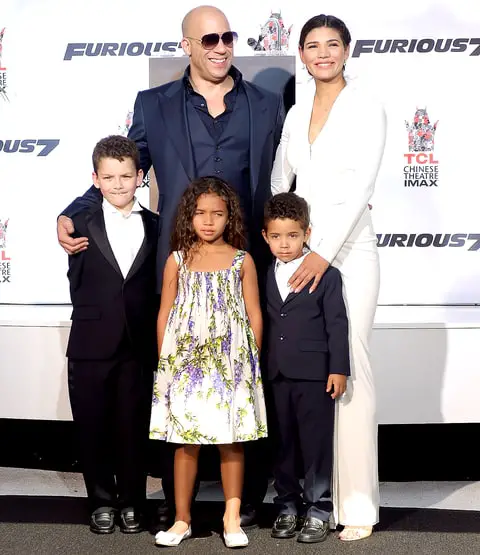 Caption: Paloma Jimenez with Vin and their children at the Vin Diesel Hand and Foot Print Ceremony on April 1, 2015, in Hollywood, CA.
Photo Credit: StarsUnfolded
Meanwhile, in May 2015, Life & Style magazine claimed that Diesel cheated the mother of his children. According to the magazine-
"Vin has a double life," a source claims. "About a year ago, he met this girl at a party in NYC. They hit if off, one thing led to another and before you knew it, they were making out."
"That little fling turned into something more, which lasted for a couple of months. Vin and the woman had a whirlwind romance, based on sex. Vin's secret was safe (until now)," the source explains to Life & Style, "because the woman was also in a long-term relationship."
Neither Paloma nor Vin has commented on this rumor, as they have decided to keep their relationship as private as possible.
Even back in 2006, Vin stated about his privacy preference, where he said-
"I'm not gonna put it out there on a magazine cover like some other actors ... I come from the Harrison Ford, Marlon Brando, Robert De Niro, Al Pacino code of silence."
A Short Wiki-like-Bio Of Paloma Jimenez:
Paloma Jimenez was born as Karla Paloma Jiménez Denagustin on August 22, 1983, in Acapulco, Guerrero, Mexico. Paloma is a Mexican and is a model and an actor like her boyfriend, Vin Diesel.
She has appeared in the commercials for the brands like Coca-Cola, Pantene, and Honda. Likewise, she has made her appearance on her native country's Otro Rollo Con: Adal Ramones back in 2014.
Stay with us for the emerging updates on Paloma Jimenez and Van Diesel!