Entertainment
Parker Schnabel Ready To Get Married At A Young Age? Talks On How Dating Affair With Started Girlfriend
Gold Rush star, Parker Schnabel is the American TV personality who reached a great height in his career at a very young age.
But while he has been making a name for himself as a young and fruitful TV personality, he also has been a hit in his love life which includes his girlfriend.
Yes, you heard it right, he has a girlfriend, and today we would like to address the relationship between him and his girlfriend and find out the prospects of them getting married and sharing a husband-wife relationship in the days to come.
Parker Schnabel's Married Life:
The grandson of John Schnabel, Parker Schnabel took over the family gold-mining business and became one of the youngest successful figures in the business. As for dating affairs, the famous gold-miner has also been dating the Aussie blonde Ashley Yule. The couple first met in Australia and sparked the romance almost immediately.
Recounting the love for Ashley, Parker elaborated in February 2017 saying,
"Ashley and I met in Australia. We hit it off pretty well so I invited her over to spend some time in North America. Neither one of us knew what to expect but we had a lot of fun — she's super easygoing, which is what you need out at a place like that. Ashley just rolls with the punches and helps out where she's needed. If we need her to drive trucks she'll drive trucks. She ended up cleaning gold a lot of the summer or helping do fuel things or whatever we needed her around the place. She stayed busy and tried to stay out of my way when I'm in rage mode. Yeah, it was fun. It was a good summer. I'm really glad Ashley was there for it."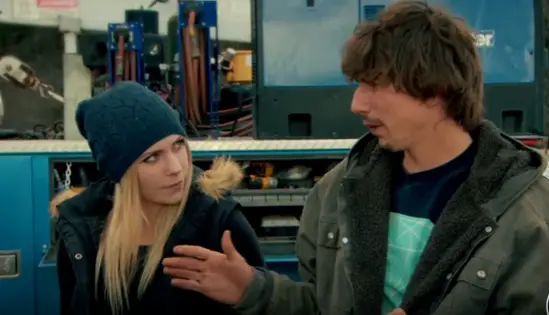 Parker Schnabel with his girlfriend, Ashley Yule (Photo: earnthenecklace.com)
Also, he hinted that he could take his gold mining thing to Australia in 2017 via Facebook Live chat with fans,
"You know, I wanted to get out to the gold fields in Australia. I didn't know anybody over there, so I didn't end up going out and looking at any ground. But, I definitely would have liked to have gone to look at some operations and stuff. I'm always interested to see what people do in other countries. Last winter I spent in New Zealand and went to a bunch of gold mines there, and that was a ton of fun — a really good experience.
Parker also invited Ashley to spend time with him in the U.S. which she gladly accepted and had a lot of fun with Parker. The trip officially tagged them as a couple.
In an interview with Discovery, Parker disclosed that his girlfriend, Ashley was the perfect girl saying,
"Ashley just rolls with the punches and helps out where she's needed. If we need her to drive trucks she'll drive trucks. She ended up cleaning gold a lot of the summer or helping do fuel things or whatever we needed her around the place."
Now that we know that the love between them has been getting stronger with time, the fans often wonder if they have any plans to get married. Well, thus far, the two have not disclosed any plans to tie the knot, and that adds more to the fans' curiosity.
However, back in a Facebook live Q/A in January 2017, he stated about his opinion towards getting married saying,
"I'm not getting married anytime soon. I did just spend Christmas and New Years with Ashley over in Australia though. So that was a lot of fun." [Later, Parker is asked again and laughs when he says "never."
Moreover, he also added that he has no plans to propose Ashley anytime soon.
"That's unlikely, to be honest."
So let us wait and see if the adorable couple discloses something exciting about taking their relationship to the next level.
Parker Schnabel's Wiki-Like-Bio:
John Schnabel's grandson, Peter Schnabel was born in 1994 in Haines, AK and celebrates his birthday on July 22.
He is most famous for his participation in the Discovery Channel's "Gold Rush" reality series and gets paid in a hefty amount of salary, which has helped him boast a net worth of $8 million.
Speaking of his family, he is the son of Roger Schnabel and Nancy Schnabel and has a brother named Payson Schnabel.
This sensation, who is 22 in age, also has ample dedication towards his work, and he said that he does not own any fancy car or a luxurious house.
We made some money this season, but it's going right back into the ground. And what I mean, is that we are buying new equipment to improve our operation. I don't own a boat or any fancy cars or a fancy house. I have a big expensive sand box instead.
What Does Parker Schnabel Spend His Money On? Published on May 27, 2017.
The American reality TV star is geared up for the second season of Gold Rush: Parker's Trail. a spinoff of Gold Rush, which will be broadcasted in Discovery Channel on 30 March 2018. Schnabel will be teaching the local population the gold mining using only basic tools and hands, leave heavy mining equipment behind in the show.
In an interview with Discovery, he revealed that gold-mining had made him less social stating,
"I don't make the time to keep in touch with them [friends from high school], it's just a hell of a busy summer. So that's definitely a downside: all the guys I used to hang out with, they've moved on, and I've moved on and don't really have time to keep up. That's a bummer, but I'm doing what I love, so that's what you give up I guess."
Parker recently bought the land the size of 45 football fields which cost $500,000 as shown in the season 8 of Gold Rush in the 18th episode entitled "King Kong." He was promised the land had 350 ounces of gold.
Great to know that he puts his professional life before his private luxury!