Entertainment
Patricia Heaton's Lavish Life With Husband & Family; Children Don't Get All Perks
Emmy Award-winning American actress Patricia Heaton, who is mostly known for her role as Debra Barone on TV series Everybody Loves Raymond, has a beautiful family and also a prosperous career.
Moreover, Ohio native Patricia is concerned on parenting her children right and also looking picture perfect for her TV appearance despite her ascending age.
Lavish Family Life
60-years-old Patricia has been in the entertainment reign for almost three decades. And in these long years, she has not only garnered fame but also a hefty amount of fortune. Her net worth has even been enriched with the earnings of her actor husband, David Hunt.
The pair, who first met in Manhattan, tied the wedding knots in 1990. Subsequently, the couple welcomed their four children, David, John, Joseph, and Daniel.
The happy family of six resided in a lavish home that the couple bought in Hancock Park in 2001. The house included a library, a billiard room, seven fireplaces, six bedrooms, five bathrooms, two offices and a guesthouse/screening room.
The house also got an acre of ground that had a swimming pool with a changing room and bathroom, a paddle tennis court, wisteria-covered arbor, and patios.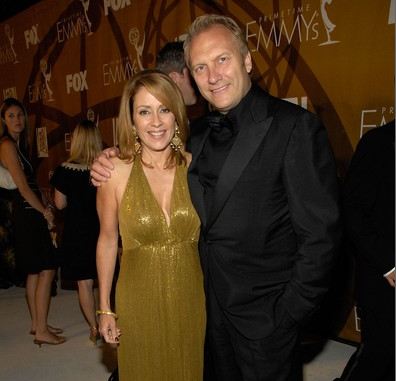 Patricia Heaton attends 20th Century Fox Emmy Party with Husband David Hunt in LA. on 16 September 2007 (Photo: zimbio.com)
However, in 2013, Patricia and her husband sold the house for $8 million gaining the profit of more than $3 million. Though the details of the couples' recent LA house have not been revealed, it is in the limelight that the family travels to England every year to spend their summer in their five-bedroom home outside London.
Roots In Ground
Amid all the success and achievements, Patricia, who once struggled through from poverty, makes sure that her children stay on the ground. She doesn't want her children to misuse money and be dependent.
In an Interview with the dailytelegraph.com back in December 2009, Patricia stated that she would never buy a car for her son until and unless he becomes able to buy a gas independently.
She also disclosed that her family follows the rule of the series The Middle, where the mother says 'Wrong family' whenever children ask for something inappropriate.
"There is a line in our show where the kids ask for something and I say, 'Wrong family'. I have been using that line in our house ever since (and) when my eldest son asked for a car recently I said 'Wrong family'. I feel, until they can actually pay for the gas, they can't have a car."
Although Patricia was not in favor of buying a car for her son, she admitted that she was teaching her eldest son to drive whenever she gets a chance in her hectic schedule.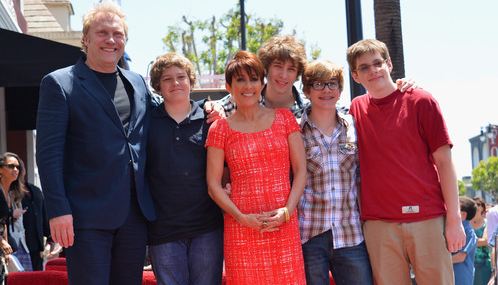 Patricia Heaton, David Hunt, and their children attend a ceremony where Patricia gets honored on 22 May 2012 (Photo: zimbio.com)
She also disclosed that having four kids in a busy career has let her sleep only six hours a night. But she claimed that was not a big deal saying spending time with her children was important.
"Ever since I had children I've been used to getting by on six hours sleep a night, so that's not a big deal, it's more about how much time you can get with the kids,"
While Patricia is conscious about guiding her children on the right path, she is also equally concerned about maintaining her beautiful looks and body for her TV appearance.
Candid About Plastic Surgery
Among the celebrities, who tend to hide their plastic surgeries, Patricia is the one that doesn't shy away to be candid about it. During an interview with the People in May 2018, Patricia disclosed about her surgeries and how it helped her grow confidence.
She also brought up her pregnancies and said that the surgery helped her re-shape her stomach.
I had four C-sections. I gained 50 lbs. with every kid and I'm 5'2″. Wasn't pretty. It just does something to your body. I was really in the prime of my career when that was all going on, so it just felt better and made me more confident to reconstruct my stomach, take care of all that stuff"
Patricia, who had her breast augmented once, also stated that she loves keeping her face youthful with the help of fillers and Botox. She even claimed that the remedies make her look like her best self.
"I also love beauty products and I love fillers and Botox, if you do it so that you still look like yourself, you just look like your best self,"
She also said that she is aware of the limits of the plastic surgeries and is grateful for having such scientific methods to be beautiful. With such dedication for acting, and a supportive family, itis likely that she will rock the entertainment world even in her 60's.