Entertainment
Patrick Muldoon Gets Back With Former Girlfriend; In The Hopes To Get Married Or Professional Cause
In life, sometimes two people who had a romantic inclination before cross paths again; and at the moment it might rekindle the past romance which could turn out to be even more special than before, but it's also possible that they only remain cordial and professional with each other.
In a similar situation is actor Patrick Muldoon who got back with her former girlfriend but what is the real cause behind it? Are they back together professionally or there lies a personal reason behind it? Let's dig in.
Patrick Muldoon Back With Former Girlfriend:
Patrick Muldoon shared a brief romantic relationship with Denise Richards in 1998, and after many years in 2012, Patrick and Denise were again spotted on a dinner date, rekindling the old romance, as reported by Daily Mail on January 10, 2012.
Patrick and Denise were spotted on a dinner date in Madeo Restaurant in Beverly Hills and were arm-in-arm as they walked towards the upmarket eatery. Patrick was dressed for the evening and was looking handsome in his velvet jacket, and light jeans and Denise complemented him as she wore an asymmetrical purple top and a pair of skinny jeans along with knee-high black boot. Denise accessorized her look with a long gold chain and an oversized clutch bag.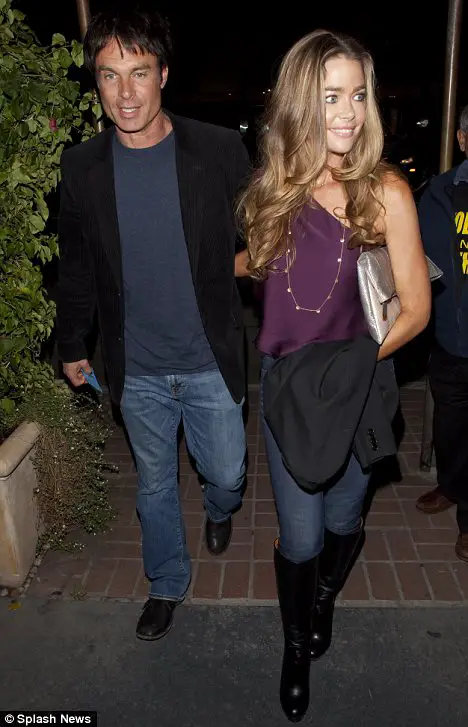 Caption: Patrick Muldoon and Denise Richards captured in a dinner dated in Beverly Hills in January 2012.
Photo Credit: Daily Mail
During the date, Patrick and Denise enjoyed alone time together and were seen wearing his 'n' her leather jacket.
An insider told Radar Online that the former lovers were dating again.
"They are dating again, it is serious but they are trying to keep it low key."
Denise Richard has two daughters Sam J Sheen (b. March 9, 2004) and Lola Rose Sheen (b. June 1, 2005) from her marriage with Charlie Sheen in December 2001 which ended in divorce in November 2006. Similarly, in 2011, she adopted the third daughter as a single parent and in July, and Patrick was present on the baby shower as well. On the other hand, Patrick has been in the relationship with Eve Mauro (2008 - 2009), Juliette Binoche (2002 - 2006), Stacy Sanches (1996 - 1998) and Tori Spelling (1995).
Professional Reunion:
Caption:  Patrick Muldoon in an interview at Universal Studios Hollywood, where he promoted his new film, "A Christmas Reunion," in 2015.
Video credit: extratv.com
In 2015, Patrick reunited with Denise for ION Original movies, "A Christmas Reunion" which is a story of long lost lovers sharing a romantic union before, and happen to cross path after a long time.
In an interview, actor Patrick shared about his character in the movie.
"Our characters grew up together in a tiny town called Chestnut ? we were supposed to be married after high school,"
Moreover, Patrick explained about the premise of the film and revealed,
"But my character got hurt when she moved to New York to pursue a career, so he joined the military"
Following the death of their loved one, they come back to town which forces them to reunite to run a bakery. So will they rediscover their love which once bestowed? To find out viewers need to watch the movie, "A Christmas Reunion"(2015).
Moreover, Patrick shared a dirty trick played by the producer on him.
"The producers played a dirty trick on me. If you've worked with me in the past, you know I'm into my hair, so they gave the kid who plays me as a child kind of an over-the-top, Patrick hairdo ? he looks like Elvis. It's funny!"
Patrick and Denise's rumored dating affair remained a story as neither of them came forward to acknowledge their relationship in public, so the truth of their relationship lies between them.
However, Patrick is not a married man and is yet to enjoy marital life with his wife. Moreover, portraying a gay role onscreen gets him to be speculated as a gay, but without any official confirmation from the actor, the truth remains with the actor himself.
Patrick portrayed the role of Austin Reed on "Days of Our Lives" (1992- 1995) and again from September 2011 to July 2012 which won him several television and films roles. His memorable performances include "Melrose Place" (1996- 1996), "Starship Troopers" (1997), "The Second Arrival" (HBO, 1998), "A Boyfriend for Christmas" (2004), "Deadly Revenge" (2014), "Patient Killer" (2015). With all his hard work and dedication, he has accumulated a huge net worth of $1.5 Million.