Entertainment
WSJ's Paul Gigot Married Status Amid Professional Life! Family & Wife Details
The host of The Journal Editorial Report, Paul Gigot is a veteran figure in the field of journalism, who has achieved recognition and success in his long-lasting career.
The political commentator has traveled throughout his life including countries like the Philippines and China.
The workload left him with very less time to focus on his personal life which most fans are curious to find out about. So, does Paul have a loving wife to keep him company in spare time or does he lead the life of a lone wolf?
Not Married Yet, Talks On Gay Marriage
Paul Gigot is a bachelor with no history of married life. Further, he has not been gossiped about being involved in a relationship, be it with a woman or a man. His lack of interest in settling down with a wife despite reaching the age of 63 has raised curiosity among viewers if the man is secretly hiding in the closet. Moreover, he can't be labeled a gay as he has made any revelation of his sexuality.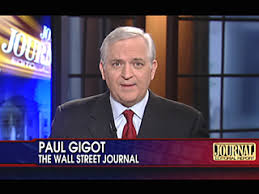 Paul Gigot hosts The Wall Street Journal (Photo: NewsBusters.com)
However, on one occasion Paul talked on the matter. In 2013, he conducted an interview with Dan Henninger, Joe Rago, and James Taranto in which he questioned the intellectuals on the issue of gay marriage. In the interview, Paul talked about the Defence of Marriage Act, which prohibits same-sex marriage. He also asked Joe about his future actions to make sure the Supreme Court recognized marriage as a fundamental right. But, Joe argued his logic that saying gay marriage is in the benefit of humankind would imply that their ancestors were wrong to think otherwise. The heated argument went for a short while and ended without any satisfying conclusion.
While some believe Paul is secretly a gay man, others argue that he is far too busy with work to even think about getting married.
From Delivery Boy To Top Political Commentator
Born in Texas, Paul's family soon moved to Wisconsin after his birth. He grew up in Green Bay, raised by a family of Fench and Belgian origins. His father ran a pharmacy where Paul helped as a stock and delivery boy. Paul's grandfather was a shareholder of the Green Bay Packers which he passed on to his son after his death.
The editor got his primary education from Wisconsin and graduated from the Dartmouth College in 1977. He joined The Wall Street Journal in 1980 as a reporter and was transferred to Hong Kong as the Asian correspondent in 1982. Paul was reassigned to Washington in 1987 and started working at the editorial department. During his stay there, he wrote the weekly column on political matters called Potomac Watch, which won the Pulitzer Prize in 2000.
Later, he was promoted to the position of editorial page editor on 17 September 2001 and holds to job to this day. As of 2018, Paul also works as a chairman of the Pulitzer Prize Board.