Entertainment
Wedding Insight! Paul Khoury & Wife Ashley Greene Get Married To Melt Your Heart
Australian Businessman Paul Khoury was famously the boyfriend of the hottie actress Ashley Greene. And now he has rocked the world for changing the half a decade of relationship to marriage.
Well, he is the husband of our famous Vampire from Twilight Saga actress.
Dating to Engagement:
Paul Khoury was dating the actress Ashley Greene since September 2013. Their romantic relationship  Following their dating relationship, they got engaged in December 2016 after Paul proposed to long-time girlfriend on a romantic getaway to New Zealand. He got down on his one knee in Bridal Veil Falls in New Zealand and surprised her.
After Ashley said "Yes", Paul immediately took to Instagram with the close-up shot of the Engagement Ring, writing :
"This is the woman I'm going to spend the rest of life with"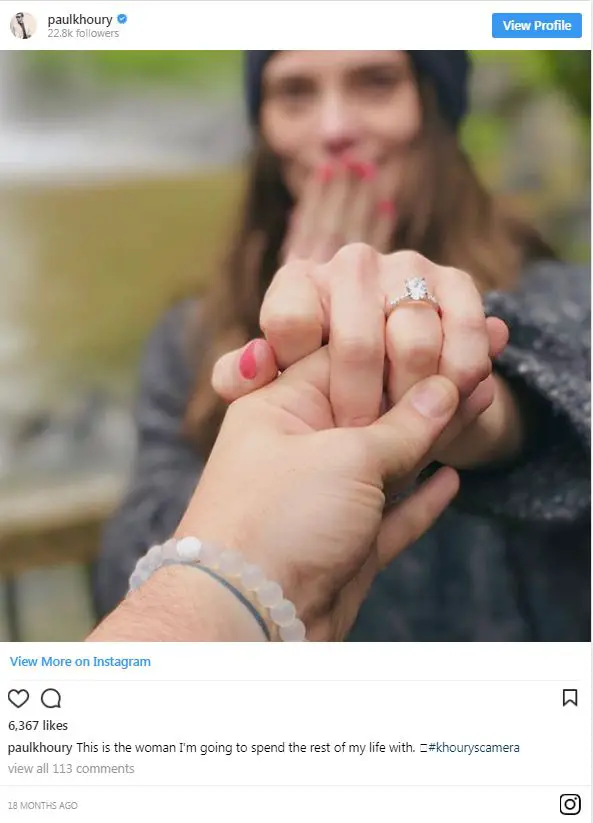 Paul Khoury got engaged to his longtime girlfriend, Ashley Greene (Photo: Paul Khoury's Instagram)
Not just Paul, but Ashley also shared her happiest moment among her large number of followers on Instagram, writing;
"I'm SO lucky and SO excited that I get to spend the rest of my life with my best friend but the ring doesn't hurt either. It's the most beautiful thing I've ever seen."
In addition to the adorable picture from their private engagement, the engaged shared the video on their respective Instagram account. The 28-year-old TV presenter shared the video and added:
 'I promise to put a smile on your face for the rest of our lives. You complete me in ways I didn't even know was possible. I love you more than anything and excited to take this next step in life with you! #foreverlove #myfutrewife #ShesGonnaBeAKhoury (sic).'
Similarly, the recently 31 turned actress, who celebrated her birthday with fiance, also wrote:
 'This is the most beautiful moment I could have ever hoped for. You've successfully made me the happiest, luckiest woman alive. I can't wait to show you my unfaltering immeasurable love for the rest of our lives. #engaged #loveofmylife #futurehusband (sic).' 
Following their engagement, their bond seems to be stronger and usually flaunt their romance on social media. After a year of their engagement, they celebrated their fourth years of the bond which Ashley quoted as, "4 years and counting."
The engaged couple celebrated their fourth anniversary at the DMV.  The strolled holding their hands as they walked and shared lots of laughs. Ashley said:
Thank you for showing me the true meaning of unconditional love ❤️," she added. "You've somehow managed to keep that childlike wonder and excitement for every single small detail in this world and it makes me fall for you all over again every single day. Thank you for keeping my heart safe and full my angel. I love you more than words could ever express."
Similarly, after their engagement, their fans might be seeing forward as husband and wife. But the Twilight Star, Ashley Greene highlighted their wedding plans while promoting her movie, In Dubious Battle. She said:
"Definitely nothing this year, perhaps next year. I'm still at the point of looking down at my hand and going 'Oh, my God! I'm engaged!'...I kind of want to relish in that first before taking on planning a wedding. We are going to try to make it as easy as possible but planning a wedding is a stressful thing for anyone and I just want to enjoy being engaged before I go down that road."
Moreover, Paul and Ashley stood on their words as they had announced their wedding plan to be in the year 2018. So, on 6 July 2018, the couple exchanged the wedding vows and were pronounced as husband and wife.
Star-Studded Wedding; "Bound For Life"
After dating for more five long years, Paul Khoury finally got married to actress Ashley Green on 6 July 2018 near San Jose, California. The couple got married in front of guests which included their famous friends: Liam Hemsworth, Zac Efron, Rob Pattinson, Brittany Snow, Lauren and Aaron Paul, and Evan and Ashlee Simpson-Ross.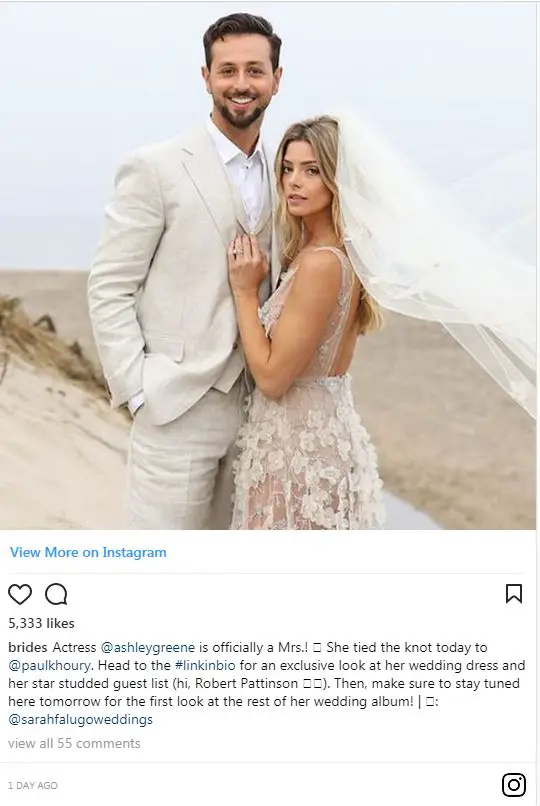 Paul Khoury got married to Ashley Greene (Photo: Brides' Instagram)
For their big day, the bride stunned the altar with a back-baring dress by Katie May and later changed to Windi Williams-Stern's gown for the reception. The newly wedded couple rode in on a trolley to joined their friends and family for the reception. The wedding reception was attended by more than 120 guests in a private retreat just minutes away from tech-town Silicon Valley.
His gorgeous wife wrote in an Instagram post a month prior to their wedding:
"There is never a dull moment with [Paul]. Find someone who makes you laugh everyday and makes you strive to be your best self. Someone who lifts you up but also catches you when you fall."
The couple has kept their relationship going on many goods and flaws, and now they are bound to be with each other for the lifetime.