Entertainment
Paul Rodriguez Won The Bet With Girlfriend? Will Turn Dating Into A Married Relationship Or Not?
Skateboarding is a cool art, and many love it. In this edition, we would like to talk about a professional skateboarder and American actor Paul Rodriquez, where we take a look at his love life and what are the prospects of him getting married and having a wife in his life.
Paul Has A Girlfriend But Will He Get Married?
The world of professional skateboarding is a great field, and the people involved in it are no less of an artist. The same can be said about Paul as he too has made quite the name for himself. But did you know that he has been dating Rachel Metz since 2013? No matter what the world's perspective is, the couple feels blessed being with one another.
Other than that, both of them share lovely moments with each other, and an example of that became visible when Rachel and the pro skateboarder took a kickflip challenge, and Paul captured the entire bet on multiple videos and shared it on Youtube.
Caption: Paul and Rachel kickflip challenge.
Published on Jun 1, 2016.
Caption: Paul and Rachel Kickflip Bet: Part One.
Published on Jun 22, 2016.
Caption: Paul and Rachel Kickflip Bet: Part Two.
Published on Jul 14, 2016.
Besides spicing up the relationship with such acts, the duo loved doing some other normal things together as well, like cooking and other household activities. 
Now we know that these two enjoy being together and are happy with where they stand in their relationship, the question that is on everyone's minds is when are they getting married?
Well so far, the answer to this remains with the couple themselves as they have not spilled any beans related to them sharing a husband and wife relationship and tying the knot. With that much, what we can only do now is wait for them to break silence on this matter.
Furthermore, if you did not know, Rachel is not his only girlfriend, as he was once in a relationship with the beautiful Rainbow Alexander and the couple shares a daughter named Heaven Love.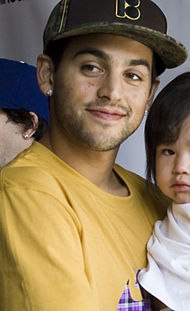 Caption: Paul and his daughter Heaven Love.
Photo Credit: whosdatedwho.com
Moreover, what his love life involving women also does is smack the rumors of him being a gay in real life as a gay is less likely to have a daughter with a woman right?
Paul Rodriguez Jr as we know is a professional skateboarder and also an actor most famous by his nickname P-Rod. Rodriguez has won a total of eight medals at the X Games, among which four of them are gold.
That is quite an achievement, and those accolades must also have done his financial life the world of good as his net worth is estimated to be around $6 million.