Entertainment
Paulina Gretzky [Dustin Johnson's Fiancee] Wedding, Age, Net Worth, Now
Paulina Gretzky is best known as the daughter of hockey legend Wayne Gretzky and actress Janet Jones. Besides her parents' fame, she has made a considerable name for herself as a socialite and a model.
Further, she is also known as the fiancee of the professional golfer Dustin Johnson following their engagement in 2013.
Read on to find out about Dustin Johnson's fiancee Pauline Gretzky.
Paulina Gretzky And Dustin Johnson's Wedding?
Paulina and Dustin started dating at the beginning of 2013. Their relationship developed quickly, and the two got engaged in August after seven months of dating. 
Further on 19th January 2015, the couple had their first child together- a son named Tatum Gretzky Johnson.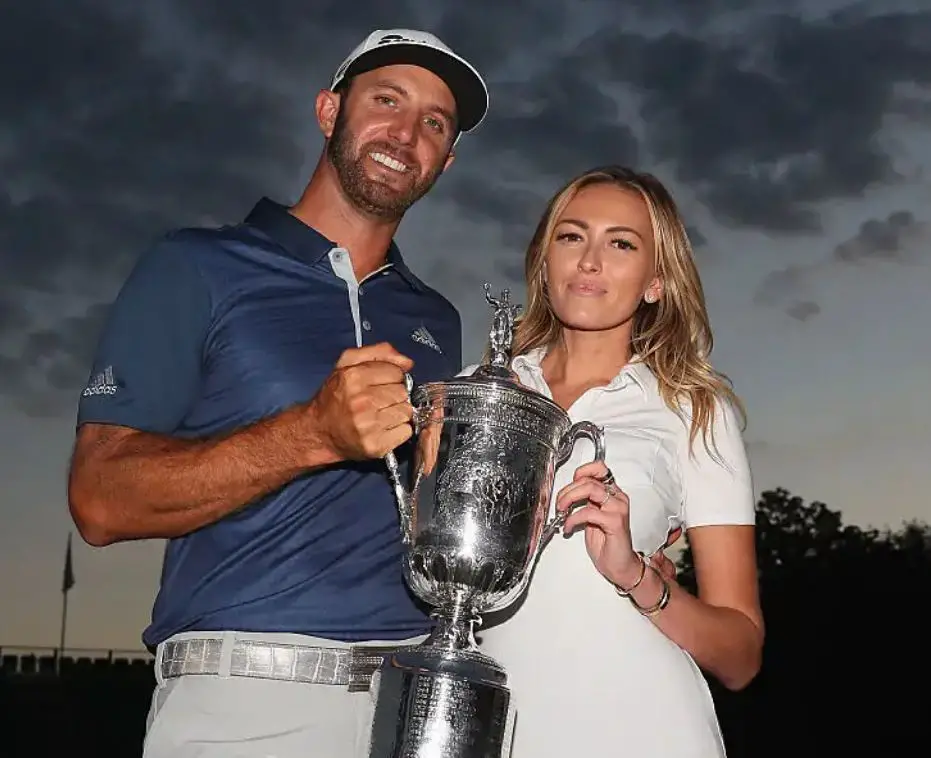 Paulina Gretzky and her fiance Dustin Johnson showing off his trophy (Photo: businessinsider.com) 
And again on 12th June 2017, baby number two- River Jones Johnson came along.
More On Paulina's Pregnancy:- She's Pregnant Again! Beautiful Model Paulina Gretzky is Expecting her Second Child with Fiancé Dustin Johnson
As of now, the couple has already been engaged for six years. Naturally, everyone is intrigued to know about their wedding plans.
Until now, the couple has been using their busy schedules as the reason for delaying the big day. And it's believable too since the couple had two boys over the years and raising the kids must have been a tough task.
But, after six sweet years as an engaged couple, now seems to be the right time to walk down the aisle. But, the actual date has not been made public yet.
Career/ Net Worth
As a young girl, Paulina wanted to be a dancer. She even got accepted into the prestigious American School of Ballet. But, she chose not to attend and focus on a career in acting and music instead.
You May Be Interested:- Travis Barker's Daughter Alabama Barker Age, Net Worth, Height
She started to perform music in 2003 and even released her single Collecting Dust. But, her singing career was not a huge success.
After that, she entered the modeling world. During her modeling career, Paulina bagged many modeling gigs and graced the cover of various magazines.
Further, she also ventured into acting and appeared in movies like Grown Ups 2 (2013), Fame (2009) and Guns, Girls, and Gambling (2012).
As of now, Paulina enjoys an estimated net worth of $5 million.
Now/ Dustin's Knee Injury
After the tour championship in August 2019, Dustin had to go through an arthroscopic surgery to repair cartilage damage on his left knee in September of the same year.
Dustin' surgery became successful, and he began hitting full shots right after six weeks of the procedure. During his come back in December 2019 session, his repaired left knee looked good. It is to be seen how he plays in the Presidential Cup 2019.
Some Other Facts 
Paulina was born as Paulina Mary Jean Gretzky on 19th December 1988 in Los Angeles, California.
The model grew up in a large family with four younger siblings Emma Gretzky, Tristan Gretzky, Trevor Gretzky, and Ty Gretzky. 
Paulina stands at the height of 5 feet 8 inches (1.73 m) and boasts a gorgeous figure.