Entertainment
Peggy Sulahian Is An Example For Perfect Family Woman! All About Personal Life - Age, Husband, and More
Peggy Sulahian Is An Example For Perfect Family Woman! All About Personal Life - Age, Husband, and More Peggy Sulahian is known for being a part of the long running Bravo TV reality show "The Real Housewives of Orange County," a show which she entered in 2017.  But now let us switch our focus to her married life and let's find out about the successful family woman.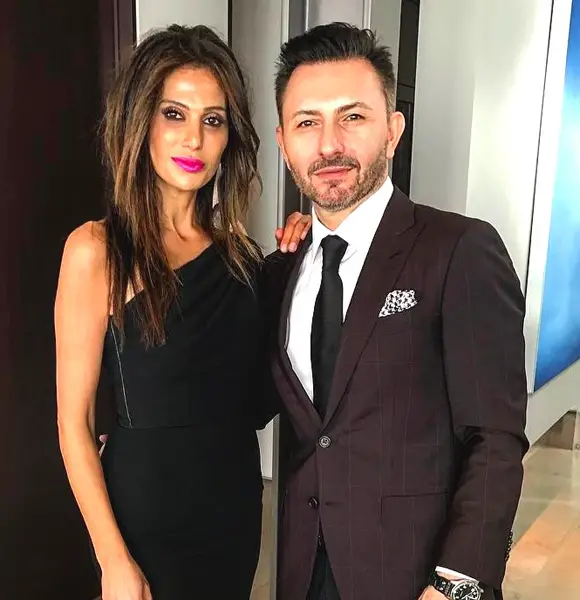 Reality TV has produced some major stars like Vicki Gunvalson and Lydia McLaughlin, and one name which is not to be forgotten is the name, Peggy Sulahian. Peggy Sulahian is known for being a part of the long running Bravo TV reality show "The Real Housewives of Orange County," a show which she entered in 2017.
But now, switching the focus to her married life, let's find out more about her blessed family life, which includes her husband and children.
The Blissful Married Life of Peggy Sulahian: Her Husband & Her Kids:
Peggy Sulahian, who is 44 in age, has been married to Diko Sulahian, a wheel mogul, for around 20 years now. The two tied the knot back in 1995 in Beverly Hills and have been adding a different meaning to their love ever since then.
But while she claims she has a perfect marriage, there were reports that Peggy and Diko got divorced a year after their marriage.
Diko reportedly filed the divorce on April 24, 1996, and they separated on March 29, 1996. The divorce was said to be finalized by Judge Robert A. Schinder on December 11, 1996.
Shockingly, neither party was said to be present when the divorce got officially finalized. But in contrary to reports, the two are still together and are madly in love with one another, which is made even sweeter by the presence of their three kids, daughters, Giovanna and Gianelle and their son, Koko.
When the media asked their reps if the reports of their divorce and separation were true, no statements were released, which is why it remains unclear if the reports hold any truth!
However, when Peggy knew about these reports, she lashed back and ranted as,
"As you can see, I have an amazing relationship with my husband Diko,"

 "We have the best of times being silly, with love and laughter, even having fun with a topic of idioms such as 'beating a dead horse,'" 
She then added,
"I googled it later, to find out it meant something pointless to discuss since it's been discussed so many times already; he's so right."
And that is what seems to be the reality indeed, as no crack can be spotted in their relationship.
The Family Background of Peggy Sulahian In A Short Wiki-Like Bio:
Peggy Sulahian was born in  Kuwait on July 30, 1973. She moved to the US with her parents when she was 1.
Her mother sadly passed away from breast cancer when she was 51, and Peggy has also undergone a double mastectomy when medical experts found a lump in her breast.
Her brother Pol' Atteu is openly a gay, and it is said that Peggy is homophobic, as she reportedly did not allow her brother to attend their father's funeral because he was gay.
Peggy's reaction to the reports that claimed she restricted her brother from attending the funeral as he was gay was,
"As I deal with the loss of my father and my health battle, I am choosing to focus on my family and on my own recovery and not on personal attacks against me,"

"I will not further engage in a public exchange with anyone, but it must be stated that the accusations against me are false and my actions have been grossly mischaracterized."
It remains unclear if this is a fact or a hoax, and that is why we need to reach and consider every possible variable before jumping into any major conclusion.
Regardless of her several controversies, there is no denying that she is a successful woman in her life and she for sure is enjoying a healthy net worth, despite the fact that no official statement regarding the total figure of it has been revealed to the media.
But what we do know is that she is living a lavish life in her house, and the house has a beautiful oceanic view too.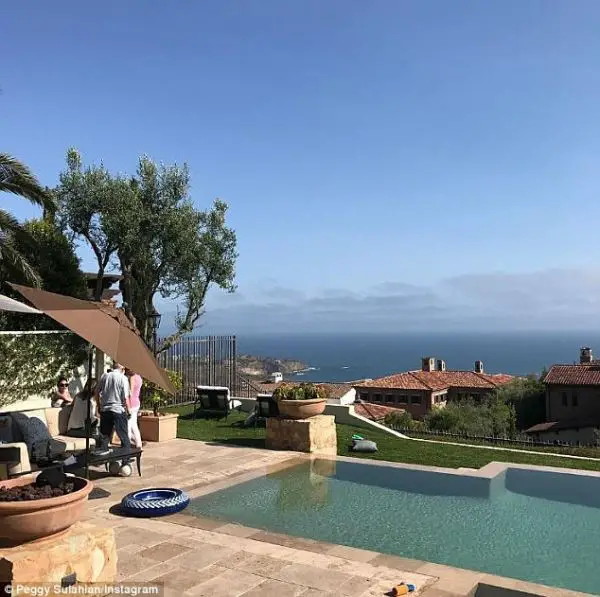 Caption: Peggy Sulahian beautiful house with a scenic ocean view.
Photo Credit: Daily Mail
And did you know, she has already made some major headlines in the show? 
She is known for making some amazing faces at people, and she said that she was just "having her guard up" which she only downs when she is with her husband.
She said,
"The only reason the girls think I have a resting bitch face is because my guard is up all the time."
She continued,
The only time I completely have my guard down is when I'm with Diko. It's when I have the most fun, and express my fun personality the best. A close friend of ours is huge on pulling pranks in public. The "butterfly prank" is one of his classics when we're at restaurants. As seen in the episode, I persuaded Diko into doing the prank, and we started to laugh hysterically. Life is short! We need to enjoy it! After all, that's the secret to a long-lasting marriage: having fun. When I'm with Diko, it's when I get to express who I really am. The only reason the girls think I have a resting bitch face is because my guard is up all the time. I'm always in defensive mode with them, but all it takes is a little warming up to me.
Her confrontation with Tamara Judge in the show was an interesting one as well!
Oh, things are exciting on the show, so you make sure you tune into the show and not miss out on a single episode!
Stay with us for the emerging updates on Peggy Sulahian and RHOC!