Entertainment
Does Penny Oleksiak Have A Boyfriend? The Swimming Beauty Seems Too Busy To Be Even Dating
Making your country proud in your teens is something that you dream of, especially when you are involved in sports.
The 17-year-old swimmer from Canada, Penelope "Penny" Oleksiak must have dreamed the same and was successful indeed, as she has set the world on fire with her scintillating performances at the Rio Olympic 2016.
Penny Oleksiak made the world aware of her prowess and became the famous swimming beauty that the world knows today. But is swimming her only love, or does she have someone in her life, romantically? A boyfriend perhaps?
Well, let us dig into Penny's life to find out!
Is The Golden Swimmer Penny Oleksiak Dating Anyone? What Do The Rumors Say?
Swimming is an art, at which Penny Oleksiak has cemented a firm place. She bagged six medals as a group and also set an Olympic record in the 100-metre freestyle, which is quite sensational for someone of her age.
But is swimming the only real addiction in her life? Or has she walked on a path of loving a man, whom she could call her boyfriend?
Well, thus far, Penny has only been vocal about her love for the sport she represents; and has chosen to keep her love life concealed in front of the fans and her followers.
Similarly, no rumors have hit the media regarding her dating, as she has never been spotted with any man, who could be guessed as her girlfriend.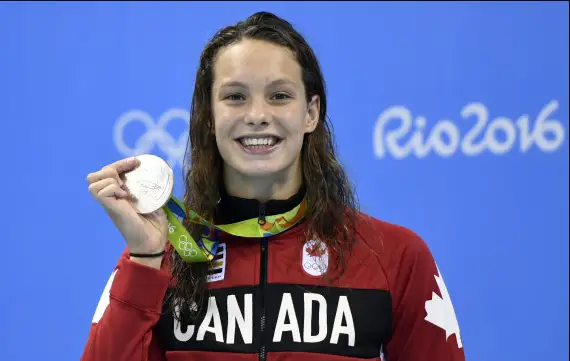 Caption: Penny Oleksiak has remained mum about her dating life while enjoying her professional success.
Photo Credit: huffingtonpost.com
Perhaps, she is focused on touching more heights in her career and tasting more glory in her already illustrious career which is a firm aim in her life, no doubt. But chances are there that Penny could be dating someone but does not have the intent to go public with her love life.
Let's see how and when she reveals the details about her love life, which the whole world has been dying to know.
For now, let us enjoy the amazing feats she has achieved thus far and hope she does her country and the entire world more proud!
Penny Oleksiak's Professional Career:
Penny Oleksiak started turning heads and diving into waters when she was just 12 in age. Swimming under coach Bill O'Toole for Toronto Swim Club, Oleksiak has been accumulating glory and piling up the medals.
Penny belongs an athletic family; her brother plays hockey for the Dallas Stars while her sister is a Northeastern University competitive rower.
She loves flaunting her family on her Instagram as well, which signifies the bond they share.
Oleksiak represented Canada at the prestigious 2015 Australian Age Group Championship, where she tallied an astonishing total of eight medals.
During the 2015 FINA World Junior Swimming Championships, she won silver in the 100m freestyle, losing to the eventual winner Taylor Ruck. She also swam an impressive 50m (26.45) and 100m butterflies (58.50), again bagging silver in both.
The gold medal winner at that event, Rikako Ikee, had to set two new records to beat Penny and stand on top of the winner's podium.
At the Speedo Eastern Canadian Open held in February of 2016, Penny swam remarkable times in the 50m freestyle, 25.47, 200m butterfly, 2:14.40 and 100m butterfly, 58.44.
Similarly, on night 1 at the 2017 World Junior Championship, Penny helped set a world junior record in the 4x200m free relay, when she split a 1:56.86 en route to Canada's overall 7:51.47.
Her skilled has certainly impressed and inspired many aspiring swimmers!