Entertainment
Peter Gunz Asks Wife To End Their Married Life In Divorce; Moved On With Girlfriend And Their Kids
Peter Gunz Asks Wife To End Their Married Life In Divorce; Moved On With Girlfriend And Their Kids "Love & Hip-Hop: New York" star Peter Gunz shares the same dilemma, as he asked his wife to end their marriage by filing for divorce, to move on with his previous girlfriend and their kids. But did his wife accepted the proposal to get divorced?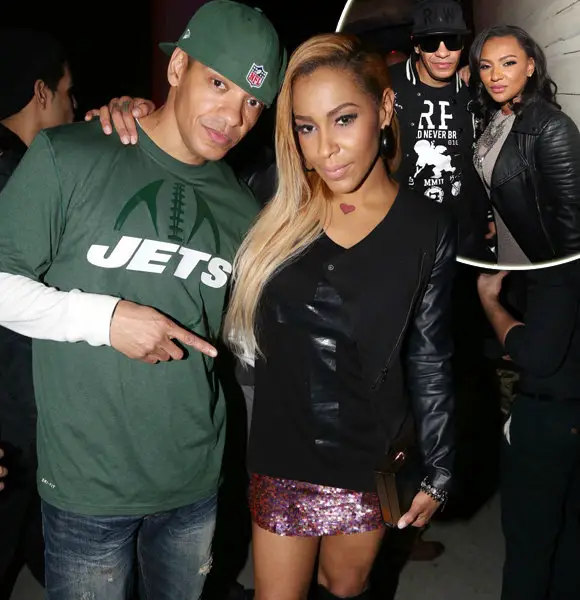 Quick Information
Divorce/Split

Yes (Once)

Eye Color

Dark Brown

Hair Color

Black

Hair

Short

Weight

80 kg or 176 lbs

Height/ How Tall? 5'10"
Net Worth

$500 Thousand

Gay

No

Fiancee

Name Not Disclosed

Ex-Wife

Amina Buddafly (m. 2013–2018)

Ex-Girlfriend

Tara Wallace

Date of Birth Jan 06, 1969
Relationship Status

Engaged

Children/Kids

10

Son/s

Cory Gunz, Jamison Pankey, Kaz Pankey

Ethnicity/Race

African-American

Religion

N/A

Zodiac Sign

Capricorn

Profession

Rapper

Birth Place

Bronx, Idaho, United States

Nationality

American
If you have to choose between your wife and your past girlfriend, whom would you choose? The hype created by the situation is enough to put all three parties in a great dilemma, right?
"Love & Hip-Hop: New York" star Peter Gunz shares the same dilemma, as he asked his wife to end their marriage by filing for divorce, to move on with his previous girlfriend and their kids. But did his wife accepted the proposal to get divorced? Let read to find out.
Peter Gunz Asks Divorce From His Wife:
"Love & Hip-Hop: New York" star Peter Gunz has cleared that he wants to reconcile with his ex-girlfriend, Tara Wallace. So he asked his wife Amina Buddafly to file a divorce on the episode of "Love & Hip-Hop: New York" aired on February 6, 2017.
Peter's wife Amina spoke regarding the complicated love triangle between her, Peter and Tara in an interview on February 3, 2017, where she stated,
"I feel like if he does that, he would have to do it with both of us, if she's the one he's trying to get back then I get it, but I honestly didn't know until I watched it on TV. So it's a little bit weird. I think I deserve it, too."
Confessing her feelings, Amina shared,
"He still means a lot to me, I've kind of admitted that I'm not there yet. I'm not ready to file for divorce. It will happen in the future most likely, but if he wants to divorce me then he should be the one to do it now because he's the one trying to get somebody back. I don't have a reason right now to rush it."
Amina added,
"kind of ready to meet someone new. If it happens, it does, but I'm not looking. I'm going to let it just come to me. Whenever it's meant to be, it will be,"
In an interview with Amina Buddafly on February 8, 2017, she commented on the relationship of her husband Peter and his ex-girlfriend Tara Wallace.
"The last thing that I heard she was saying there's nothing going on like that between them, but I don't believe it and I don't know who would believe it."
Amina further elaborated her point of view as,
"He's not officially with either of us because we both want to move on but we are both struggling with saying no to him. And she's not admitting it, but I am. Even if [Tara] puts her foot down and says no to him, which is possible, it's not completely over between them and I don't think it ever will be and that's why I had to leave New York."
Moreover, Amina shared her realization in her statement that said,
 "He's never going to be able to let her go, if anyone if going to be with a new person in this triangle it will be me."
Peter and Amina share two daughters together, Cori Gunz (1) and Bronx Gunz (b. August 2016), and they co-parent their daughters.
Peter shared a picture with his daughter Cori from Amina and caption it "Bliss" via Instagram in December 2015.
Neither Peter nor his wife Amina has filed divorce until now only time will pen down their story further!
Peter is willing to separate from his current wife Amina to get back with his ex-girlfriend Tara, but will Tara welcome Peter with open arms? It's the answer everyone wants to know.
However, a source gave an insight to hollywoodlife.com regarding Tara Wallace's personal space on February 23, 2017. The source revealed,
"She has not officially taken Peter back but it's going that way, she wants to be a family again for the sake of her kids, she lives for those three boys and she wants them to have their dad around full time. One thing she can't have though, is him messing around with Amina."
Moreover, the source added,
"He's promised her he's done with Amina but Tara still has major doubts, but she's all about her boys and their happiness so the odds are very high she will put her doubts aside and look for the best in Peter. Having a good relationship with him is best for her kids and she always tries to do what's best for them."
Peter and his ex-girlfriend Tara shared a history, and together they share three children Kaz Wallace (4), Jamison Wallace (8) and Gunner Ethan (February 13, 2016).
In an interview 2015, Tara Wallace discussed Peter Gunz and the other five women with whom he shares children and is a father of ten children.
Caption: Tara Wallace shared about Peter Gunz in an interview on 2015.
And in an interview, Tara revealed how is to be in a room with a woman sharing children with Peter.
"I get along with, for the most part, all of [the other mothers], Cory's mom, she doesn't live in New York, so I've only met her a couple of times. But, the other mothers, we get along….When you look at the history of it all, we've all overlapped in some way. Not knowing that we were overlapping."
Peter shares a total of ten children with six different women and pours down her thoughts if all of them were in a room.
"Not all six [of the mothers], I've definitely been in the room with four of them….It was fine. Two of the young ladies, they have children who are much older than my boys, so, whatever happened in those relationships happened before me. I try to keep it to where we're not blaming the other woman."
And Peter shared a picture with his son Kaz Wallace and wished him on his birthday on January 4, 2016, via Instagram.
Moreover, Peter shared a photo with his younger son with Tara Wallace and shared that Jamison was late for school via Instagram on March 25, 2015.
Peter shared a picture with his newborn, Gunner Ethan and the cute little child appeared on Instagram March 17, 2016.
Peter Gunz Wiki-like Bio:
American rapper Peter Gunz was initially named Peter Pankey, but he became popular as a rap group member in "Lord Tariq and Peter Gunz" in 1990's, and their "Déjà vu" became a huge hit in 1998 and sold over million copies of the single.
After a year of the massive hit, Peter and Lord Tariq disbanded without releasing the follow-up album. After the split, Peter did not see success as Lord Tariq did, if we see the record of past ten years. Moreover, Peter is not able to recreate the success wave of Déjà vu again.  
Peter appeared on the reality show "Love &Hip Hop: New York" and "Son of a Gun." The reality show "Love & Hip Hop" features his up and down relationship with Tara Wallace who is the mother of his children as well.
Peter secretly married Amina Buddafly, which increased the friction in the relationship with Tara. Peter confessed that he was "disgusted" by the actions portrayed in the reality show.
So he is focused on recovering his image in front of the public, and he also claimed to be in talks with Lord Tariq to team up again for an album. With the passion for his craft, he has accumulated a net worth of $500 thousand.
Stay with us for more news on Peter Gunz!