Entertainment
Phil Keoghan Of 'The Amazing Race' Is A Family Man! Has A Wife and It Cleans All Gay Rumors
The America reality-adventure series "The Amazing Race" is a Primetime Emmy Award-winning show where 11 globe-traveling teams compete for the $1 million prize. If you are one of the regular viewers of the show, then you must have noticed its long-time host Phil Keoghan.
The host and the producer of the show Phil who has been hosting the show since 2001 have experienced a life full of travel and adventure. Well, you might have seen Phil's adventurous life on the screen traveling different new places and countries but have you ever wondered about his life behind the cameras?
Well, today we have brought some information regarding Phil's family life and his marital relationship. Let's have a look on his life behind the television screen.
Phil Keoghan Is A Married Man!
An Emmy award-winning host and producer Phil undoubtedly has a successful career, and his successful professional career has overshadowed his personal life to some extent. Like any other public figure, he hasn't talked about his marital life in any of his interviews nor on the social networking sites. Due to his private personal life, many people doubt his sexuality.
However, we came to know that Phil is a married man which clears all the gay rumors against him. Phill has been bound in a marital relationship with Louise Rodrigues since a very long time. Louise is an award-winning Australian-born television producer & director who is also Phil's producing partner and co-creator of No Opportunity Wasted. The pair together has a beautiful daughter named Elle Keoghan.
Let's have a look at Phil Keoghan's family when his wife Louise Rodrigues and daughter Elle Keoghan attend the 64th Primetime Emmy Awards Governors Ball on Sunday, Sept. 23, 2012, in Los Angeles where Phil received Emmy award for the best reality competition program for "The Amazing Race."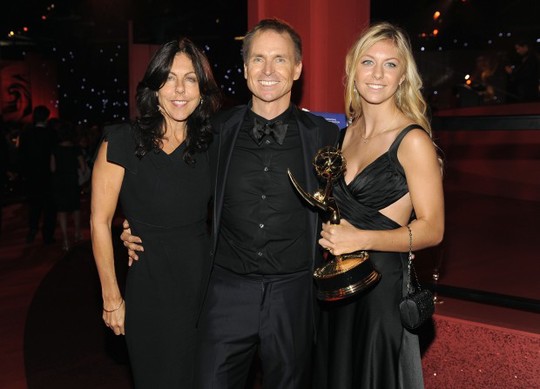 Caption: Phil Keoghan with his wife Louise Keoghan and daughter Elle Keoghan along with his Emmy 2012.
Photo Credit: St. Louis Post-Dispatch
Phil currently lives in Los Angeles, Calif with his family. Likewise, they also have a home in Westport and Matarangi, on the Coromandel Peninsula, New Zealand. Phil's ancestors come from Westport whereas Matarangi is one of Keoghan's two favorite places in New Zealand.
More About Phil Keoghan: Wiki, Bio and Net Worth
The television personality and show host Phil was born on May 31, 1967, in Lincoln, New Zealand. He has been globetrotting ever since he started to travel around the world at the age of two. Currently, he is most familiar as the producer and host of the U.S. version of The Amazing Race on CBS. Phil now enjoys the amazing net worth of $16 million. Talking about his salary, he earns almost $100 thousand per episode as the host of the U.S. version of the CBS show, 'The Amazing Race' which has helped him to accumulate such earnings.
Caption: Phil Keoghan reveals how he survives his amazing job. ( Video Published on September 28, 2012).
Keoghan, who is a regular motivational speaker at colleges and major corporations, has won seven Emmy Awards for his work. He has also written a book titled 'No Opportunity Wasted' and also has produced and hosted a television show with the same title.