Entertainment
Phillip Phillips & Wife Look Back On Wedding Day! Being Married Impact On American Idol's Life
American singer-songwriter, Phillip Phillips became a singing sensation after winning the eleventh season of American Idol. In his singing career, Phillip has sung some famous songs like "Gone, Gone, Gone," Home, Where We Came From, Raging Fire and more.
Phillips' personal life can be considered more successful than his professional career, as he has been blessed with a loving wife, who has been together with him for a long time. 
Married For Three Years; Together For Nine Years
Phillips has been married to wife Hannah Blackwell for nearly three years now, but their romance goes a long way back.
Phillips and Hannah followed about six years of dating before finally tying the knot in October 2015. The couple got wed in a ceremony attended by 250 guests including close friends and family. Hannah even shared a picture of their wedding in her private blog.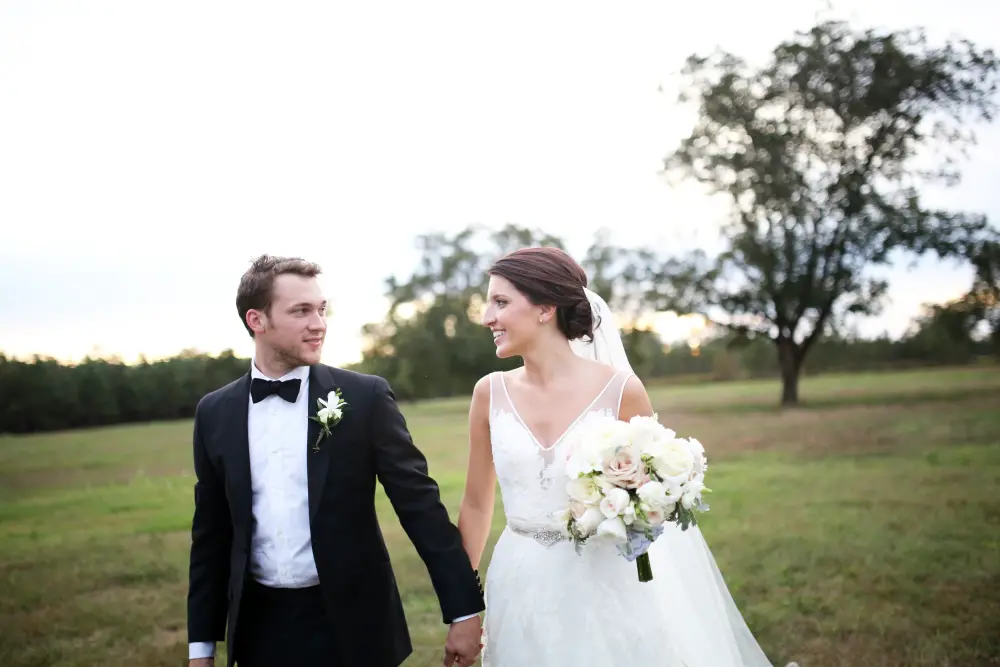 Phillip and Hannah get married in a private ceremony in October 2015 (Photo: Hannah Blackwell's Official Blog)
One year after their wedding, Phillip talked about his married life and their first marriage anniversary. Further, he joked about his wife not kicking him out from home. Speaking to the Billboard, Philip said,
"Married life is good. We just celebrated our one year [wedding anniversary] last week and she still likes me. She hasn't kicked me out yet."
Phillip and Hannah's second anniversary was an important one for the couple as Hannah wrote a blog mentioning their married life together. She wrote that days would feel like weeks when Phillip wasn't around her.
Further, she also expressed that marrying Phillip was a dream come true for her. 
The years together has not diminished the love of the couple but instead enhanced it. The pair is known to flaunt their relationship on their social media. On 11 May 2018, Phillip shared a picture of his wife via his Instagram wishing Hannah for the occasion of her birthday. Phillip described Hannah as his soulmate on his post and wrote that she deserved something more than the physical world.
Later, Hannah also posted a picture of the couple on 1 July 2018 and mentioned that remaining married to Phillips for eternity would not be long enough for her.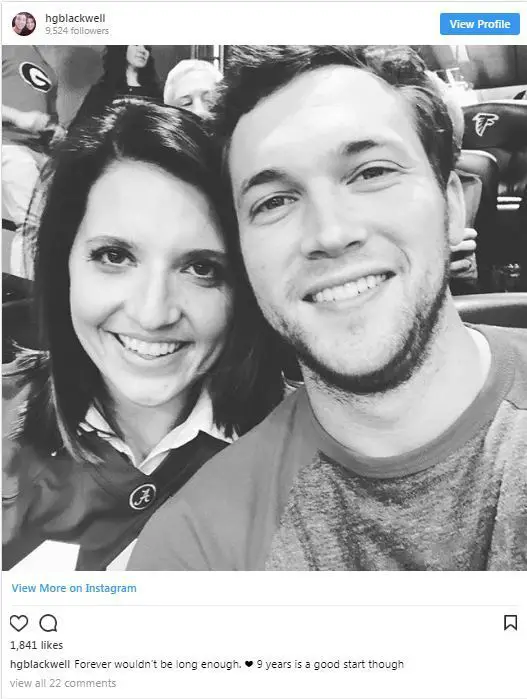 Phillip and Hannah share smiles as they pose for a picture (Photo: Hannah Blackwell's Instagram)
The same day, Phillip also posted a picture explaining Hannah as his best friend. Further, he mentioned that he was grateful to have lasted nine years with Hannah as even wrote that the pair should have two anniversaries instead of one in a year. 
The partners are yet to have kids of their own, but looking at the pace of their relationship starting a family may not take much time.
Accused Of Deserting Parents Despite Massive Net Worth
The 27-year-old singer, who initially got rejected from America's Got Talent (AGT) during his early years of singing, has now amassed a massive net worth of $3.5 million from the singing alone. 
However, despite all his assets, Phillips had been accused of abandoning his parents during their time of financial crisis. His parents, Phillip 'Donnie' Phillips and Sheryl, filed for bankruptcy on 19 September 2014 at the Georgia Federal Court.
The couple had the total assets of $290,445 against liability of $304,295. After the incident, TMZ accused Phillip of not helping his family in their tough times. However, Mr. and Mrs. Phillips disclaimed the rumors saying Phillip was a good son and had always been there for them.