Entertainment
Phyllis Smith Secretly Married Or Satisfied With On-Screen Husband? Shares Her Side Of Career Story
Having blessed with a proper marriage in the series of "The Office" looks like actress, Phyllis Smith is content with her on-screen marriage and is in no hurry to get hitched behind the screen. Despite the fact of her adding age, the followers of the actress are baffled with her present marital status and eager to find out whether Smith is into secret marriage or not?
For now, we will look into her present marital status followed by her inclining career.
Has A Husband On Screen; What About Off Screen?
While working as the sales representative for the fictitious paper distributor, Dunder Mifflin in the series of "The Office," Phyllis Smith known as Phyllis Lapin is married to her man Bob Vance (Robert R. Shafer). In the third season, Phyllis gets married with her long time boyfriend Bob where a short appearance got made by the owner of Vance Refrigeration. While in the seventh season of the series, Phyllis disclosed about making her man notice her by waiting for him in his office every morning for around two weeks.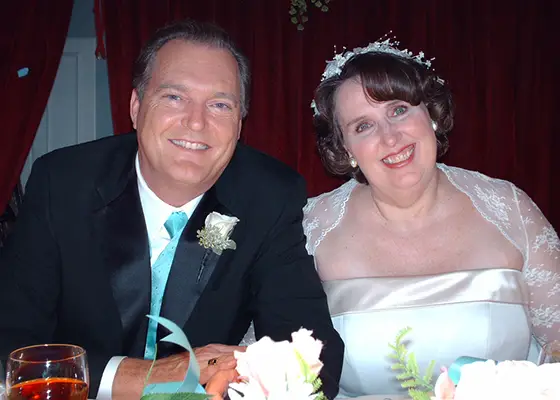 Caption: Phyllis Smith and Robert R. Shafer married to each other in the series, "The Office" (2005). 
Photo Credit: celebrityimages.org
Though Smith had a chance to work as a wife with Robert yet in real life looks like she was uninterested in carrying the on-screen love behind the screen. Thus  Robert relationship status got confirmed to be single. While at the age of 65 years, the singularity of the actress did create a buzz so on an interview with the Vulture.com the star reveals about residing in New York City apartment with her four cats, where she said:
"Don't laugh, because I'm not very inventive when it comes to cat names. They're gray cats, so I have Shy Boy, I have Little Grey — those are the two twins — then I have Sweet Face, who has a very sweet face, and Princess, who turned out to be a prince. Those are my four babies. They went to New York, too. They all moved to New York when we filmed The OA."
She further added,
"I had my four cats and two turtles. Speedy and Alvin are the turtles. Speedy's about 65 and Alvin's about 15, I guess. I'm serious about my family."
From the given interview one can say that the actress has made cat and turtles her family, as she has not spoken about having a man as her life partner and family. If she was secretly married, she would have talked about her husband with the interviewer by unrevealing his name but looks like no such thing existed in the actress life she is still single with no dating history of her young age or current affairs, so having worn a white veil in the series itself looks like the actress is uninterested in wearing one in her real life.
From Dancer To The Actor, Find Out Her Journey:
Before gaining popularity as an actress, Phyllis had a career as a dancer and as a cheerleader for the St. Louis Cardinals football team. After working as a performer, she faced a knee injury which landed her with the job of a receptionist and further gave an opportunity to work as a casting assistant which brought her inside acting skills through a movie The 40-Year-Old Virgin(2005) and the series Arrested Development(2005).
Since then she worked in several series and television which helped her to accumulate the total net worth of $7 million. Phyllis is still working in series, The OA (2016)  which would further allow her to generate wealth for her present net worth.