Entertainment
Previously Married Leland Chapman: Proud Father of 3 Children, Expressed His Love to Girlfriend
The best feeling in the world is when you find someone who loves you despite your flaws and supports you no matter what. And it seems like the bounty hunter, Leland Chapman has found that special someone even after a failed relationship. Let's find out who the lucky girl is.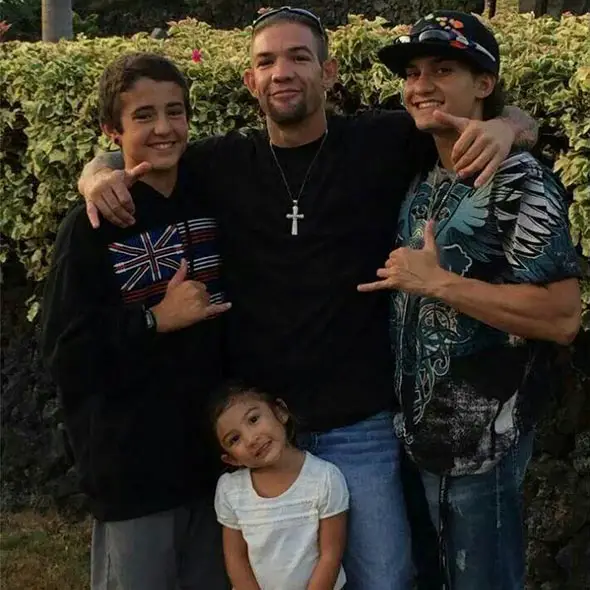 Quick Information
Ex-Girlfriend

Lynette Yi

Official Site

lelandbchapman.com

Instagram

https://www.instagram.com/lelandbchapman/

Twitter

https://twitter.com/lelandbchapman

Facebook

https://www.facebook.com/Leland-Blaine-Chapman-135299446507292/

Eye Color

Brown

Hair Color

Black

Hair

Short

Height/ How Tall? 5 Feet 5 Inches (165 cm)
High School

Konawaena High School, Rampart High School

Income

$75,000 Per Year (2003)

Net Worth

$2 Million (Estimated)

Dating/Affair

No

Gay

No

Ex-Husband

Maui Chapman (m. 1995–2005)

Date of Birth Dec 14, 1976
Wedding Date

2016

Divorce/Split

Yes (Once)

Husband/Spouse

Jamie Pilar Chapman

Relationship Status

Married

Daughter/s

Leiah Breanna Chapman

Son/s

Dakota Chapman & Cobie Chapman

Sister/s

Lyssa Chapman, Barbara Katie Chapman, Bonnie Jo Chapman, Cecily Chapman, Britney Lynn Darnell & Hannah Dawn Darnell

Brother/s

Duane Lee Chapman, II, Tucker Dee Chapman, Garry Chapman, Wesley Chapman, Christopher Michael Hecht, James Robert Chapman, Zebediah Duane Chapman, Dominic Davis, Nicholas Chapman

Ethnicity/Race

White

Zodiac Sign

Sagittarius

Birth Name

Leland Blane Chapman

Profession

Bail Bondsman

Nationality

American
The best feeling in the world is when you find someone who loves you despite your flaws and supports you no matter what. And it seems like the bounty hunter, Leland Chapman, has found that special someone even after an earlier failed relationship. Let's find out who the lucky girl is.
After ending a ten-year-old marriage with former wife, Maui Chapman, Leland is linked with a tattooed model Jamie Pilar Worley. Though there are no reports of when the two started dating, we can surely say that the two are so much in love with each other.
From tweets to Instagram posts, they don't hesitate when it comes to showering each other with love quotes (their love would even make a married couple jealous).
Leland Chapman, a Family Man:
Chapman doesn't just shower his girlfriend with love but also has a big portion of it to pour on his children; he has three of them: The eldest son, Dakota Chapman, who is 21 years old, second son Cobie Chapman, who is 15, and 5-year-old daughter Leiah Breanna Chapman. While his two sons is from ex-wife Maui Chapman, his daughter is from ex-girlfriend Lynette Yi.
Leland Chapman's Career:
Leland Chapman rose to fame after his family business of bail bondsman and bounty hunting became a subject of a reality show, Dog the Bounty Hunter. Leland, along with his siblings, Lyssa Chapman, Duane Lee Chapman and his wife Beth Chapman worked for his father at Da Kine Bail Bonds, his family's bail bonds company.
In 2012, it was rumored that Leland and Duane, both quit the television show.
Chapman now runs his father's business and also operates his own Bail Bond Company, Kama'aina Bail Bonds.
Later, in 2013, Chapman appeared alongside Duane and his wife Beth in the reality show, Dog, and Beth: On the Hunt, which debuted on CMT. In the show, the three travel across the country, assisting bail bondsmen with bounties and giving them business advice. His net worth is around $500,000.
Leland Chapman was born on December 14, 1976, in Groom Texas as Leland Blaine Chapman. He completed his high school in 1995, making him the only graduate from his family.
He used to be a trainee boxer and mixed martial artist, a career he had to give up due to a knee injury.
Currently, he stars in the television documentary show called Dog and Beth: On the Hunt.
Caption: the best takedowns of fugitives in Dog and Beth: On the Hunt
Leland's father: Duan Lee 'Dog' Chapman
The reputable TV personality has quite a history of his own. Surprisingly he has 11 other children in his lifetime besides Leland. Details about their identity are not known to the media. However, we did find his marriage history. He has married four other women besides Beth, namely: La Fonda Sue Honeycutt (married: 1972–1977), Anne M. Tegnell (married: 1979–1982), Lyssa Rae Brittain (married: 1982–1991), Tawny Marie (married: 1991–2003)
Dog was also convicted of a first-degree murder in 1976. However, he didn't actually kill anyone. According to Amarillo, he was just a witness to a murder when he and his friends confronted a drug dealer named Jerry Oliver to buy drugs off him in Pampa. However, the deal didn't go quite as plan as Dog's friend Donald Wayne Kuykendall shot the dealer and killed him.
The American law states that if you are committing a dangerous felony and someone dies in the process, you can be convicted of murder. Dog served five years in prison because of this. Apparently, this is the reason Dog not allowed to own a firearm. Furthermore, he has stated that this experience was one of the reasons he became a bounty hunter. In an interview with Fox News, he talked about how he came to like the name 'Bounty Hunter,'
While I was in prison, I became the warden's barber, so that means all the guards were my friends. One guy went to break and run one day, an inmate, and I jumped him and just — the guard were going to shoot him in the back.

And as the guard walked up when I was on top of the inmate apprehending him, and he threw down the handcuffs and said, "Hook him up, bounty hunter." That is what started the career of — yes.
Caption: Dog talks about the crime he was convicted of as well as his book.