Entertainment
Rachel Crow Gives Hint About Having A Boyfriend Or Not; Flaunts Her Weight Loss Transformation Proudly
Popular as the top five contestants of the first season of the U.S. version of The X Factor, Rachel Crow seems to be very busy polishing her career.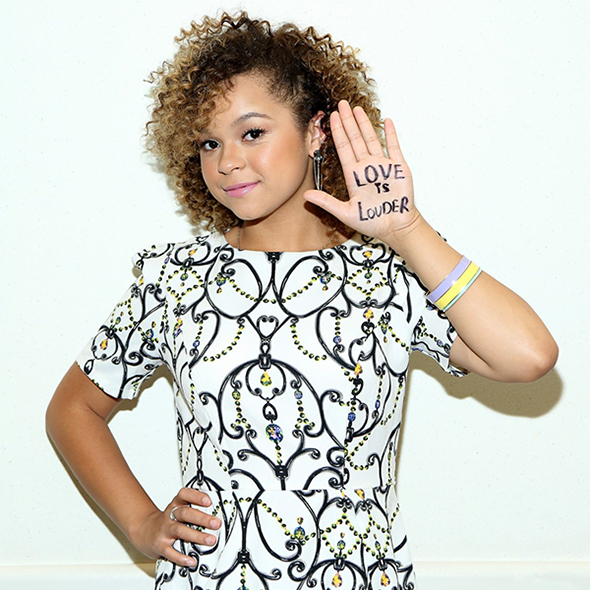 Popular as the top five contestants of the first season of the U.S. version of The X Factor, Rachel Crow seems to be very busy smoothing her career.
Is she involve in any relationship or is keeping her love life low-key like other celebrities who prefers not to publicize them? Let's find out whether Rachel has a boyfriend or not?
Rachel's relationship status:
The nineteen-year-old beauty, Rachel who won many hearts with her soulful voice in The X Factor with the mash-up of the Supremes' "Where Did Our Love Go" and Justin Bieber's "Baby" has now turned much gorgeous as she has lost weight since her auditions on The X Factor. 
However, it seems that she hasn't let anyone in her heart as she gives us hint about being single.
On 5 Feb. 2017, she took her Twitter to reveal that she is in search of a footballer boyfriend.

A year ago, in Feb. 15, 2015, she revealed that she is dating an imaginary boyfriend. Rachel shared an image of a pen with the caption-
"Happy Valentines Day from me and my imaginary boyfriend"
Likewise, in an interview earlier in 2012, Rachel (then 14) revealed that she has no boyfriend. Responding to the question that she was asked regarding boyfriend, she said-
"No. I'm only 14. My dad won't let me have a boyfriend. To me, boys are cute, but I'm OK with being on my own for now."
We hope that Rachel will soon find her Mr. Right and introduce him to us. Best Wishes Rachel!
An Amazing weight loss transformation: 
Rachel was successful in surprising us with her new looks by losing 15 lbs weight in just two months. In the year 2011, she talked about her weight loss with People loudly and proudly. 
She revealed that it was her idea to lose weight and she was able to maintain her physique by doing a lot of cardio and working.
In the Interview, she was asked why she wanted to lose her weight and was she pressurized by someone. She replied-
"I decided to do it because I thought, "You are going to be on TV, you gotta clean up your act. You have to give it your all." I really went all out."
she further added;
Not at all. It was my decision 100 percent. I told my mom let's go out and see if I can do something about my weight. She was 100 percent behind me.
She also said that she will not lose weight anymore but would keep exercising. Furthermore, she stated that she enjoys singing but also wants to act as she loves acting.
Rachel, who began her career with the auditions of The X Factor has now appeared in many TV shows which include Figure It Out (2013), BrainSurge (2011), Big Time Rush (2012), Inside Edition, and The Wendy Williams Show. 
Likewise, her first film role was in Rio 2 (2014) where she voiced Carla. Rachel is said to be earning an incredible salary from her profession. However, her net worth is not revealed yet.