Entertainment
Rachel Maddow And Her Lesbian Partner/Girlfriend: No Urgency To Get Married
Quick Information
Date of Birth

1973-04-01

Age

48 Years 1 Month(s)

Nationality

American

Profession

Television Host

Birth Name

Rachel Anne Maddow

Zodiac Sign

Aries

Ethnicity/Race

Mixed

Father

Bob Maddow

Mother

Elaine Maddow

Brother/s

David Maddow

Relationship Status

Dating

Partner

Susan Mikula(1999-present)

Salary

$7 Million

Net Worth

$20 Million

High School

Castro Valley High School

College

Oxford University(2001), Lincoln College(1995), Stanford University(1994)

Height/ How Tall?

5 Feet 11 Inches (1.8 Meters)

Weight

68 Kg

Hair

Short

Twitter

twitter.com/maddowblog

Official Site

rachelmaddow.com

Lesbian

Yes

Children/Kids

Not Yet

Divorce/Split

Not Yet

Career

1973–present

Hair Color

Black

Eye Color

Black
The person we are talking about here is one of the most daring ones. You know that most societies are against same sex relationships.
Well, Rachel Maddow, host of a nightly show on MSNBC called "The Rachel Maddow show" was not the persons who would suppress their feeling inside from a fear of being judged. Rachel Maddow came out clear about her homosexuality (Lesbian) when she was a teenager, at the age of seventeen to be exact.
She started her career co-host on WRNX Radio's The Dave in the Morning Show. Later in 2006, Rachel succeeded in upgrading her radio career into a cable one when she became a regular on the MSNBC show called "The Situation with Tucker Carlson."
Now talking about her love life, Rachel being a homosexual wouldn't prefer a boyfriend or a husband right?
So, let's find out who her Girlfriend is shall we?
Rachel Maddow is currently living with her girlfriend/partner Susan Mikula in Massachusetts. Susan Mikula is a 52 years old Artist and photographer.  Rachel Maddow and Susan Mikula met in 1999 when Maddow was working on odd jobs while finishing her doctoral dissertation. Maddow was hired by Susan to do her yard work on the property in Berkshires.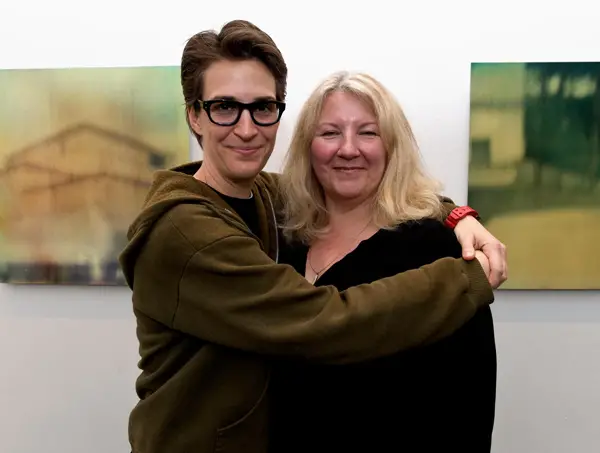 Source: livingoutli.org
Upon asking how their relationship started, Rachel said to Peoples that, "It was very Desperate Housewives,"
Their first date was at an NRA event, Rachel said: "My first date with Susan was at an NRA 'Ladies Day on the Range' event, and that is as close as I have ever gotten to the NRA."
Rachel and Susan have been together for a long time now, but still, the couple doesn't feel any urgency in getting married.
In an interview, Rachel expressed her feeling on Gay/Lesbian marriage subject
"I feel that gay people not being able to get married for generations, forever, meant that we came up with alternative ways of recognizing relationships," she told THR. "And I worry that if everybody has access to the same institutions that we lose the creativity of subcultures having to make it on their own. And I like gay culture." -Said Rachel Maddow.
This doesn't state that Rachel is against gay marriage. She simply means that they both do not have any urgency in getting married.
This might be off topic but have you ever noticed that Susan seems to be more girly and on the other hand Rachel prefers the guys look. Also, Susan is said to be a marvelous home chef and Rachel, on the other hand, it's kind of cute and adorable.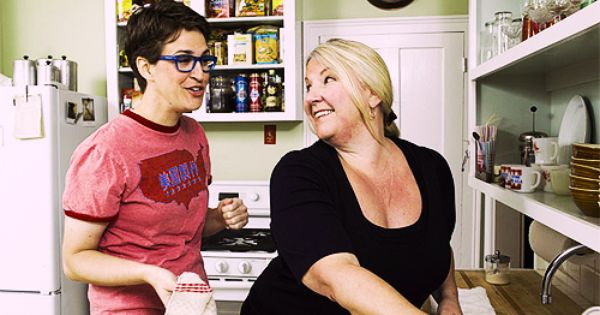 Caption: Rachael Maddow and Susan Mikula, spending time together.
Source: pinimg.com
There sure are many people who admire Rachel Maddow; many have a crush on her too. No wonder why, because her personality is one of a kind that can attract anybody. Despite all the attention she gets, she doesn't see herself physically attractive. She says," 'I dress like an eight-year-old with a credit card.'
Rachel Maddow and Susan Mikula are currently living together with their Labrador retriever, but Rachel has divided her time between her homes in New York and Massachusetts.
Gay marriage was legalized in Massachusetts back in 2004, but the couple hasn't gotten married yet but they might be soon in the future, and we will be cover their wedding when they do.
Tomboy Rachael Maddow:
Although she is lesbian, she is quite a tomboy and must admit. Her clothing sense isn't quite that manly, and she even likes shooting.
Although a popular Liberal and a strong advocate of Gun Control laws, she did admit that she loved playing around with guns and was quoted saying,
"Like, I'm a real liberal, even on, like, gun safety and gun control issues. That said, I think that shooting is fun, and I think that shooting ranges are an excellent place to both learn about guns and to freak your friends out!"'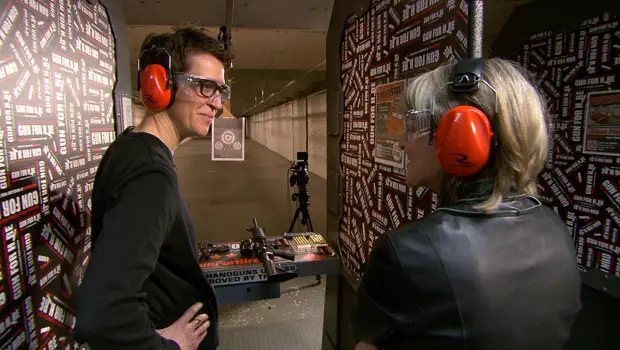 Caption: Rachel Maddow enjoying some gun shooting with Rita Braver.
Source: cbsnews.com
She also admitted that her sense of fashion wasn't the best and her on-air wardrobe filled with drab Blazers and was reported saying, "It's like a mullet: it's business upstairs, party downstairs."
The 42 years old Gay anchor has come a long way, facing all forms of criticism and prejudice and has reached the heights of American Journalism but I doubt this is where she stops, and I am sure, she has more to give to our people.
NBC labeled 'sexist' after replacing Rachael Maddow on her Primetime:
Huge sparks flew out, and NBC is now in flames after Rachael was replaced on her show by Brian Williams for the breaking news coverage of the Syrian missiles incident which occurred recently. The Network was labeled as 'sexist' for taking off her work, and further flames were funneled when it became obvious that Rachel would've been the better choice for this work.
To be fair, Williams is the breaking news anchor for NBC, and it is highly justifiable when he replaces Rachel to cover breaking news content, however, do note that Rachel just seems to have more experience talking about military-related events and she also wrote a book about the conflicts in Iran and Afghanistan in 2012.
During the breaking news, Williams was quoted calling the whole incident as 'beautiful' which caused the viewers to get irked up even more.
Rachel Maddow would never refer to a Tomahawk launch as "beautiful". What in the ever living hell is Brian Williams doing on her air time?

— Charles Clymer (@cmclymer) April 7, 2017
It doesn't also help that Williams was shrouded by various controversies just recently and was even suspended for 6 months in 2015 for his false reporting experiences and was replaced by Lester Holt. 
Rachel Maddow's Short Bio:
Rachel Maddow was born on April 1, 1973, (age 43 years old) in California, United States. Maddow received her degree in public policy from the Stanford University in 1994. Rachel is also the first openly gay and lesbian American to receive a Rhodes scholarship at the Lincoln College, Oxford, where she began her postgraduate study. Later in 2001, she received her DPhil in politics at the University of Oxford.
Before graduating from Oxford, Rachel got her first job at the WRNX in 1999. In 2005, her a show by her name began airing called, 'The Rachel Maddow Show. During that time, Rachel was already a regular panelist for MSNBC, and in 2008, it was announced that her show would replace Verdict with Dan Abrams and began topping the countdown as the highest rated show on MSNBC.
Currently, she has been busy covering the Presidential debate happening between the 2016 Presidential candidates.