Entertainment
Is Rachel Reenstra Married and Has a Husband? Her Status Now
When it comes to the world of animals, animal advocate, Rachel Reenestra holds quite a spot.
She is the host of the Emmy-nominated show "Wildlife Docs". Her love for animals has surely put her in the limelight but she has kept her love life fairly to herself.
Is her love only limited to animals? Or does she have a boyfriend to share the love with?
Let's find out and know more about her participation in wildlife.
Rachel Reenestra Wiki:
Born just two days after Valentine's day in the year 1970, Rachel Reenestra's love for animals was evident since her childhood.
Her father was a missionary doctor and had to travel a lot which gave Rachel, the youngest of the three siblings, the opportunity to live with her dad for a year in Nigeria.
Raised around exotic animals, no wonder the Michigan blonde grew up to host the animal show Wildlife Docs.
The 5 feet 6 inches tall beauty later moved to California and pursued a career where she could work with animals.
She turned her dream of working with animals into a reality by hosting the Discovery Channel's Ms. Adventure (2007) and the highly rated series Designed to Sell (2004) (2008).
The passionate animal conservationist also works for Costa Rica Tour where she takes the participants to exotic locations and helps them become closer to animals.
The three times Emmy nominated national host is very vocal about her love for animals and claims that she cannot live without them.
"I can't live without them. My father was a missionary doctor in Nigeria and I had a chance at a very young age to be around exotic animals as I spent a year there growing up. We traveled to many different countries and saw so many different types of wildlife. It's just part of who I am."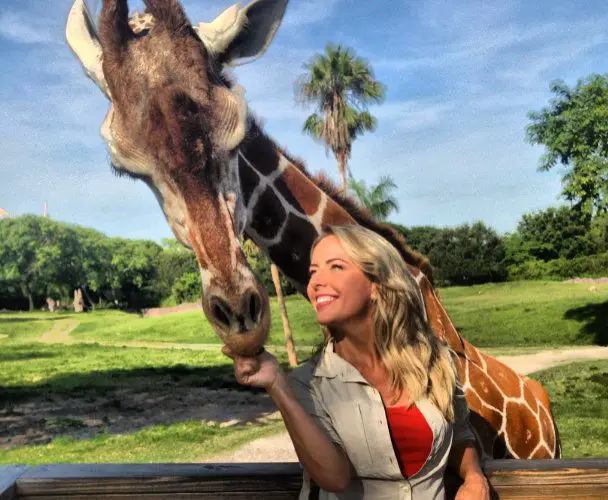 Caption: Rachel Reenstra posing with a giraffe.
Photo Credit: Mlive
Even though Rachel is very expressive about her love for animals, it is pretty contradictory when it comes to her love life.
Rachel made an impish statement about her love life and boyfriend on Twitter back in 2014.
Yup! That is Rachel with her penguin boyfriend for black tie event.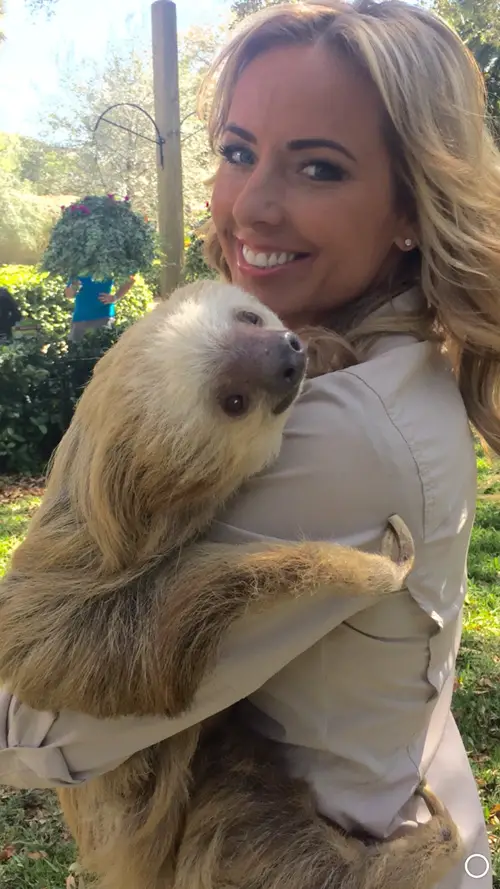 Caption: Rachel hugging a sloth.
Photo Credit: Toursandtreats.
The animal lover also happens to be a stand-up comedian.
During one of her performances, even though she has not disclosed any information regarding her boyfriend or husband, she made a whimsical taunt about her relationship with a guy who turned out to be gay.
Caption: Rachel talks about her "boyfriend" in a stand-up show.(Published: Jun 1, 2011).
Oh well!
That is the only time Rachel made a statement about her boyfriend. After that, she has neither been seen linked to anyone nor has she disclosed any information regarding her relationship status. Therefore, it is safe to say that she is not married, however, we cannot be sure about her dating unless she decides to let her fans know.
Even though her relationship has been off the spotlight, the animal enthusiast has always been in the limelight for one reason or the other. Rachel was present at the special screening of Jessica Alba's My Bloody Valentine 3D that was held in Los Angeles. She was among the few celebrities who were present at the special screening. The Emmy nominated host has a net worth of $19 million as of 2017.