Entertainment
Rageh Omaar: His Romance With Wife That Started At Cousin's Wedding
Somali born British journalist and writer, Rageh Omaar may hide his wedding snaps from the ever-following media but, we have more exciting goodies of his married life.
If your thirst matches to the information we are about to present, please help yourself!
Rageh Omaar's Married Life
Rageh Omaar is a married man, who tied the knot with Georgiana Rose "Nina" Montgomery-Cunningham, the daughter of Berkshire Baronet back in 2000. When the couple first met in Rageh's cousin wedding in India, Nina was an occupational therapist, who worked mainly with people having mental health problems. Besides that, Rageh has not disclosed further marital details, including even his wedding snaps.
Moreover, Omaar, who has kept married life with his wife pretty low-key, shares three children named Loula, Sami and Zachary in his family.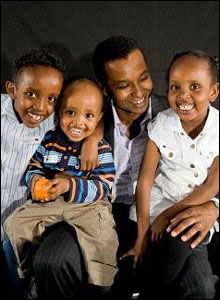 Rageh Omaar with Loula, Sami, and Zachary (somalinet.com)
Rageh, who lives in Chiswick, west London with his family, possesses African ethnicity, and shares Islamic roots, while his wife, Nina belongs to the Christian family. Therefore, Rageh wants his children to have both Islamic and Christain roots which he revealed in one of his interviews, saying,
"We both want the children to have Islamic and Christian roots."
Aside from his married life, Rageh Omaar is a highly acclaimed journalist who earned prestigious acclaims like the recipient of an Ethnic Multicultural Media Academy award for the best TV journalist (2003) and the Arab Media Watch Award for excellence in journalism (2008).
From his first salary of £45 for each dispatch and £60 for a live radio interview, Omaar has come a long way his debut job!
Rageh Omaar's Bio:
The 50 years old Rageh was born in Mogadishu, Somalia in 1967 and moved to Britain when he was a child. He was raised with his siblings, Mohamed Abdullahi Omaar and Raqiya Omaar.
For his formal education, Rageh attended school in Cheltenham and gained an Honours degree in Modern History from 'Oxford University' in 1990. Rageh initiated his journalistic career as a trainee at The Voice newspaper in Brixton and later went to work on various standard positions like BBC's Developing World Correspondent, BBC's Senior Foreign Correspondent for the BBC, ITV's International Affairs Editor and Presenter of ITV's current affairs programme.
Throughout his career, Rageh has covered different stories ranging from drought in Ethiopia to devastating floods in Mozambique. Among his dynamic stories and works, Rageh's reports during the 2003 Iraq war made him a household name among the audience.
His reporting works almost cost him his life during 2003; he was reporting from the roof of Palestine Hotel in Baghdad, where the American bombs nearly killed him.
Think we're missing something? Do let us know in the comment section below!