Entertainment
Awesome Rapper Sean Combs Smacks Down Split Rumors With His Girlfriend!
Rapper Sean Combs, the father of six children has not married anyone till date. He has dated a lot of women, namely Misa Hylton Brim, Kim Porter, Jennifer Lopez, Lil' Kim and Sarah Chapman. Lately, he was dating Cassandra Elizabeth Ventura, known as Cassie Ventura.
But their break-up rumor was heard in the market. So did they split their relationship? Are they no longer a couple anymore? While on the other side, it has also been heard that Sean Comb has declined these rumors. Let's find out what the truth is.
A row between Sean and Cassie
Sean and Cassie have seen each other on and off since 2007. The report says that after Cassie had told that she wanted to break off their romance, they started arguing in a car in Beverly Hills.Then the rapper grabbed and took away Cassie's phone and started scrolling through it as they were returning home.
Once they stopped, Sean jumped out of the vehicle with the phone and she went away with the driver. So they had a row between each other. And when the matter started to get heated, the cops were called who made a report of a domestic incident.
After this incident, it was told that they had parted their ways. They have decided not to do anything with each other. Public almost believed their break up the story that they are no longer a couple anymore.
In the midst of this, it was also heard that Sean had found new love with his ex- girlfriend Kim Porter with whom he had broken up in 2007.The rapper and Kim share four children. They were spotted in June doing the shopping together in Malibu. Taking this action into account, it was rumored that they saw each other again
Sean declines Marriage and Split Rumors
However having been together with Kim again and the news of split with Cassie has been proved wrong by Sean Combs.He has also rejected his marriage rumors in one tweet as,
Attention all blogs. Not getting married. Not engaged. Sorry. Where do yall get this stuff from. Have a blessed night.

— Sean Diddy Combs (@iamdiddy) December 15, 2009
He also dismissed rumors of the split with girlfriend Cassie by sharing a sweet birthday video message for the singer's 30th birthday on Instagram.
The rapper was found quoting,
"The birthday party was incredible. She's such a special person. Her friends and family came around and it was great," the rapper said.
Cassie also enjoyed this attempt and was found saying,
"It was so much fun. Thirty is a milestone, "[The] love is real. Love is always real."
The public display of affection in the social media suggests that the two of them are still together and the news of their split is just a rumor.
As a Father's Role
Sean never made any of his girlfriends his wife. He has six children from three women altogether. He is very responsible as a father towards his kids. He has got son Justin from Misa Hylton Brim. With Sarah Chapman, he has a daughter Chance. From Kim Porter, he has got four kids.
They are Quincy, Christian, D'Lila, and Jessie. On 2005, Misa sued Sean for unpaid child support payments, leading a New York Court ordering him to pay $250,000.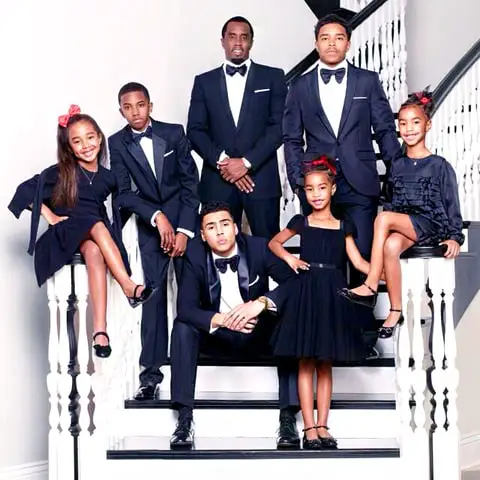 Caption: Sean Combs with his six children (2013)
Photo Credit: usmagazine.com