Entertainment
Is Rashad Jennings Married? Footballer Showers Love, Not Over Wife!
Former American football running back Rashad Jennings skyrocketed to the hall of fame after winning the 24th season of Dancing With The Stars with partner Emma Slater. His dancing skills and moves have certainly brought the fans, who are also curious to know his dating status.
Well, the TV personality had a girlfriend once which he revealed in an interview, and now, he has poured love on the occasion of Valentine's Day in 2018.  
So who's the lucky person that Rashad sliced his part of love on such a special occasion? 
Figure out the whole story along with his history of girlfriend down below!
Love For All 
The handsome Rashad Jennings has his own way of gratitude. 
He shows his concern and makes sure that his fans feel loved and cared time and again. When the occasion was supposed to be celebrated with loved ones, Rashed celebrated 2018's Valentine's Day with his fans and well-wishers. 
Standing in Times Square, New York, the reality star handed out red roses, the symbol of love to his fans from 11 a.m. to noon.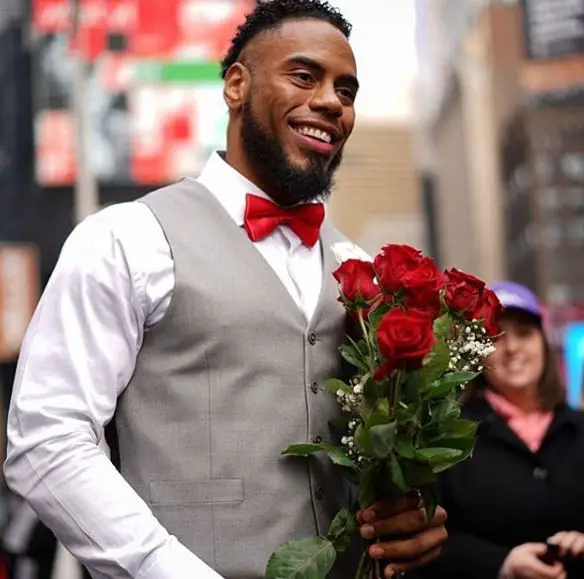 Rashad Jenning gives away red roses to his fans on the occasion of 2018's Valentine's day (Photo: Rashad Jenning's Instagram)
Well, Rashad's special ones are not only his fans and well-wishers, but his mother is also special for him. He did not end 2018's Valentine right there in Times Square, New York but later sent a gift to his mother as well. 
This was not the first time Rashad flaunted his affection for his parents as he does on numerous occasions and times. 
Had Girlfriend Once; Mom's Stamp Of Approval
Well, Rashad's mom is not just the constant lover and supporter of him but also the stamp approval of his girlfriend. Revealing in an interview with the PEOPLE on 26th May 2017, the American personality disclosed that any woman that will come in his life has to be approved by his mother. 
"My mom knows me very well and she knows anybody that I give the okay to be around, she's gotta be okay."
In the same interview, there came another big revelation that Rashad once had a longtime girlfriend. He also added that he was the one to propose her but later called it quits mutually with her. He said, 
"We went through each other's growing stages and phases and shared all of those moments with each other: mistakes, happy times, sad times."
Though the athlete disclosed that they separated back in 2014, the time when Rashad just joined the New York Giants, he did not open up the identity of his former love. For the reason of breakup, Rashad quoted "it was an accumulation of stuff" that came between their "wants and ambitions." He was affected much by the split as he recalls the feelings as "a lot of emptiness."
However, he channeled his energy by focusing on his dancing show, the book "The If In Life" and continued working on his Rashad Jennings Foundation, a non-profit foundation to help kids.
Keeping himself busy with all the works, Rashad seems to be currently enjoying his singlehood as no information of his dating has surfaced out in the media. 
Moreover, he is not married and looks to be miles away from getting engaged and having a wife. Perhaps the footballer is waiting for a perfect match to show up in his life. Don't you think so as well?
Keep Visiting as we keep you updated on the life of Rashad Jennings!