Entertainment
Rashida Jones Reveals Decision On Boyfriend, Dating, Getting Married With Husband Altogether!
Born into fame, Rashida Jones, daughter of legendary music producer Quincy Jones, is a smart, intelligent actress who has made a name for herself in the world of entertainment.
However, her time in the entertainment industry has also seen her grab the headlines for the wrong reasons. An ultimate playgirl, she been linked with numerous high profile men. The long dating list includes the who's who of the industry and has even been engaged with two of them.
But why isn't she married yet? Well, here are the insights which reveal her decisions regarding her dating life.
High Profile Dating History; Engaged Twice
Rashida Jones, who is known for starring as Ann Perkins on the NBC comedy series Parks and Recreation, has been romantically involved with a long list of high profile men.
Her dating history dates back to 1997 when she was seeing actor Tobey Maguire, known for his role as Peter Parker / Spider-Man in Sam Raimi's Spider-Man film trilogy. Rashida and Tobey were a couple for three years until they parted ways in 2000. Some sources have even reported that they were engaged.
You may also like: Crystal Marie Denha Having Dating Affair! Meet Her Cute Boyfriend
Two years later Rashida was seen sharing romance with Mark Ronson, an English musician, DJ, singer, and record producer. They started dating back in 2002 and shared a special bond with each other. Their love seemed to be sailing along good waters with the couple even getting engaged. However, things between them went south after the engagement and instead of their relationship progressing to a marriage, they broke off their tie in 2004.
In the very same year, Rashida reportedly dated Seth Meyers. Their relationship only lasted a short period.
A year later, in 2005, Rashida fell for The Office co-star John Krasinski. However, as with Rashida's other relationships, this also ended prematurely in 2006. It has also been reported that in the same year, Rashida was involved with Charlie Hunnam, an English actor, and screenwriter.
For about three years there wasn't any news of Rashida being romantically involved. But in 2009, she came forth with her relationship with presidential speechwriter Jon Favreau. They were together for a year.
Don't miss: Michelle Wolf Too Funny To Be Married? Ethnicity, Personal Life & More Facts
After her relationship with Jon, there was a rumor that Rashida hooked up with Garrett Hedlund, an American actor known for his roles in the films Friday Night Lights in 2011.
Later in 2014, Rashida also dated Colin Jost, the American comedian, actor, and screenwriter known for his work on Saturday Night Live. However, as time passed their relationship turned sour, and they parted their ways.
And recently, she has been romantically involved with Vampire Weekend frontman Ezra Koenig. The duo went public with their relationship in Januray 2017.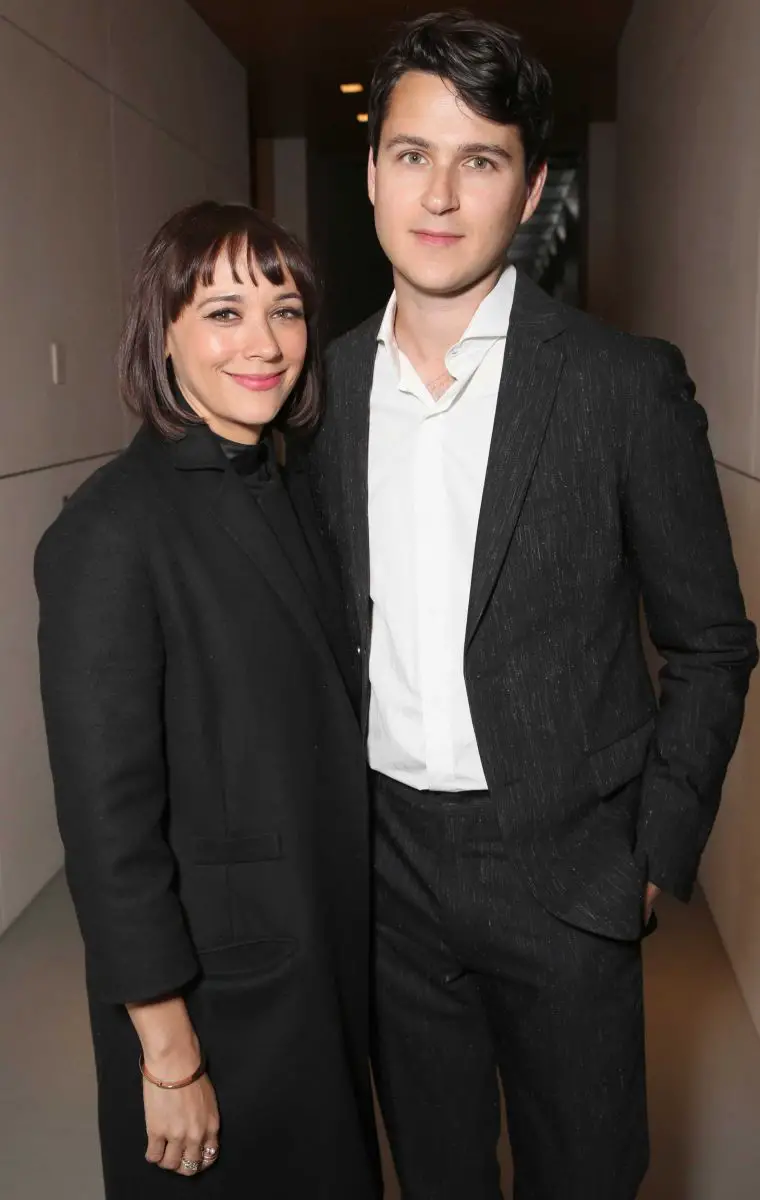 Rashida Jones with current boyfriend, Ezra Koenig. (Photo: people.com)
However, the couple has not hit the news ever since they opened up about their relationship. And bearing Rashida's history with men, it cannot be said if the couple is still dating or have already walked in different ways.
Will She Ever Marry?
Rashida Jones, who played the role of Karen in The Office, has been romantically involved with many men but she has yet to settle with commitments with any one of them. Even though she has been engaged twice before, she has not yet exchanged the wedding vows.
Rashida spoke to Madamenoire in 2014 and discussed her unmarried status. She opened up about not being married and stated that it was once hard for her to digest. But now, she has come in terms with not having husband and children. She clearly stated her stance on getting married and said,
"I'm happy, but the fact that I'm not married and don't have kids – it's taken me a long time to get to a place where I actually am OK with that, where I actually don't feel like I'm some sort of loser."
It turns out she no longer believes in the bonds of marriage. Rashida when asked if she is ever going to married, she replied saying wedding tags are not what makes a happy couple and a happy family. She said,
" Marriage doesn't really buy you anything. It just buys you a really big s--tty pageant of a wedding to make other people happy."
Well, it seems she is living a content life without the burden of married label weighing down on her.
Into Co-Directing; Keeps Father Alive Via Documentary
While Netflix is no stranger with documenting the lives of musicians, they have now come up with chronicling the life of Jazz icon Quincy Jones, who is Rashida's father. The series is to be titled Quincy and is set to be released on 21 Septemeber 2018.
See More: Who Are Rashida Jones Parents? Ethnicity She Shares & More Family Insight
Turns out Rashida, who enjoys the net worth of 25 million, has aided to immortalize her Jazz icon father via a Netflix documentary, Quincy. She has co-directed the journey of Quincy Jones, a man with many hats, from being Trumpeter to jazz arranger and producer would be out in open for the fans.
While Rashida is moving in the journey to unveil her father's life, she gets to learn life lessons alongside her father. Well, it sure is a greater opportunity for her to work beside her dad and present it to the entire world. ​​​​​​​