Entertainment
Rebecca Dalton's Bio: Her Age, Racer Boyfriend and Her Instagram Filled With Dating Affairs and Her Lifestyle
Boys love "Speed" and girls love "Speed lover."
Well, the Canadian actress Rebecca Dalton seems to fall in the same category, as she is in love with the speed lover and has a racer boyfriend. Apart from their working lives, the pair is seen spending quality time together and often flaunts their love in their Instagram accounts.
Let's get a closer look at dating life about this beautiful actress in a short bio of her.
Dating Life Of Rebecca With Racer Boyfriend:
Rebecca Dalton, who is also known as Becky, is a Canadian actress and is famous as the girlfriend of Indy car racer James Hinchcliffe. She has been in the industry for more than six years, and slowly and steadily, she is making her name for herself. 
Talking about the dating affair of Becky and James, they have an incredible chemistry to share. In an interview, the pair shared the fascinating love story, which was published back on March 28, 2017.
Caption: Becky and Hinchcliffe talk about their prom dates and how they meet after 12 years. (Published on March 18, 2017)
Becky was the prom date of this Oakhill native, as per Hinchcliffe.
"I asked Becky to come with me as a friend because I would never have had the guts to ask her as a date. Out of my league, so that was a foolish proposition."
And luckily the pair did go out as a prom date. However, there were no romantic sparks between the two on the tall ship in the Toronto Harbor.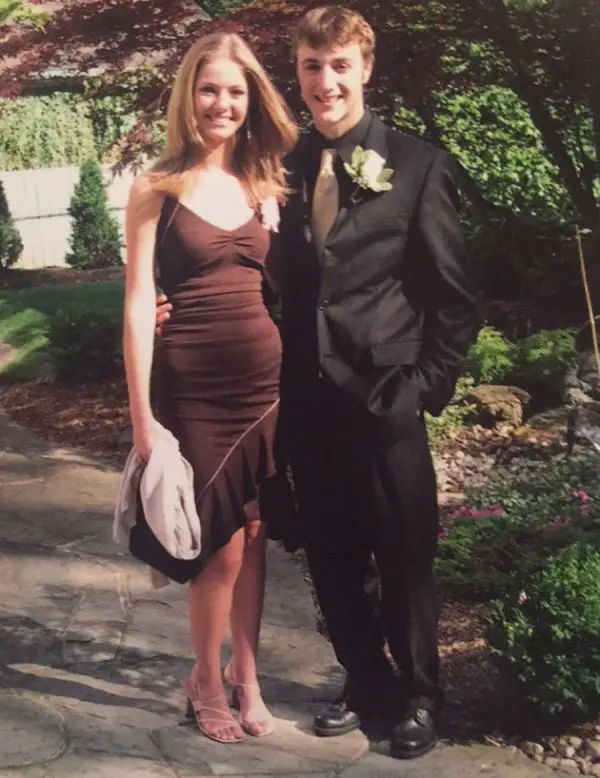 Caption: Rebecca Dalton's date for the prom night in 2004 was with her now boyfriend, James Hinchcliffe.
Photo Credit: wthr.com
The car racer mentioned,
"It was a strictly platonic date because, frankly, I was terrified of her. She was pretty much the prettiest girl in school. I got to rock up with her on my arm. And that was awesome for a nerd like me."
It has a lot to do with 2015, near fatal accident of James which helped him to get the love of life. After 12 years of dating, the rising stars from two different entertainment sectors met again. James said,
"When you try to kill yourself at the Indianapolis Motor Speedway, it brings a lot of unexpected attention on to you"
Following the accident news, Becky went on to make a FaceTime conversation which led to texts, messages on Facebook, and now, here they are, an A-list couple!
The Indy 500 win is the one thing that Hinchcliffe got and of course, must have helped him to impress his prom date. Hinchcliffe also went on to land on the second position on the 23rd episode of the "Dancing With the Stars" in 2016 with pro dancer Sharna Burgess.
 A couple of years after dating, the pair might probably be thinking to move to next level of their relationship or possibly getting engaged. However, so far none of the news regarding them getting engaged has come forward.
Let's hope the couple reveals their plans of getting married shortly!
More About Rebecca Dalton:
Born on January 10, 1989, Rebecca Dalton (age 28) started her career in acting when she was in her early 20s. She was born to parents Mark Dalton and Jane McKinnon Dalton. Her brother, Evan Dalton, is a vice president of the Vancouver-based financial services company, RentModa.
Rebecca landed in the industry in 2010. She first worked on the TV series, Unnatural History. In the same year, Becky acted in the movie; My Babysitter's a Vampire.
Further, in 2012, Dalton got a leg up in the industry, as she went on to appear in the series like Lost Girl, The L.A. Complex, Working the Engels, Suits, Saving Hope, Rocky Road and so on. 
From what we see now, this talented actress is moving faster and faster to grasp the success.
Stay with us for the emerging updates on Rebecca Dalton!