Entertainment
Regina Lasko Wiki: Her Bio Pose Surprising Facts on Married Life with Husband
Regina Lasko Wiki: Her Bio Pose Surprising Facts on Married Life with Husband. Regina Lasko is the wife of the host of  Late Night Show, David Letterman and they together have a son named Harry. They were together for 23 years: started dating in 1986 and the wedding took place in a low-key courthouse in Montana, back on March 19, 2009.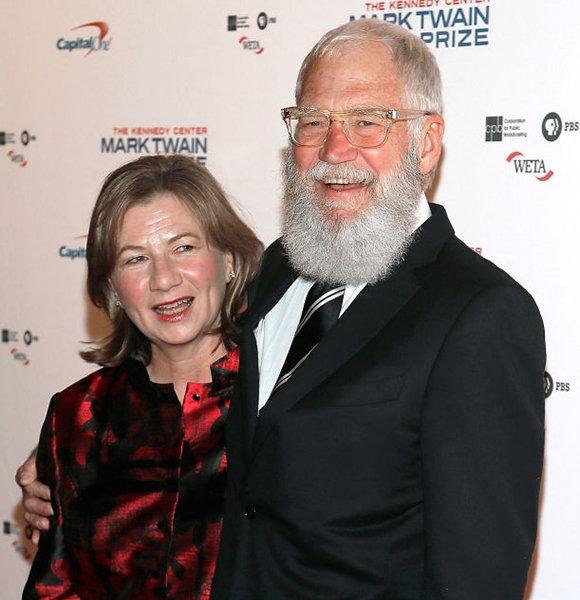 Getting married marks the feeling of loyalty in one's life. In contrary, however, the popular Late Night talk-show host David Letterman disrupted the pact with his wife, Regina Lasko. As a result, the relationship headed down the road of catastrophe, but somehow it has still managed to stay alive.  
Let's see where the relationship went wrong and how it bounced back. 
Regina Lasko: A Victim of Infidelity
Lasko and Letterman were together for 23 years when it happened. They started dating in 1986, and the wedding took place in a low-key courthouse in Montana, back on March 19, 2009. They have a son named Harry who was born six years before their marriage.
Regina Lasko, a production manager of the Late Night Show, is the lady behind one of the most notorious and loved personalities in the history of television.
In an interview with Rolling Stone back on May 13, 2015, Letterman boasted about Lasko's witty and entertaining personality.
"She's very smart. She worked in broadcasting, so she knows everything I do here. And in addition to being a practical combination, we just have a lot of fun,' Letterman told the outlet."
Furthermore, he praised her commitment to the family.
"She's not very athletic, but she saw that Harry and I were getting serious, so she started skiing too. And that was huge. Because then it wasn't just Harry and me out there. Now it's the three of us. And this is great,"
Letterman knows how to make his wife feel special, and he does not shy away from expressing his gratitude where its due. He said, showing his appreciation for his wife and son during his final show on May 20, 2015,
"I want to thank my own family. I want to thank my wife Regina and my son Harry. Thank you. Seriously just thank you for being my family. I love you both and really nothing else matters does it.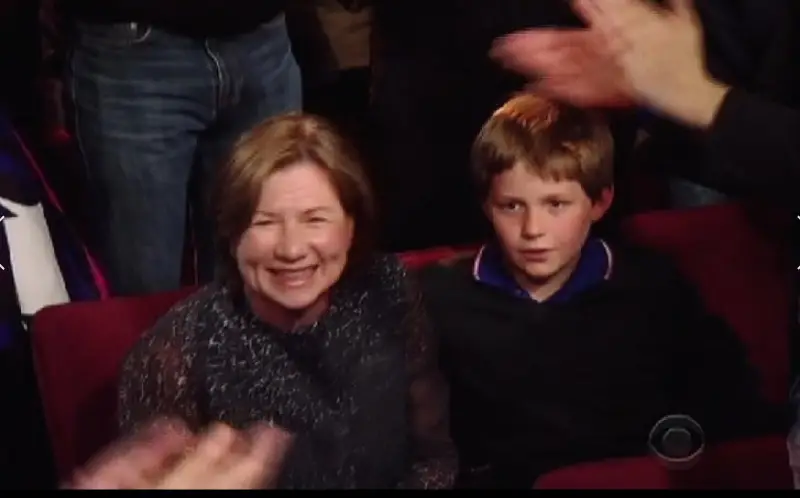 Regina and her son, Harry in the Last episode of "Late Night" (Photo Credit: nydailynews.com)
She had maintained a low-key personality until a scandal of her husband flashed in the media. Despite being the wife of the former talk-show host, Lasko, has not exactly had it easy. As we recall, back in 2009, Letterman, 68, was caught in the middle of a sex scandal, which threw her personal life out of balance.
It was also revealed that someone blackmailed him asking $2 million (fake) as they threatened him to produce a film and write a book about his sex scandal with an employee.  Later, it came to light that the one who was involved in blackmailing was former CBS producer, Joe Halderman, and the employee in question with whom he had sex was Stephanie Birkitt. 
At the time of revelation, many women came forward including his personal assistant Stephanie Birkitt. Three days after Letterman's on-air announcement, she was given a "paid leave of absence."
Other prominent names included NBC's Kathie Lee Gifford and Ann Curry who asked whether he was maintaining an unfair, sexist working environment. 
In the midst of that crossfire, much sympathy was expressed towards his wife, who Letterman publicly apologized to on the show. He even confessed that his wife was "horribly hurt by [his] behavior." Duh!
The two were only married for six months before the scandal came to light, following which the newlyweds were not seen together for a few months. But since then, Letterman and Lasko have seemed to work out the negative turns in their lives and are now committed to the 31 years old relationship.
Prior to Lasko, Letterman was married to his college sweetheart, Michelle Cook, on July 2, 1969. They ended the marriage with divorce in October 1977. After the divorce, he had a lengthy relationship with a woman named Merrill Markoe, who not only acted in his show but also did a bit of writing.
Lasko and Letterman's relationship, however, survived all these years despite many controversies and scandals and their love only seems to be growing.
Regina Lasko's Wiki-Like Bio
Regina Lasko was born on 20 November 1960, in the USA. She is a production manager, known for her works in Another World (1964), Saturday Night Live (1975) and Late Night with David Letterman (1982). Her husband, the 'King of entertainment', cherishes a net worth of massive $400 million.
Lasko has a total of four TV credits. Lasko, along with her son, was a featured audience member on her husband's final Late Night show appearance. Around that time, she also appeared on Extra and Entertainment Tonight.