Entertainment
Rena Owen Moving On From Past Married Life & Husband; Craves For Love & Family
At 22, you have the whole world at your feet. You have got a muscular body, youthful zest and a never say die attitude which makes you feel invincible.
Rena Owen, at her 22, was an aspiring nurse, living her dream doing her overseas stint in London. But all her dreams came crashing down after her drug dealer's racket was busted and she was jailed. This incident changed her life for the best, as it dawned on her in jail, that she wanted to be an actor.
After her release, she started her journey towards Hollywood, which earned her not only fame and wealth but her life partner as well. Let's dive in to search details about her marriage for more details about her partner, her married life, and her status as of now.
Finding Her Mr. Right in LA
Rena Owen was born on born 22 July 1962 as one of 9 siblings to a Maori family. She pursued a career in nursing and trained at Auckland's Hospital for three years before leaving for London in mid-1980s for her overseas employment, where she was arrested for a drug-related offense. It was during her jail stay that she realized she wanted to be an actor.
After her release, she returned to New Zealand, and after small bit part roles, she found her fame in the form of Beth Heke in the 1994 cult classic movie, Once Were Warriors.
The movie was critically lauded, and in 2014, was voted as the best New Zealand movie ever made. This movie opened up numerous doors to her, and from then on she appeared in various films and series.
It was the year 2000 when she moved to LA to expand her wings, and take her career to further heights. It was there where she met with Faleolo Alailima, an American security consultant and they instantly clicked together with each other.
The couple dated for a short period before exchanging vows and getting married in 2002 and all seemed to be going well with the lovebirds.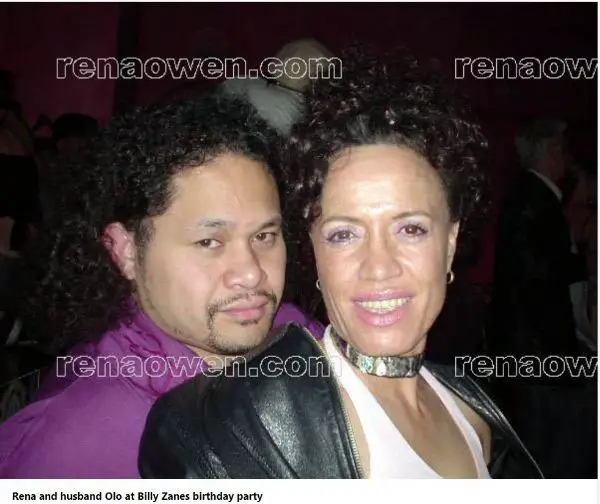 Rena Owen with husband at Billy Zanes' party. (photo: renaowen.com)
DailyStar quoted Rena Owen in 2003, where she expressed that she was very happy with her life and liked to hang out in her home during her free time. As per Rena:
"What I do for a job is very complex and bizarre, and odd hours, and extraordinary. So I keep a very ordinary life. The things I get off on are very simple family things. I realised very quickly you don't advance your career by propping up bars."
However, two years after the statement, Rena Owen ended her marriage with Faleolo Alailima citing professional differences as the reason for divorce.
Craving for a Family:
Rena was not ready to start a new relationship when her marriage ended, and it took her nearly three years to recover from that failed relationship.
In addition to that, she suffered another tragedy in 2008; she lost her mother. She described her mother as her best friend and was aggrieved to lose her.
"Mum dying was the biggest heartbreak of my life - she was my best friend"
In 2011, during an interview with Women's weekly, she affirmed saying she was once again ready to start a relationship, but only if she found herself the right guy. She stated,
"I'm an old-fashioned girl; I don't want to be a spinster for the rest of my life. Nobody is born to be alone. We all have the basic need to love and be loved. But it's hard to find the right person. I need someone who can handle the nature of my work - a lot of men are threatened by who I am."
Moreover, in another interview with Stuffz, Rena claimed that her romance came attached with a disclaimer: since her drug conviction made it impossible to obtain a permanent residency in States, she wants her prospective partner to be able to move in with her to New Zealand. She is still listed a single which suggests that she is still searching for a perfect husband to start her family.
When asked about children in the same interview, she provided a philosophical response to being happy with the decision she made. She affirmed:
"I've had my moments where I've grieve for the fact I chose not to have children, but I could never have traveled the world and done a lot of the things I've done had I had children.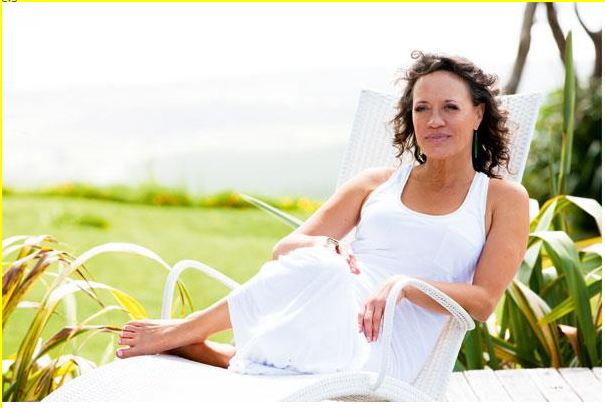 Rena Owen archived photo (Photo: Women's Weekly)
Glancing at her present life, it is clear that Rena has made plenty of right choices in her life, be it choosing acting over nursing or relocating her base from New Zealand to LA, and everyone hopes she gets it right finding her soulmate shortly.
When it comes to profession, Rena has earned herself a decent net worth and chequered career in Hollywood, which is tremendous for a girl making her way from a small Maori village to L.A. But one thing is sure, she still has a long career ahead of her.
Think we're missing something? Do let us know in the comment section below!