Entertainment
Reno Wilson Is Married And Has A Wife! Has A Family With That's Always Smiling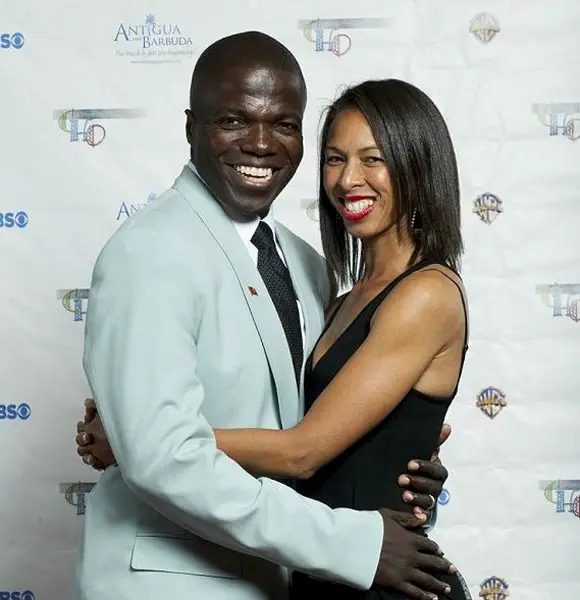 The professional life of celebrities usually overshadows their personal life due to the nature of the show business. But no matter how busy an actor or public figure is in his/her professional life, he/she takes out time from his busy schedule to enjoy his personal life as well. 
The American, actor, comedian and voice artist Reno Wilson fits the statement well, as he is one of those celebrities who enjoy a prolific career as well as a joyful family life.
The forty-eight-year-old actor has been married for almost two decades and is a proud father of his two children. Today, let's take a closer peek at Reno's personal front and get acquainted with his wife and kids as well!
Reno Wilson's Joyful Family Life:
You might have seen Wilson portraying different characters in different movies and television series, but have you ever seen him in real life as a loving husband and dad?
Talking about Wilson's personal life, he got married to a yoga and spinning instructor Coco Fausone in June of 1998. As of 2012, his wife Coco was a yoga and spinning instructor at YAS Fitness Centers.
The pair has been bound in a marital relationship for almost two decades and isn't shy at all to flaunt their love towards each other. On June 6, 2014, Wilson took his Twitter account to wish his wife their 16th wedding anniversary.
Similarly, he shared similar tweet on their 18th wedding anniversary as well.
On the 19th wedding anniversary this year, Wilson shared an adorable image with his wife with a very sweet caption. Wilson wrote that he is crazy about Coco, who makes him feel like a super hero and stays with him in every ups or downs.
The pair, who have been together for more than two decades, shares two children together. They have a teenage daughter Deni Wilson and thirteen-year-old son Renzo Wilson.
Wilson surely loves flaunting the image of his children and family on social media!
Here is a family picture of Wilson squad shared by Wilson via Instagram, where he shared that he loves to hang out with his family.
Reno Wilson celebrates his birthday on January 20 and was born in 1969 with his birth name Roy Wilson. Reno has been active in the entertainment industry since 1988.
Wilson is known for his characters in the thrillers like Crank (2006) and Crank: High Voltage (2009). Moreover, he has provided his voice in Transformers: The Last Knight (2017), Transformers: Dark of the Moon (2011) and Transformers: Age of Extinction (2014). 
Reno has successfully increased his fan following by essaying the role of Officer Carl McMillan in Mike & Molly (2010-2016) and 'Stan' in Good Girls (2017).  Throughout his career, Reno has appeared in a number of television series and films, because of which he has accumulated a hefty net worth of $1 million.
Think we're missing something? Do let us know in the comment section below!