Entertainment
Revealed! How Lucas Cruikshank Came Out As Gay And How He Started Dating His Boyfriend
Everyone has the right to lead their respective life acknowledging their sexuality without worrying about being judged by people. Getting out of the glittery closet for an individual may be a hesitation, but coming out as a gay makes oneself liberated from their dual life.
Similarly, famous Fred star Lucas Cruikshank accepted that he is a gay and shared that recognizing his gay sexuality felt liberated and now he has a boyfriend too. So let's read to find out more.
Lucas Cruikshank Comes Out Of Glittery Closet As Gay:
On August 20, 2013, Lucas along with her friend Jenny did a fan question and answer segments where a lot of fans asked the question Are You A Gay?
Caption: Lucas Cruikshank replies to the most asked question Are You Gay?
Answering the question made him feel weird, but he said,
'I'm gay. It's so weird saying it on camera"
Further, he mentioned that his family has known since 2010 and until now he did not feel necessary to come out as gay on the internet and said,
'My family and friends have known for like three years and I just haven't felt the need to announce it on the Internet."

Lucas is not only a gay member of his family as his brother who shares the same parent is a gay too and shared a video where his brother accepted being a gay.
Caption: Lucas brother is saying that he is gay!
Lucas revealed that he had pretended to be straight all through high school and said,
"I had to pretend I was straight all through my high school, I did not have to but I choose to."
Lucas Dating A Boyfriend:
In an interview in January 2015, Lucas Cruikshank and Matthew Fawcus confirmed that they were dating and Lucas said,
"We're dating,"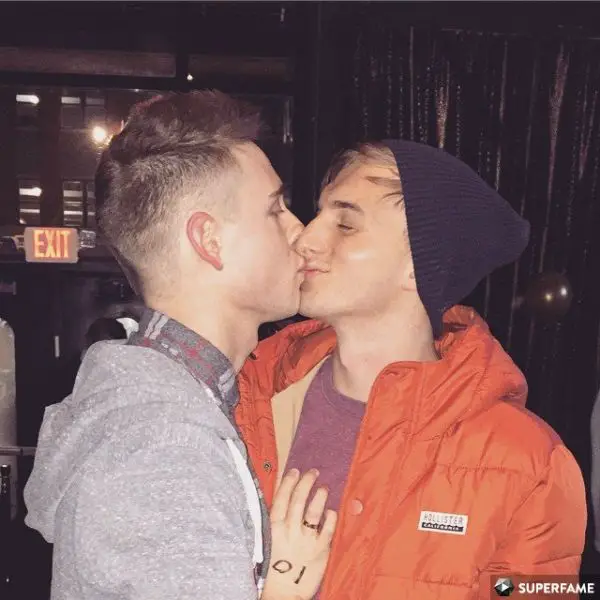 Caption: Lucas Cruikshank is kissing his boyfriend, Matthew Fawcus.
Photo Credit: superframe.com
Lucas revealed that they were just hanging out as friends, but they never realized that they were dating and said,
"We were just hanging out as friends.We never knew if it was a date, we were both creepishly shy about it."
Further, Matthew shared their first kiss Matthew said,
"By the fourth date, I was like, this is f**ked up. I'm going to kiss him, this is so stupid. Then I kissed him,"
Moreover, Lucas added and said,
"Sparks flew, Taylor Swift was playing on the radio."
On January 15, 2015, Lucas visited Austraila with his boyfriend Matthew and being an Australian citizen, Matthew drove Lucas in a car. Moreover, excited Lucas made a Vlog where he was very excited to see Kangaroos and later tasted some Australian food too.
Caption: Lucas Cruikshank's Australia visit with boyfriend Matthew Fawcus.
Bond of Lucas with his love Matthew have strengthened with time as they are seen enjoying being in a relationship with roller coaster rides, Ariana's concerts, spending quality time and recently Lucas has posted an adorable picture via Instagram where they are seen sharing affection and love for each other.
Lucas started uploading video along with his cousins and a six-year-old kid with anger management issues, and an unhappy home life was born.
With an amazing reaction from the viewers in 2008, he began uploading videos to his YouTube channel "Fred" and went to create a history by becoming the first video to achieve over 1 Million views on YouTube.
With the growing popularity, Fred along with two sequels was aired on Nickelodeon as "Fred: The Movie," "Fred 2: Night of the Living Fred", "Fred 3: Camp Fred". And Lucas's film appearance includes "Marvin Marvin," "Big Time Rush," and "Monsters vs. Aliens".
With all his hard work as well as dedication he has accumulated a net worth of $ 5 Million.