Entertainment
Reza Farahan Gets Married To Boyfriend! Also A Man Happy With His Weight Loss
It seems like the 'Shahs of Sunset' Star, Reza Farahan won't let go any chance of surprising his fans. Well, this 44-year-old reality star has now lost 40 pounds from his body weight and has now gained an impressive look.
So, why not take a closer look at this Iranian guy and cognize what he has to say about his weight loss. Wait, that's not it, we'll be taking a sneak peek at the surprise-marriage ceremony of this openly gay couple: Reza Farhan and his husband, Adam Neely as well!.
The Age-Long Romantic Relationship Of Reza Farahan And Adam Neely:
The love flame between Reza and Adam began when they first met at the gym and consequently, started dating in the year 2012. They continued budding their relationship and later decided to escalate the connection with an engagement, which happened in Palm Springs, California in August 2014 after Reza popped the question over dinner.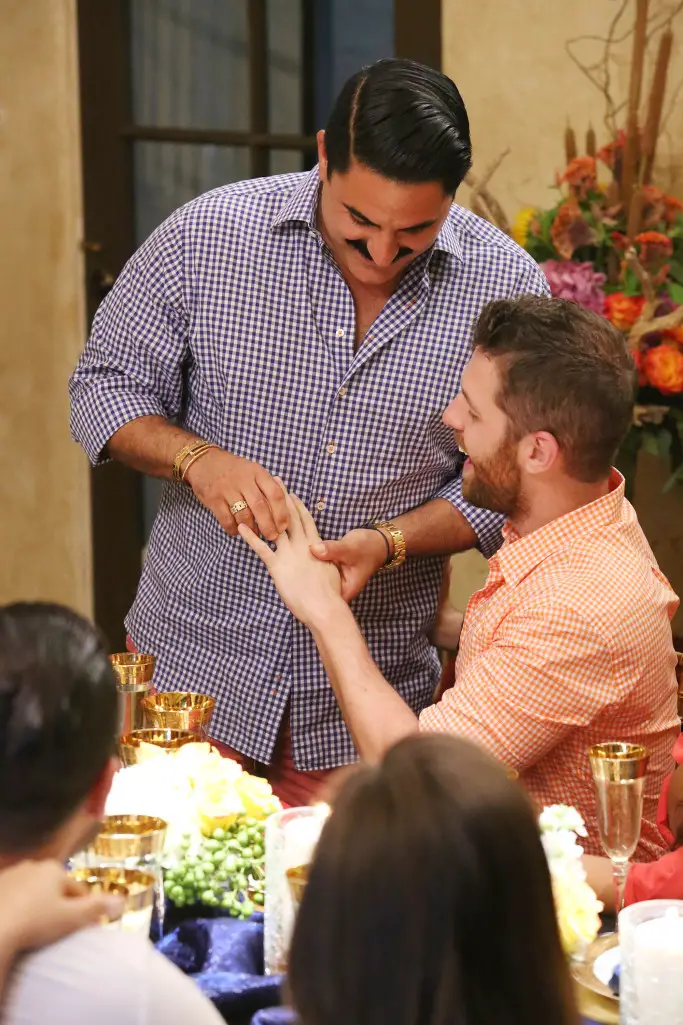 Caption: Reza's special moment with boyfriend-turned-husband Adam!
Photo Credit: US Magazine
Well, the relationship of Reza and Adam also went through some ups and downs, as we saw Reza calling off the wedding at the end of the fourth season of Shahs of Sunset.
However, the couple got married on the 3rd of October 2015 in Palm Springs, which was a total surprise from the couple. The reality star couple doesn't have any striking relationship issue since then and has been living a blissful marital life with each other.
Reza Gets More Impressive With Weight Loss:
Reza's resplendent net worth of $7 million might have been a factor to grasp your attention at some time, but the scenario has completely changed since few months. After his appearance on 'Watch What Happens Live With Andy Cohen' in July this year, Reza grabbed his fans' attention with a significant body change.
On the TV show, Reza was utterly unrecognizable, as he got a complete body transformation with a 40-pound weight loss and a clean-shaved face. The late-night show's host even praised him for his look and later discussed the changeover.
Reza was then like:
"I've been killing it: diet, exercise, counting calories, working out. My, God!" 
He has also been sharing his weight loss journey through Instagram and letting his fans know what he is going through. On March 30 this year, he posted a before and after picture of his body from December 26, 2016, and March 26, 2017.
A few days later, he flaunted his another before-after picture, showing his facial transformation.
Moreover, he has also shared about how he maintains his weight loss now. Speaking to In Touch, he described his daily routine:
"So I wake up at 5 AM. I get my iced almond milk latte with no sugar, I go to Gold's Gym in Hollywood, and I do 30 minutes of a 10 percent incline for four miles an hour on the treadmill."
Additionally, he goes for a jog or a light run in the evening. He then added to share his eating habit:
"I'm, like, militant. Breakfast is three quarters of a cup of egg whites with a quarter of avocado and two slices of Ezekiel bread. And then I eat three more meals during the day that are all exactly the same."
Reza's determination regarding his weight loss and the way he has presented himself to the world is genuinely praiseworthy, don't you think so?