Entertainment
Rhiannon Fish Is Not Someone Who Holds On To Past Dating Affairs! Moved On With A New Boyfriend?
Rhiannon Fish Is Not Someone Who Holds On To Past Dating Affairs! Moved On With A New Boyfriend? Similarly, actress Rhiannon Fish was involved in a long-term affair but, now her fans wish to know if she has moved on with a new romantic partner. Now, is it true that she has indeed moved on?
Being with someone who makes us feel special and loved is priceless! It is equally beautiful to create unforgettable memories and share the wonderful experiences with them.
But, sometimes, relationships come to an end due along with the test of time. However, lamenting on the past is not the solution if we want to move ahead in our life.
Sharing a similar thought is actress Rhiannon Fish, who was involved in a long-term affair. Everybody knows she had a heart-break, but did she move on from the past? Let's take a sneak peek into Rhiannon's life to find that out! 
Has Rhiannon Fish Moved On From Her Past Dating Affair? 
The beautiful TV Actress Rhiannon Fish was previously in a dating affair with Australian singer Reece Mastin. They started dating in July 2012, after they came together for Reece's music video of 'Shout it Out.' 
Rhiannon and Reece seemed to have a beautiful relationship and were even rumored to be engaged. But, later on, she denied those rumors in one of her tweets during mid-March 2014. 

Caption: Rhiannon's tweet denying engagement rumors with past boyfriend, Reece Mastin.
Photo Credit: DailyMail
They later maintained a long-distance relationship after Rhiannon moved to LA and Reece was in Australia. But, apparently, they decided to part ways in February 2015, after career and distance became a hindrance in their romance.
Rhiannon later opened up about how she felt after their breakup, mentioning that they had even picked the name of their first child,
"No matter how realistic and mature you try to be, something like that is still so sad. We were joined at the hip from the moment we met, pretty much, and had every intention of getting engaged and married. We had even picked the name of our first child! I thought it'd be forever."
She also revealed that they had a choice to either focus on their careers or to be together.
''We realised we had to make a choice. Did we want to have everything we had always dreamt of in our careers, or did we want to be together?''
Meanwhile, her then-boyfriend Reece Mastin also shared similar thoughts about their breakup on his Instagram, emphasizing that their careers have led them to drift apart,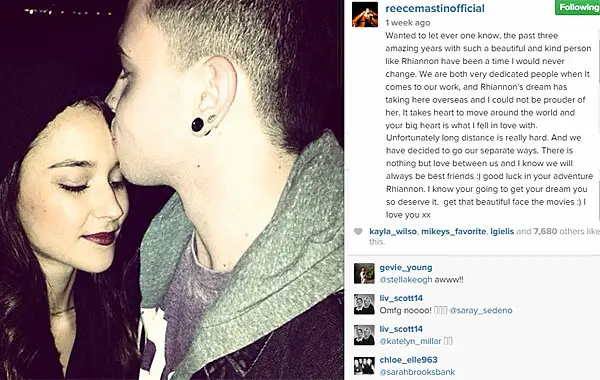 Caption: Rhiannon Fish's then-boyfriend, Reece Mastin sharing details about their breakup via his Instagram. 
Photo Credit: DailyMail
However, just two months after her breakup, speculations started surrounding Rhiannon; rumors about her moving on with a new boyfriend.
She was rumored to be romantically involved with Australian actor Jack Pearson from "Winners and Losers." who also lived in Los Angeles as well. They were constantly seen spending time with each other and even shared their moments together via Instagram.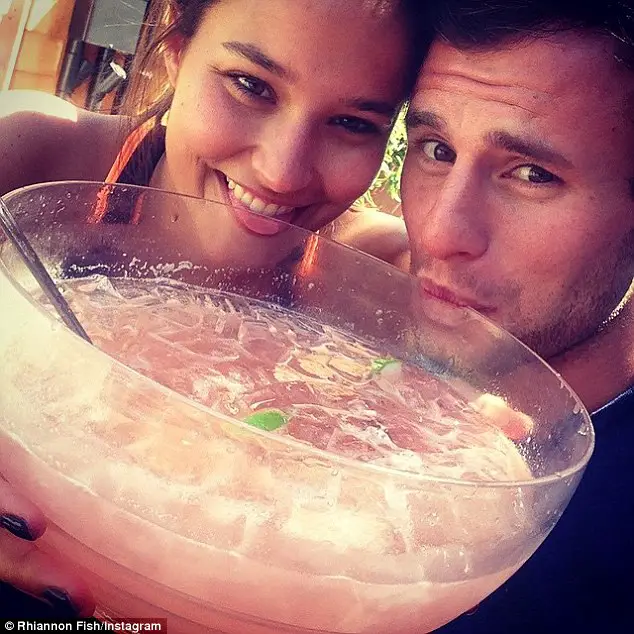 Caption: Rhiannon Fish with Aussie Actor Jack Pearson. 
Photo Credit: DailyMail
However, Rhiannon quickly shut down those rumors with a lengthy response she shared on Twitter that said; she is just friends with Jack and that her heart is still in someone else.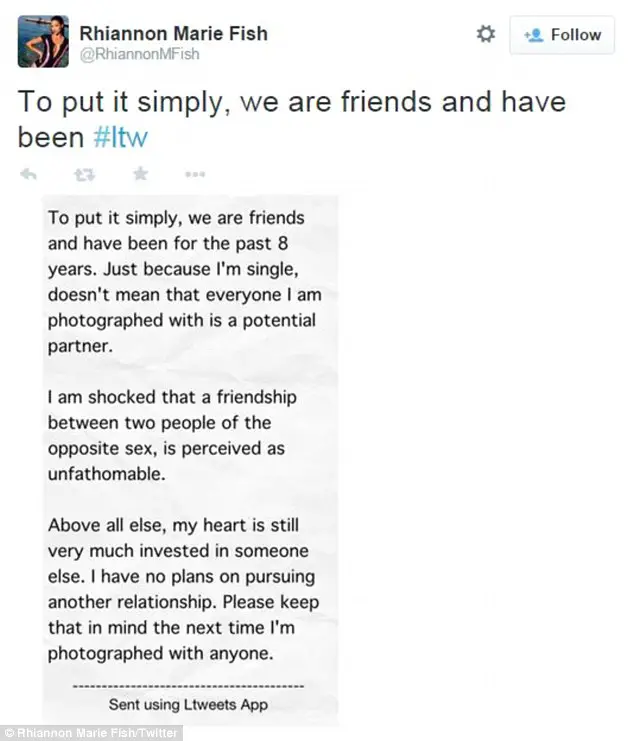 Caption: Rhiannon Fish tweet, denying the dating rumors with actor Jack Pearson. 
Photo Credit: DailyMail
Furthermore, around May 2015, she was also rumored to be dating another Aussie Actor Deniz Akdeniz, whom she first met during the sets of the Disney show 'The Bell Rings.'
Rhiannon and Deniz were seen spending time with each other quite often and what seemed like a close friendship, quickly turned into dating rumor headlines.  
However, according to DailyMail, the 26-year-old actress Rhiannon quickly addressed those rumors with a short and precise response,
"No"
Although it looks like Rhiannon is strictly sticking to her motto of focusing on her career instead of her love life, we might just have to wait until there is a new update from herself on that matter.
Besides Reece and Jack, Rhiannon also dated her co-star from Home and away- Lincon Lewis from 2010 till 2012.
More You Would Like To Know About Rhiannon Fish:
Canadian ethnicity actress Rhiannon Fish was born on March 14, 1991, in Calgary, Canada. At the age of four, she moved to Melbourne, Australia with her family, who have been very supportive towards her career since the beginning.
Rhiannon showers a lot of love to her parents, Angela Beyko and Ron Fish on her social media. Back on December 11, 2013, she shared a sweet picture with her dad via Instagram, flaunting her father to the followers. 
She grew up alongside two siblings, both sisters, namely Corinne and Miranda. However, Rhiannon faced a lot of struggle around July 2014, when she dealt with the tragic demise of her elder sister Corinne due to a unrevealed cause. 
She shared a throwback picture with her sister Corinne, their childhood days on her Instagram with an emotional caption,
"Cory, you were my role model, my hero and without a doubt, the best big sister anyone could ever wish for. I will miss you more than words could possibly begin to describe but I promise I will keep you alive in my heart, every single day, for the rest of my life. I love you. Forever an always - Your first little sister".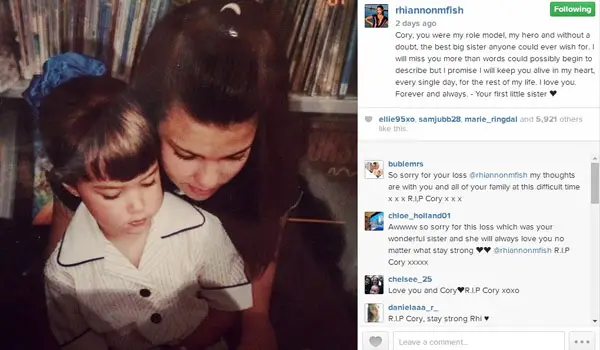 Caption: Rhiannon Fish and her late elder sister, Corinne Fish during their childhood years. 
Photo Credit: thefix.nine.com 
Rhiannon has stayed strong through the years and has contributed her time to her acting career. In 2016, she appeared on the TV series 'The 100' with her role as 'Ontari.'
Besides that, she has also starred in other projects such as the soap opera 'Neighbours' in 2003, series 'As the Bell Rings' in 2007 and 'Satisfaction' in 2010. However, the actress, who started her career at the age of 11, is most popular for appearing on the soap opera, 'Home and Away' in 2010. 
Think we're missing something? Do let us know in the comment section below!