Entertainment
Rich The Kid Splits, Wife Slams With Divorce Papers - Really Cheated On Wife?
American Rapper Dimitri Leslie Roger, mostly known as Rich The Kid, claimed fame after launching a debut mixtape titled 'Been About the Benjamins' in 2013. Since then, Dimitri has been making headlines through his songs and raps.
But just not the songs, the personal life of Dimitri also buzzes at the headlines time and again. And this time his marriage with his wife is on the verge of ending so is the cause of separation is his alleged cheating?
Curious to know more about the rapper, keep reading!
Rich The Kid's Wife Slams Divorce Papers
An Atlanta-based rapper, Rich The Kids aka Dimitri, is on the verge of ending his marriage with his estranged wife, Antonette Willis, who is a dancer associated with Twerk Team, commonly known as Lady Luscious.
Antonette has filed a petition for divorce against Dimitri on 21st March 2018 accusing Dimitri of cheating her. According to the TMZ, the lady has asked for full physical custody and joint legal custody of their two children, son King Rich Roger who was born in July 2015 and the other one whose identity remains a secret till date. Moreover, Antonette also asked for the spousal support. 
The news of split surfaced after two days of Antonette's accusation of Dimitri's extramarital affairs via Instagram. Antonette reportedly got a hold of Dimitri's account on March 19 and flashed out the screenshots of his conversations with model Miracle Watts and India Love in his Instagram. 
The alleged screenshots of the conversation that were deleted later showed that Dimitri's was asking Miracle what size of Louis Vuitton shoes' she wanted. He had also chatted with India, and when India asked him if he was married or not, Dimitri answered that he wasn't. 
Furthermore, Antonette captioned the screenshots claiming the model Blac Chyna had slept with her husband and allegedly was hooking up with 18-year-old boyfriend YBN Almighty Jay for a public distraction only. Antonette even accused the other models Tori Brixx and Bria Myles too.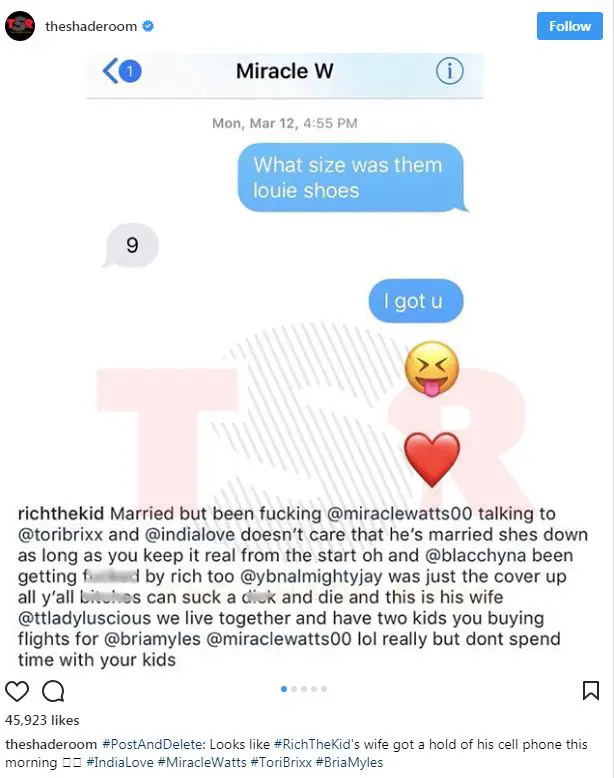 One of the screenshots from 19th March that accuses Rich of Cheating his wife (Photo: ShadeRoom's Instagram)
The speculation on their degrading relationship started back on 1st March 2018, when Dimitri tweeted venting out his inner feelings as,
"Do what you want & don't give a f**k how anyone feels about it," 
Antonette posted the message to her account and replied as,
"I needed to hear that."
Before thier split, Antonette had accused Dimitri of being verbally and physically abusive in 2016. Instagramming a picture of herself with bruised eyes and forehead, Antonette said that she had enough.
 "never put myself in that foul ass relationship again." 
However, Dimitri denied the accusations and implied that his baby mama was doing so because he hadn't paid the "car note." He even claimed that he has never hit a woman in his life.  
The parents of two seem to have gone separate ways. However, Dimitri is yet to comment on the accusations!