Entertainment
Riki Rachtman Hints Reason For Divorce With Wife; His Status Now
The American TV and radio personality, Riki Rachtman, is best known for his hosting skills on the MTV's show, Headbangers Ball. Rikki, who is also an entrepreneur, was once a married man; however, his marriage came to an end after the divorce.
But what was the reason for the separation?
Riki Rachtman Failed Married Life
90's MTV host, Riki Rachtman got married to Gayle Rachtman in 2003, and despite eight long years of marriage, the former couple did not share any children.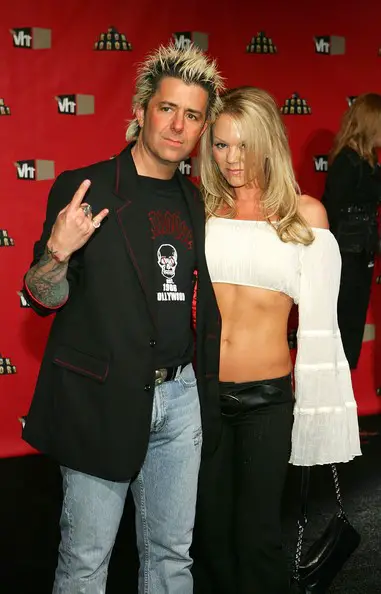 Rikki and his ex-wife, Gayle Rachtman (Photo: zimbio.com)
The couple got separated ending their married life in 2011. While replying to one of her tweets in July 2012, the Los Angeles, California native revealed that he separated with his then-wife in November 2011 and was getting divorced at the time.
Not only that, but he also disclosed that despite the separation, both he and his then-wife, Gayle share an amicable relationship and will remain great friends. Later, in March 2013, Rikki filed a divorce that ended his married life. He was the one to file for divorce in March 2013 citing irreconcilable differences.
The 2007's Rock of Love host filed the divorce documents against Gayle Rachtman in Los Angeles, stating that he wanted spousal support from his ex-wife.
However, the exact figure Rikki, who has a net worth of $1.3 million, wanted from his ex-wife was not revealed.
Rikki Rachtman's Relationship Status
After the divorce in September 2013, he continued to use the social platform to share his opinions on getting remarried. While replying to one of the tweets, he described that his opinion of not getting married or even getting involved in a serious relationship.
Responding to the twitter replies, he again shared a tweet on 7 April 2014 where he explained his opinion of not getting married.
oh I can assure you I won't be getting married again I'm not good at it
Besides, he also moved to a Charlotte, North Carolina after he announced via Facebook in November 2014.
Though he does not like getting remarried, he has officiated a wedding of Jason & Kelly Allison in Georgetown, Texas on 25 March 2018. Sharing the moments of Jason and Kelly's marriage, he uploaded an Instagram image in March 2018.
As of now, Rikki Rachtman seems to be enjoying his single days, but his perception could have changed following which he could have a romantic association which he is hesitating to acknowledge in front of the public.
Whichever the case may be, his fans are hopeful that he could come forward and address the curiosity soon!
Keep Visiting for the emerging updates on the life of Rikki Rachtman!