Entertainment
Rob Brydon Wife & Family Status Now; Twice Married Man Now Stable Or Loose?
Welsh actor, Robert Brydon Jones aka Rob Bryden has colored his resume portraying the role of Dr. Paul Hamilton in the British/Australian series, Supernova. Further, he has also performed in other long-running shows like Gavin & Stacey, Marion and Geoff, The Keith Barett Show, and more.
A married man in the 90s, Rob separated from his wife in the early 2000s. However, even after such a tragedy, he bounced back and found a new wife for himself.
Is he still together with his second wife or has he already moved on from her? Let's find out!
Married After Moving In Together; Children With Second Wife 
While Rob Bryden was working as Radio Wales, he first met Martina Jones as Martina's sister used to work as a producer at the time, which later becomes his romance story. 
Sparking the romance, the duo tied the knot together after they both moved to London together, where Martina worked as a nanny. Even though the wedding date and venue is still a mystery to all, the former partners have three children together from their union: two daughters and a son.
Their first daughter, Katie was born in August 1994. The couple welcomed the arrival of a second child, a son named Harry in October 1996; who was followed by a second daughter named Amy in July 1998.
Despite all, the married couple headed for a different turn and got divorced in 2001 without revealing the reason for their separation. Rob had refused to talk on the matter initially and even didn't mention his split from ex-wife in his autobiography.
However, Rob later revealed that he became traumatized after his divorce as he took it as his failure as a husband and father; and also lost faith in the sacred bond of marriage.
However, nearly six years after the end of his first marriage, Rob got married to TV producer Clare Holland on 6 October 2006. They had first met in 2002 at the South Bank Awards. Although Rob was initially reluctant to have more children, Clare convinced him to do so, and the pair soon became parents.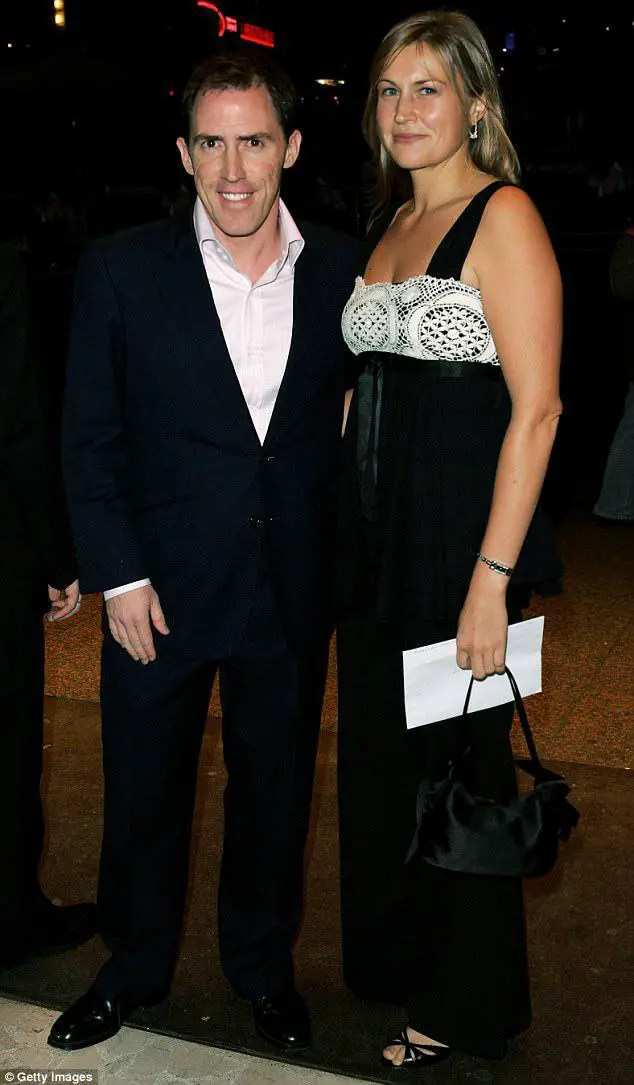 Rob Brydon and wife Clare Holland attend an event together (Photo: GettyImages)
The partners have two children from their union. Their first son, Tom was born in April 2008; whereas their second child, George was conceived in June 2011.
As of 2018, the couple resides in their Strawberry Hill home located in Twickenham, London along with their two sons. The couple is going strong in their personal life and has not given any space to suspect otherwise.
Moreover, they are a perfect match for each other as their relationship is frequently claimed to be one of the most successful marriages in the entertainment industry. Rob has also earned a substantial net worth of $3 million from his acting career, so financial problems are not a matter of concern to him and his lovely wife.
Welsh Family; Ideal Brother And Son
Born in Port Talbot, Wales, Rob was conceived as the eldest son of Howard and Joy Jones. Rob's father worked as a car dealer, whereas, his mother was a school teacher.
Moreover, the 53-year-old actor is also close to his younger brother named Peter, who is eight years younger than his elder sibling. Rob grew up with his family in Baglan and shares a loving bond with his folks.
Further, he feels blessed to have his parents and brother as his family members. Although the Welsh native doesn't talk much about his family, sources reveal that he is often considered an ideal brother and son.